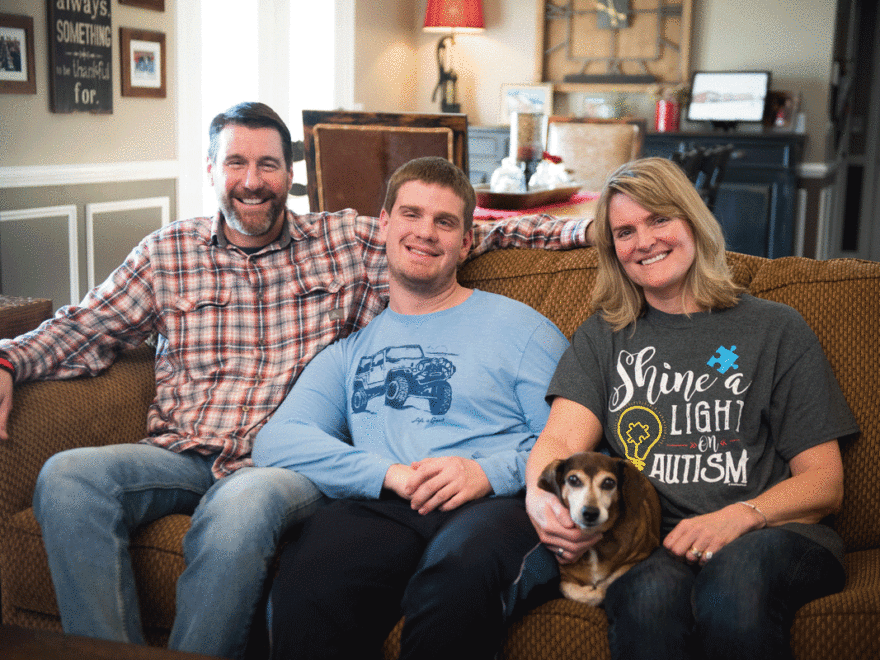 "I'm kind." That's what Jax Wheeler wants you to know about him.  Jax, a 21-year-old man with autism, was born and raised in Henderson alongside his brother, Vince, and sister, Olivia.  His parents, Terry and Dawn, agree with his assessment.  "Jax has a big heart and he cares about people," said Terry. Parenting a child with autism in Henderson has been an experience for the whole family.  It has taught them much about the disorder, patience and acceptance of people.  
A Special Kind of Education
Jax began his school career at Bend Gate Elementary in preschool and kindergarten, later transferring to Spottsville Elementary.  Dawn was teaching at Bend Gate when Jax became a student there, but put her career on hold to become Jax's full-time advocate.  "If you know one autism person, you know one autism person.  You don't know everyone because they are all so different.  It requires a parent or guardian to really advocate within the school systems.  You can look up autism and try to research what to do, but each one is so different and unique," Mrs. Wheeler says.  The couple quickly discovered that Jax's teachers wanted to work with him, but needed help on what to do.  Jax's fellow classmates also had a desire to understand, but needed guidance on how to respond when Jax expressed himself differently than other kids.  "In the beginning, it was hard because he couldn't communicate," says Dawn. "His communication of basic needs, many times, ended up being hitting or kicking or doing something to get people out of his way."  The determined parents made it a priority to stay in constant communication with the school administration as well as the students.  The schools graciously welcomed the concerned parents in the classroom to talk with Jax's classmates about how their son is different.  "Jax is different.  Everyone is different," notes Terry.  
Jax, like most people with autism, requires some trial and error to get clarity for his needs.  For example, Terry tells of a time when they were struggling with having Jax's blood drawn at the doctor's office.  Jax, who is tall and strong, had to be restrained for his safety during the time the nurse was drawing his blood.  "He recognizes he needs help," Terry explains, "The first time we were there for about two hours.  I finally asked them not to hold him down.  Those were the magic words." The nurses loosened their restraint and the process became much easier.  "You just have to ask lots of questions and be willing to do some research and make adjustments," expressed Terry.
The family found that education was the key to love and acceptance of Jax from his peers.  Once Jax became a student at Henderson County High School, the school had someone come in and give a class on autism, offering strategies to the class that would be helpful with the new student.  "It was a turning point for him when the kids got specialized training on what autism is and how they could help Jax at school," recalls Dawn.  After the teachers and students had better understanding of Jax's special needs, a natural love of him developed among the group.  This is also the time that the parents noticed a positive change happening in the life of their son.  Dawn boasts, "HCHS has top-notch special ed teachers."  The doting mother's voice quivered with emotion when she began recalling some of the teachers that had a true interest in Jax besides just his education.  Despite Jax's developmental disorder, he is a smart young man with a "very strong BS meter," as his Dad described it.  "If someone didn't genuinely care about him, he could tell.  That's something that Dawn and I have prayed about for him since he was a baby, that God would put the right people, teachers, friends and therapist in his path."  The couple worried that Jax would be an easy target for people with ill intentions, but that natural gifting of a "BS meter" has kept that from happening.  
Jax graduated from HCHS in 2016 with his classmates, but remained at the school until he turned 21 to finish his program.  Jax's outgoing personality made him quite the popular guy in the hallways of the school.  "When we walked down the halls of the school, everyone knew him.  He endears himself to people.  He's like a rock star," the proud father shared.  As a testament to the admiration the student body had towards Jax, he was elected homecoming king.  His mother's voice began to crack as she tried not to cry when she thought back on that warm memory. "When he was out there on that homecoming court, that's when I realized everything we had done was worth it and that people had accepted him."  Jax immediately responded to his mother's tears with a loud, "Oh, wow!" The family began laughing while Dawn added, "He doesn't like it when I get emotional."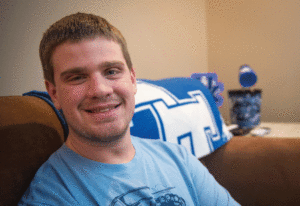 Leaving the Nest
Like most high school graduates, Jax had a dream of going to college.  He watched his brother and sister graduate high school and then go to college and had that desire for himself.  "We wanted to help him fulfill that dream," his mother said.  Jax attended Carl D. Perkins Vocational Center in Thelma, KY, and successfully completed his program there, which had an emphasis on food preparation.  There he experienced college, in a similar way that Olivia and Vince did, by staying in a dorm with a roommate and eating in a cafeteria with his friends.  He was responsible for getting what was needed for himself on the school's weekly Walmart trips.  "I highly recommend it to any parent of a special needs person.  It was a safe place and a very good experience.  I didn't have to worry about him while he was there," says the proud mom.  Terry, putting things into perspective by reminding us that a child growing up and leaving their home is especially hard on mother, laughed and said, "But she still cried for three weeks." 
After Jax's graduation, Dawn and Terry's focus is now on making Jax as independent of an adult as possible.  Through research and taking the advice of Jax's therapists and counselors, the family found that putting Jax in anything in the community that he had the ability to do would only help grow him and point him in the direction of being on his own one day.  Jax has been involved in Special Olympics, softball, swimming, basketball and bowling, to name a few.  "Everything that we could get him into, we would because he is one who watches people and then does what he sees other people doing," says Dawn.  Community involvement was vital in his development as it exposed him to many social situations.  This did not come without worry for the family, but they found that allowing him the exposure uncovered abilities they didn't know he had.  Dawn gave an example of how Jesse Hopgood, Jax's friend from working at Hugh Edward Sandefur Center, convinced them to let Jax be a manager for the basketball team.  The couple was resistant of the idea, fearing Jax's capabilities wouldn't be a good match for that role, but gave in and let him try it out.  Jax did it for a year and loved it.  They were glad they let him try and were reminded again of the importance of exposure to new things.  "Kathy Mathis, his therapist, told me that anything we could have him in beyond school, in the community, would be better than any therapy we could ever give him," Dawn pointed out.
The couple also added an apartment onto their home for Jax to live in.  The apartment has its own entrance and is equipped with a refrigerator, washer, dryer and furniture.  The family is now working through the process of teaching Jax how to live on his own.  He is making great strides in this newly found independence.  Terry remarked that Jax is already coming and going on his own through his apartment entrance, understands how to operate the alarm system and rides the bus home from the Sandefur Center.  "He has lots of visitors; mostly former peer tutors and friends," observes his dad.  
Finding Joy
Dawn started a group, some 13 years ago, called Experiencing Autism Together.  In the beginning, the group was a parent support group that came together and prayed for their kids and offered support to one another through the highs and low of being a parent of a special needs child.  It has now evolved into a group with a "great board" that hosts and sponsors family events.  "We do events to help special needs adults get out into community," she stated.  More information on this group can be found by following "Experiencing Autism Together" on Facebook.  
Being the parents of a child with autism has not come without unique challenges.  However, Jax's parents say that the young man has changed their entire family for the good.  "When you get the diagnosis in the beginning, it's tough because you have these dreams for your child.  You can still have those dreams, but you have to be okay with the dreams changing a little."  Dawn continues.  "I always encourage people to look for the positives in everything.  There is something to be thankful for always."  Terry adds, "It's one of the greatest joys and one of the most difficult things; being a parent.  People are blessed by Jax.  He gives more than what he gets.  Parents with special needs kids have to find these joys." 
Amanda Waggener is a blogger for the Huffington Post, author of No Grit No Pearl blog site and is a native of Henderson. She and her husband are the parents of two teenagers who they are raising with as much zeal as they can muster.
Join our list
Subscribe to our mailing list and get interesting stuff and updates to your email inbox.
Reader Interactions