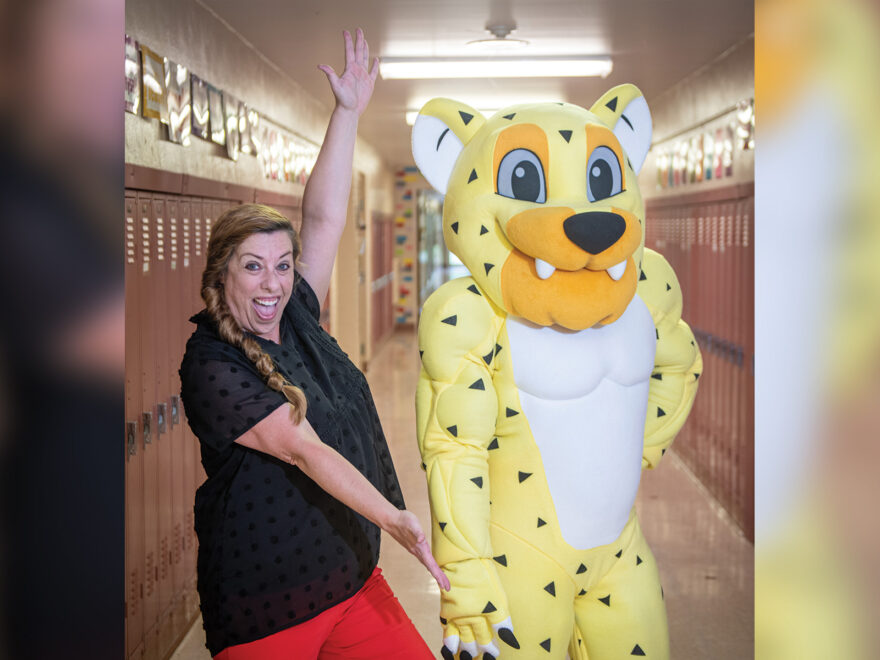 Photo by Darrin Phegley
"The impact it has had on students and teachers and still trying to teach content during the pandemic, it has been hard, but again, you just have to try. If you don't try, you don't know. You fail, you learn things from it. The teachers have helped each other, and that has been really positive for our staff and schools within our district," expressed Jefferson Elementary Principal, Gwen Courtney. 
Teaching is a Way of Life
Principal Courtney moved to Henderson County in 2006 with her husband, Jason Courtney, who also works for Henderson County Schools with the Transportation Department. Outside of being a teacher, she enjoys spending time with friends and shopping. She laughed saying, "I also really enjoy singing and dancing, even though I can't do either." She started teaching for Henderson County Schools in 2007 where she taught 5th grade for 6 years at East Heights Elementary, then came to Jefferson Elementary as the Instructional Coach from 2013-2019. The Instructional Coach is very similar to Assistant Principal at other schools, so she worked alongside the previous Principal, Chrissy Sandefur, in her role as Instructional Coach. In December 2019, Courtney became the Interim Principal for Jefferson Elementary, and she was officially named Principal on April 23, 2020. Mrs. Courtney has been teaching for 22 years, and she is beyond grateful for every student, teacher and opportunity that's led her to where she is today. 
New Role. New Set of Challenges. New Opportunities
Principal Courtney always sees the glass half full. She said she always chooses light, faith and hope, so it came to no surprise when she shared how she turned the challenges into positives during her first school year as principal, despite the pandemic. 
Her biggest concern as principal was about staying connected to Jefferson's families and kids and making them feel part of Jefferson Elementary in the virtual learning world. But, Principal Courtney rallied behind her teachers and staff to jump over every hurdle they crossed. "I feel like we have done that to the best of our abilities, but it's still been hard. My staff are very positive. They also see the glass half full. They do everything and more. I don't even have to ask them. They will go to houses and assess kids in their front yard if they have to. Always willing to do whatever it takes and more," the proud principal stated. They would reach out to students and do a lot of home visits. They even made their own home visit doorknob signs, where students could check if they needed assistance with homework or if they were in need of food. "I have learned these streets of Henderson County," Courtney said, and she is grateful for that.  
Before COVID, students were used to gathering in the gym every morning to say the pledge and mission statement. But, they had to get creative when the 2020-2021 school year began, and this is where the "Jeffe News" premiered. "This year I feel like kids know me better than they would have because of the Jeffe News," she said. "Every morning teachers do segments. I am there, and I do the morning motivation with a song and make up funny stuff. I will use 80s music and dance. I don't think they would have known me like that before. They look at me, and I am talking to them on the TV, so it's very one-on-one for them." She laughed saying it was like she was a celebrity with her students this year, and it has also allowed students to meet other teachers, too. "Jeffe News" was such a hit last school year, they are going to continue with it this upcoming school year, too.
Typically, Jefferson Elementary would host a family night, which had to be cancelled last year. Christmas is usually a big time for the students as well, where they would go down to the Santa Mall, and churches would come in to help wrap the gifts they picked out. With drive-thrus being so popular during the pandemic, they put on a new event called, "Jeffe's Drive-Thru Jingle." There were Christmas lights and inflatable Christmas trees. Students were able to have their photo taken, and teachers and staff wore different costumes, such as the Grinch and Pooh Bear. They gave out books and a toy to each student, along with a meal. "We had the most families and kids we have ever had at any family event," the joyful principal said. They had almost 200 families attend this event, and this was another positive new addition Jefferson Elementary has decided to continue with.
Preparing for the New School Building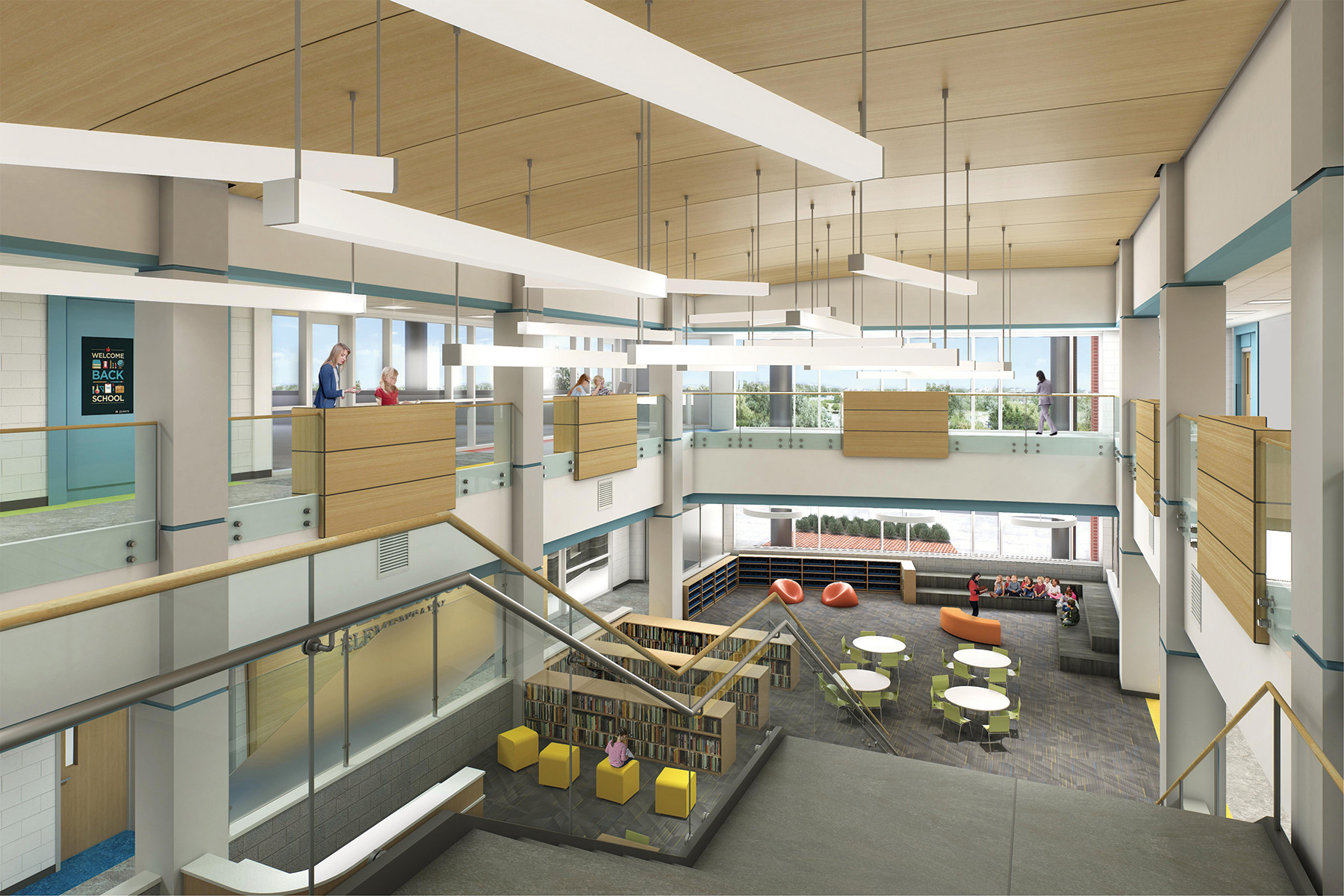 Coming in as the new principal, Mrs. Courtney not only had to overcome the challenges of leading her teachers and staff during the pandemic, but she also stepped into a role to help with decisions for the new Jefferson Elementary School building. The construction manager for the project is Codell Construction and the architect is Hafer Design. "I have been working with a team of people on the furniture recently," she said. The school is being built for 400 students. There will be two levels. It is going to have a very 21st century, modern look with lots of colors inside the building. The library is going to be the heart of the school building, as it will sit right in the center. Their current school doesn't have much of a gymnasium, so they are very excited about the gym where students can all sit together. The gym will also have a stage. A tornado shelter will be in place to protect every student and teacher. 
There isn't a set open date just yet. They are anticipating construction to be complete by December 2021, but it will definitely be 2022 if it isn't finished by the end of this year. They are working very diligently to get the new school completed. "I have my own hardhat with Jeffe on it," said the excited principal, who has been involved every step of the way. Currently, they are trying to write grants and raise money for the playground equipment. The new school will be located behind South Middle School. "We are so excited for the community, our kids and families and what that new building is going to represent for us. The experiences it is going to provide for us and the opportunities," stated Mrs. Courtney. 
A New Face in Town
When Mrs. Courtney stepped into her new role, a paw print represented the Jefferson Jaguars. It was important to Mrs. Courtney to grow their mascot and school slogan. They have a new mascot in town. His name is Jeffe, and their slogan is #LeadLikeJeffe. "Lead" is their acronym, which stands for listen, effort, accountability and determination. These are the core values for staff, and they encourage students to be good leaders, too. It has been important to Principal Courtney to help brand Jefferson Elementary and get the community to invest in them. The school now provides magnets, bracelets, stick on removable tattoos and more of Jeffe for staff and students to show their school spirit. 
Looking Ahead 
"I am always growing. You don't know what you don't know until you are in it. I have learned that you have to go with the flow. You never know what curveball is going to come at you. You just have to be positive," she said. Principal Courtney has tried her best to be supportive of the teachers and encourage them. She recalls telling them, "Don't be afraid to take risks because we are in the unknown. It is okay to fail. We will try things, and if that doesn't work, we will go to a plan B." Mrs. Courtney grew so much this last year on what it takes to be a good leader for the kids, parents, teachers and herself. "The biggest thing is I can't let anything get me down. This too shall pass." 
Despite this last year, Principal Courtney could not have been more proud of her teachers and staff. "I am so proud of them. I am like a mama bear," as she smiled thinking about how blessed she is. "I always think, as a teacher, what would I need? I try to be supportive, but always do what is best for the kids."
Jefferson Elementary has a lot to look forward to during this upcoming year. Mrs. Courtney chuckled saying, "Right now, I'm excited we don't have to wear masks!" But, she truly is excited to see all the smiling faces of her teachers, staff and students. Last year, Jefferson had some new hires, and Mrs. Courtney never really saw their faces. She recalls having a hard time knowing who kids or adults were, and she is so looking forward to seeing everyone this year!
"Jeffe's Jam" is an event where kids come and meet their teacher for the first time. They didn't get to host it last year, so she is extremely excited about this event and the kids meeting their new mascot, Jeffe. 
Despite the pandemic, Gwen Courtney stepped into a new role as principal not realizing how she would be challenged as a leader. But, she took one day at a time, remained optimistic and hopeful, worked with her teachers and staff to come up with creative ways to stay connected and found some fun new additions for her Jaguar family for the upcoming years. Principal Courtney said, "I am most excited about normalcy again but with a splash of glitter!"   
Lyndi Mauk, editor of Henderson Family Magazine, was born and raised in the Bluegrass State. She is grateful to be going through life alongside her husband and best friend, Brandon, and being a mother to their two kids.
Join our list
Subscribe to our mailing list and get interesting stuff and updates to your email inbox.
Reader Interactions