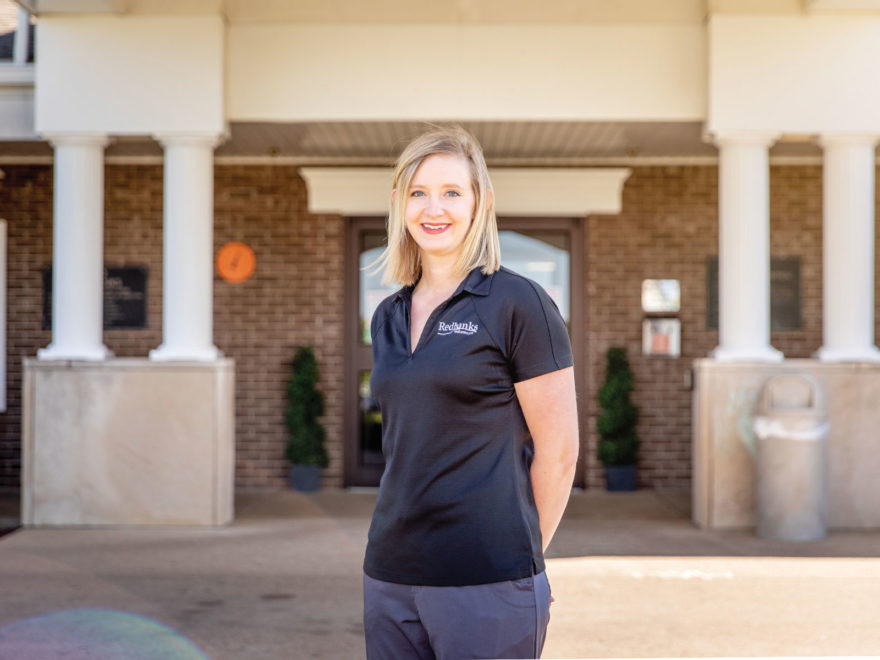 Three Individuals. Three Different Experiences.
It's 2020! A new year and new beginnings, but none of us would have imagined at midnight on January 1, 2020, our year would turn into what we have currently been facing.  
In March, our lives slowly began to experience hardships we never saw coming. We weren't prepared for a sudden halt. Schools and businesses closing, employees suddenly encouraged to work from home, grocery stores struggling to be fully stocked, and our healthcare workers going to a job every day with more uncertainty than they quite possibly have ever known. This pandemic will be something our children, and those of the future, will learn about for years to come.
We spoke with three individuals who have all had different experiences over the last few months. From a stay-at-home mom/pastor's wife to a high school teacher to an essential worker, each have had to adjust differently. 
The Stay-at-Home Mom/Pastor's Wife
Amy Hartley is a follower of God, a stay-at-home mom and a pastor's wife, serving at Zion Baptist Church. She is a partner with the company Juice Plus, and a mother of four to Will (11), Addie (8), Nate (6), and Maggie (4).  When it was announced schools would be closing, she decided to make a Facebook group called "The Best Two Weeks Ever."
Amy had been listening to a lot of books and sermons lately on how perspective and gratitude changes everything, and this inspired her to make the Facebook group. She explained, "This side of heaven, we will continually face different things as we move through life, but how we react to them is what defines our life. The crisis doesn't. Our reaction does." Amy felt like God gave her the idea because she felt so many people would want and need community, ideas, and an outlet to turn to. 
Amy used to homeschool, so she has enjoyed having everyone together at home again. "We have tried to keep a schedule. We get up, eat, get ready, tidy our room, try to have a God focus and then hit the work. We try hard to plow through it, with a snack time, so that we can be free for the rest of the day. If there is any hint at good weather, we spend the rest of the day outside. That has done a lot to provide energy release for the kids, vitamin D and good spirit," she said.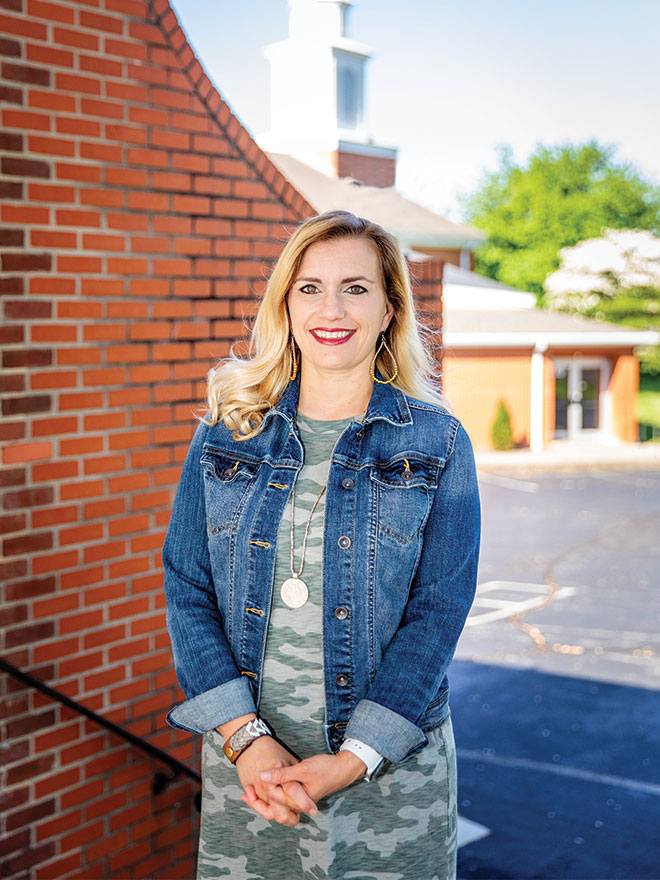 Amy and her husband, Neal, have continued doing what they can with their church. On Sunday mornings, Neal leads worship for their church virtually, and they have both been able to bring the youth group together, too. Neal has done live teaching, Zoom hang outs and stayed in touch via text. They plan to have a big celebration when everyone can get back together. "We really hurt for the senior class. They are missing so much that they've worked so hard towards. We are making a video with their sweet pictures growing up and getting short selfie videos of them saying their post-graduation plans to compile for what would have been Graduate Sunday."
Outside of homeschooling, their family has taken rides down by the river, participated in the online Disney rides, made fun meals together, and have enjoyed their time outside as much as possible. She said they recently started a new show called, "The Chosen" and have also rented movies and popped popcorn. They have flown kites, two of their kids have learned to ride their bicycles without training wheels, and they have put their artistic skills to work creating tons of art both inside and out. 
This encouraging wife and mother said, "I'm a worrier by nature, and I have learned to rest in the promises of Jesus in a new way. It has forced me to think eternally. We don't know what the future holds, but Jesus is good, and He is directing us continually toward Him and His return. I think this has forced us to release what little control we think we had, and rest in Him." 
The Teacher
Katie Giles is an art teacher at HCHS and the coordinator for the School of Fine Arts (SoFA) program. She feels as though she has put more work in over these last several weeks than she has during her entire 10-year teaching career in education. "I am constantly looking up ways to continue teaching rigorous curriculum for my students virtually, and also looking for ways to enhance that curriculum for students with no internet access. This has been a struggle, and it is hard to give continuous feedback on artworks when I don't see the kids each day," Katie explained. One day she had to contact a total of 87 students/parents who had not turned in work. "Each day I post new content on Google Classroom. I record a video using Screencastify (a program that records sound and my screen) and teach as I normally would. Then my students are given an assignment and are to complete it using additional resources that are provided."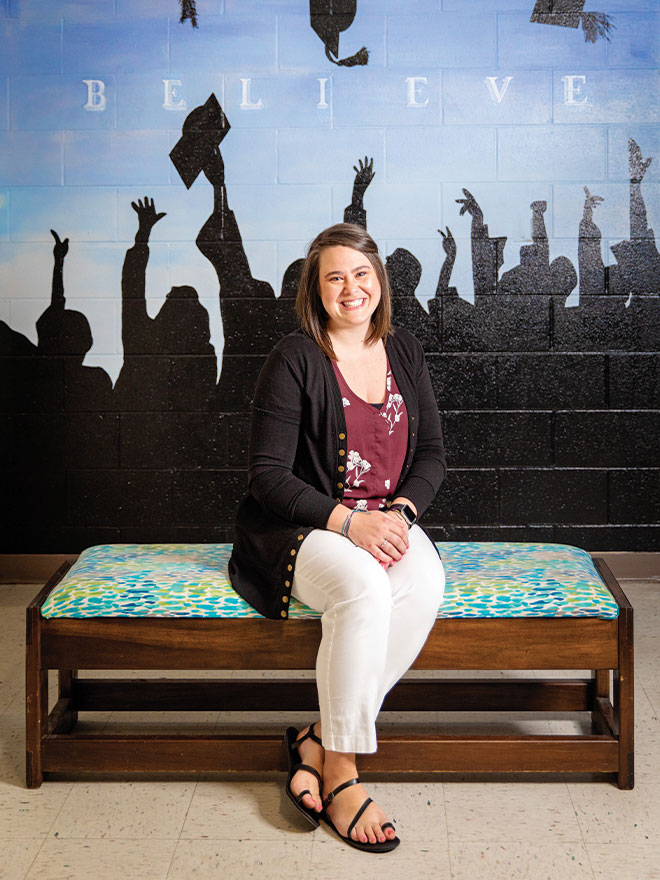 Katie is also a mother to a 4-year-old little girl named Ava. She has tried to stay on a similar schedule each day while she is both working from home and homeschooling her daughter. She usually works in the mornings, and is available to her students from 9-2, and then works with her daughter in the afternoons. On the days she has not been as busy, she will work on preschool content with Ava and then they will do something fun, such as painting or a science experiment. Although Katie is a teacher herself, she has found homeschooling to be more challenging because Ava needs guidance and assistance with preschool. This makes it much more challenging on the days she has tried to multitask. The easiest part has been not having a full schedule with everything being cancelled such as dance, play dates, etc. One of the hardest parts is breaking routine. She realized after the first week that she and her daughter both need routine. 
This quarantine hasn't been all work and homeschooling for the Giles family though. Katie said, "We have tried to keep busy because Ava can only play babies for so long. We've played board games, video games, drove around and listened to music, gotten fast food and sat at the park in the car, watched movies, slept in, done scavenger hunts,  art and science projects, and the list goes on. I'm constantly searching Pinterest to find something new and interesting to do, so we don't get bored."
As far as the education system, Katie laughed saying, "We're all going to be technology experts!" She thinks this pandemic is going to provide positive changes, especially in art, to become more creative with technology. She believes art teachers will be able to use technology in more ways and not just from a pencil and paper perspective. 
This bubbly, kind-hearted art teacher and mother said, "I have learned how to handle teaching without seeing my students. I have learned how to juggle the work-home life. Most of all, I have learned to appreciate the little things because this new normal life is hard." 
The Essential Worker 
Ashley Woods is a Physical Therapist Assistant at Redbanks and has been working in the long-term care setting for six years. Ashley and her husband, Josh, will be married for eight years in August. They have two daughters, Kylie (9) and Reagan (4) and a dog named Shooter.
"It's definitely a strange time to be working," Ashley stated. "I'm so thankful to still have a job to go to, but at the same time, it's a little nerve racking to be right in the middle of it." She said many individuals probably wonder why therapy is considered essential at this time. "Those with a new stroke, fracture, or illness wanting to recover and get home therapy is very essential, and as part of the job, you're required to be in very close contact with your patients." Ashley is grateful her job hasn't changed during this time, but they are taking more precautions. "Masks are worn during all patient care, even more disinfecting than usual and social distancing between patients. New patients are required to stay on a single unit for a 14-day time frame," she explained. 
One way the therapy world has been affected has been due to elective surgeries being postponed, such as knee and hip replacements. One aspect of Ashley's job she always looks forward to is having several patients in the gym at the same time and watching them all interact with one another. It is one of her favorite parts of her job, and unfortunately, they simply cannot allow that interaction at this time. It is also disheartening to see patients missing their loved ones during this time, since visitors are not allowed in the building. "It's important now more than ever to be there for these patients and keep their spirits up. The families worry about their loved ones and vice versa, and everyone is doing their best to make the situation as good as it can be," Ashley said.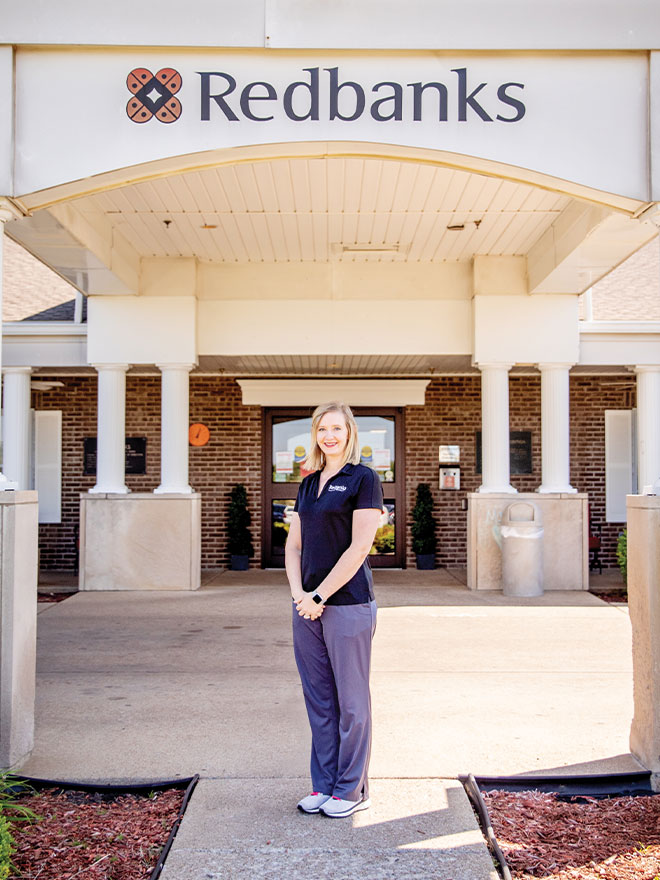 "I have been very blessed during this time with being able to manage homeschooling because on days my husband and I both work, we have had my mother-in-law available to watch the kids and help with school. She's out of work at this time with daycares being closed and has been wonderful helping us." Ashley and Josh's oldest daughter is the only child in school at the time, and being such a great student, she has been able to adapt and keep up with her assignments easily.
When Ashley has been off work, their family has taken advantage of every nice day, so their girls have spent a lot of time outside. They have done puzzles, played board games and had their own "spa day." Their daughters have also been busy making crafts, thanks to Ashley's mother-in-law.  Ashley is very thankful for how well her children have adapted to our current situation. "The hardest part for them has just been missing their teachers and friends, so the hardest part for me has been seeing them disappointed with the cancellation of events and activities they enjoy," she said. 
From having to go to work in the middle of this pandemic, Ashley truly doesn't know what the future will look like. "I think at least for a while, things are going to continue to look a little different with people limiting contact between each other," she said. Ashley's job has no choice but to have personal contact with patients, but she doesn't know how other health care professions will operate moving forward. 
Despite the situation, this hard-working mother said, "I've enjoyed the slower pace of life and spending more time as a family with not having to run all over the place. I hope some of that sticks. While I can't wait to get back to some of our normal activities, I also hope that we will remember this time and not take our time with each other for granted." 
Join our list
Subscribe to our mailing list and get interesting stuff and updates to your email inbox.
Reader Interactions