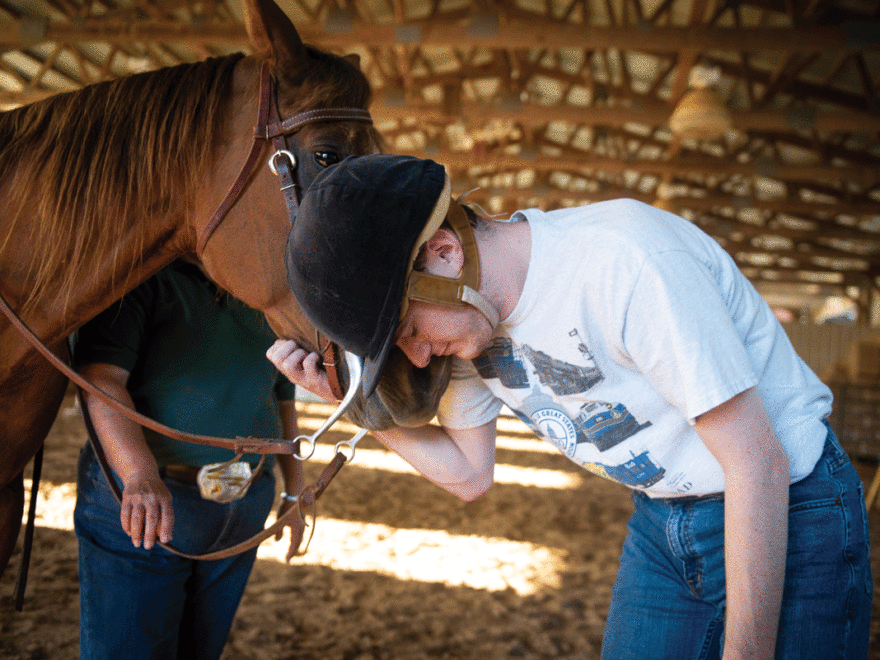 Therapeutic Riding for Kids with Special Needs
Summer at the Barn
On a scorching hot August afternoon in Kentucky, with bugs swarming and the smell of hay filling the air, Tresa Skaggs can be found in a barn gleefully preparing for her next client to arrive.  Skaggs, who is native of Henderson County, says it's a family affair. "My family helps a lot.  My mom came in early today and got the horses ready for me."  In addition to her family, she also has several helpers who volunteer their time to be support riders and to help the kids get ready for the special Olympics.  
Born for This
"I've ridden horses since I was a little kid.  I was in the 4H program here in Henderson County," she recalls.  Tresa discovered while at Murray State studying agriculture that she had a tough time keeping up with her classmates.  "I would put in the work, but when it came time to test, all my friends would pass and I would fail."  She continues.  "They knew I had studied just as hard as they did.  Someone finally mentioned to my advisor that I was struggling.  I then went through some testing and discovered that I had a learning disability."  This fueled a desire to then pursue a degree in special education.  "It's true to my heart.  I really get it."  This diagnosis didn't stop her from pursuing her dreams.  Ms. Skaggs went on to obtain a bachelor's degree in agriculture from Murray State University and then a master's degree in special education from Georgetown University.  HoofPrints in the Sand Therapeutic Riding was formed by combining her love of horses and her desire to be of service to local people with special needs.
According to their mission statement, "HoofPrints in the Sand provides a Christian atmosphere that helps individuals achieve their goals and dreams.  We strive to insure safety and quality in each session by using experts in equine therapy." 
The Benefits of Learning to Ride
The benefits of learning to ride a horse are multi-faceted. "Horses move laterally, like we do.  The horse stretches their body out more so it stretches the rider's hips.  Sitting up on the horse requires balance and strengthens core muscles.  It's great for physical health."  She adds, "It's also good for emotional therapy.  If a horse won't go where you need it to go then you stop and reason.  You ask yourself questions like: What am I asking her to do?  Do I need to correct the horse or correct something I'm doing?  You figure out how to emotionally connect with the horse so that you can make it do what you need.  There are mental, physical and emotional skills that are developed as you learn to ride."  
Laughter is the Best Medicine
Isaac Ramsey, a teenager with special needs who attends North Hopkins High School in Madisonville, arrives and quickly approaches Ms. Skaggs eagerly ready for his lesson.  Isaac, who lives with his grandparents, David and Linda Ramsey, seems fearless as he sits atop the horse and begins practicing for what will be expected of him at the Special Olympics. "His name, Isaac, means laughter.  He loves to laugh.  Tresa knows how to make him laugh.  He just loves it here," boasts the proud grandmother.  Isaac loves music and attending church at Christian Assembly in Madisonville, but horseback riding is his favorite.  As Isaac makes the lap around the circuit set up in the barn he smiles widely at Mrs. Ramsey, causing a chain reaction of smiles from everyone standing around.  "He learns cognitive skills here.  It's so much more than just horseback riding lessons for him.  It makes him laugh and feel joy.  It truly is therapy for him," she adds.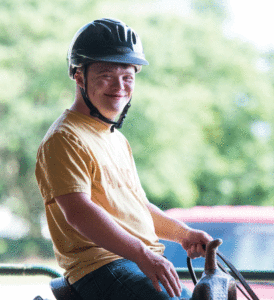 Blair the Olympian
Another client, Blair Terry, arrives towards the end of Isaac's lesson.  Blair has a friendly disposition and seems equally as excited as Isaac was to jump in the saddle.  Blair is a student at Madisonville Community College and is studying auto cad.  "He just finished up trigonometry this summer.  Got a B in that.  He always makes good grades.  He's smart," his proud father, Brien Terry, gushes.  Blair, who lives with his father and mother, Alicia, has autism.  He has metaled in previous Special Olympics and is here on this day practicing his craft.  However, his father sees benefit to it beyond just trying for a repeat of the Special Olympic gold medal.  "It teaches responsibility by teaching him how to take care of something."  Mr. Terry has personal interest in the success of Hoofprints in the Sand.  "I taught at Murray State for 11 years and had Tresa as a student," he reveals, adding, "she was a good student."  Tresa, overhearing what Brien had shared, shouts from across the barn, "I learned from the best!"
The joined aspiration to help people with physical and/or mental disabilities and the love of horses makes HoofPrints a truly "special place," exclaims Linda.
This year at Special Olympics both students came home with medals. Isaac came home with a silver in his equitation class and fourth in his trail, and Blair came home with gold in his equitation class and silver in his trail class. Tresa could not be more proud of her students.
HoofPrints in the Sand is located at 9965 Hwy 136 East in Henderson.  For more information about lessons or becoming a volunteer, please call 270-826-7125 
Amanda Waggener is a blogger for the Huffington Post, author of No Grit No Pearl blog site and is a native of Henderson. She and her husband are the parents of two teenagers who they are raising with as much zeal as they can muster.
Join our list
Subscribe to our mailing list and get interesting stuff and updates to your email inbox.
Reader Interactions