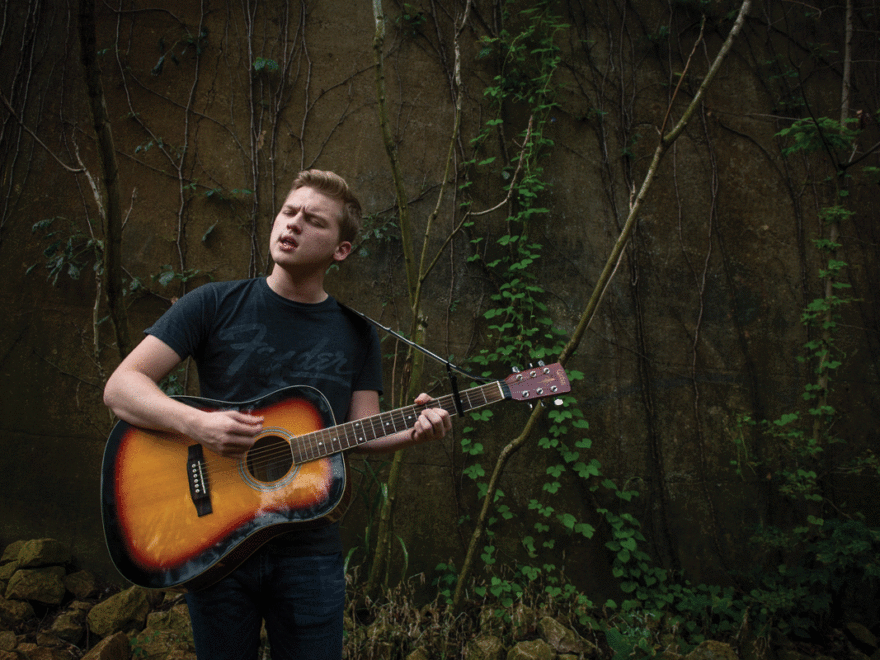 Logan Dodson is a nineteen-year-old young man attending the University of Louisville. He is also a Henderson native. Logan is a bit different than many his age, as he has accomplished an unusual feat: starting his own record label, Pocketwatch Records. 
Logan is a singer and songwriter that plays many live shows in Louisville. He has even played in Chicago. He had a simple start in music and found his love for it when he rode in the car with his father. As they listened to bands, such as Metallica and the Foo Fighters, Logan realized he was in love with music and the emotions that it brought out of him. "I think part of what made me such a music nerd was trying to learn as much about the music as I could so I could impress my dad with my knowledge. He definitely helped me find my love for it." At age nine, he got his first guitar and has been playing and singing ever since. He is completely self-taught, and quite talented, which I realized after a listen to a few of his songs on Spotify. Logan plays the guitar, bass, drums, a little keyboard, and has a lovely singing voice.
When asked about his love of music, Logan provided a beautiful quote: "From studying, to listening to interviews, to reading countless books about my musical idols, I was always trying to learn everything I could about the music industry and what made all of the musical legends I look up to so great. I remember playing guitar and singing in my bedroom, pretending like I was performing at Wembley Stadium. I so badly wanted to be like the bands and artists I loved."
Logan's love of music has brought him far. His album "Nothing to Lose" along with his multiple singles, including "Go" and "One More Kiss" have accumulated over 10,700 streams across 15 countries. His single "Go" has also been played on local Louisville radio stations. "One More Kiss" has a music video made by Aaron Beasley of Henderson that garnered over 1,000 views in its first week. As of August 14, the video has over 1.5K views on YouTube.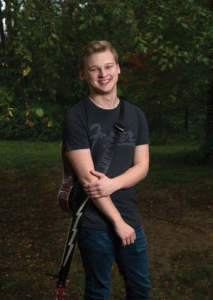 The primary reason for Logan's success is his hard work and dedication to the craft. His advice is as follows: "You need a recording studio? Make one. A small music software like GarageBand, which is on every iPhone, or FL Music Studio, a cheap microphone, and a guitar or self-made beat is all you need. It has so much more to do with the quality of the song than how absolutely pristine the recording is. People gravitate toward powerful art, not the art that costs the most to make. My biggest word of advice is to not sit around and wait for someone to notice your music. If you want your dream to come true, you can't just wait for the right time, because there isn't one, or make excuses about what's stopping you. Go out and make it happen." 
Logan has many people he'd like to thank for his success: "My mom and dad; without their support, there's absolutely no way I'd be able to do what I do today. They're the best parents anyone could ever ask for. Charlie Hardesty, my high school youth minister who always encouraged my music, showed me so many valuable things to remember on stage, and helped me get comfortable playing music in front of people. Jen Grove, the lady who gave me a great venue in Louisville to perform at. I got some of my first real lessons of being a real stage performer at Lettersong Art Studio. Michael Logsdon, a Louisville radio DJ who invited me to my first radio interview and on-air live set. Everyone who listens to my music and supports me in what I do. It really warms my heart to think that the songs I wrote in my bedroom are getting heard all across the United States and in other countries. It's just so humbling and daunting to think about."
Logan's goals are to continue to grow his audience and his company, as well as, one day sign more artists on to his label. He will continue to make his music and will be playing more live shows in Louisville. His project has been "self-made and organic" and will continue to be. "All I know is that I want to continue making music, it's what I truly love, and that I want as many people as possible to hear my music."   
Kaycee Garner has lived in Henderson her entire life and plans to keep it that way. She loves animals and movies, and enjoys drawing with charcoal and working on local political campaigns in her spare time.
Join our list
Subscribe to our mailing list and get interesting stuff and updates to your email inbox.
Reader Interactions