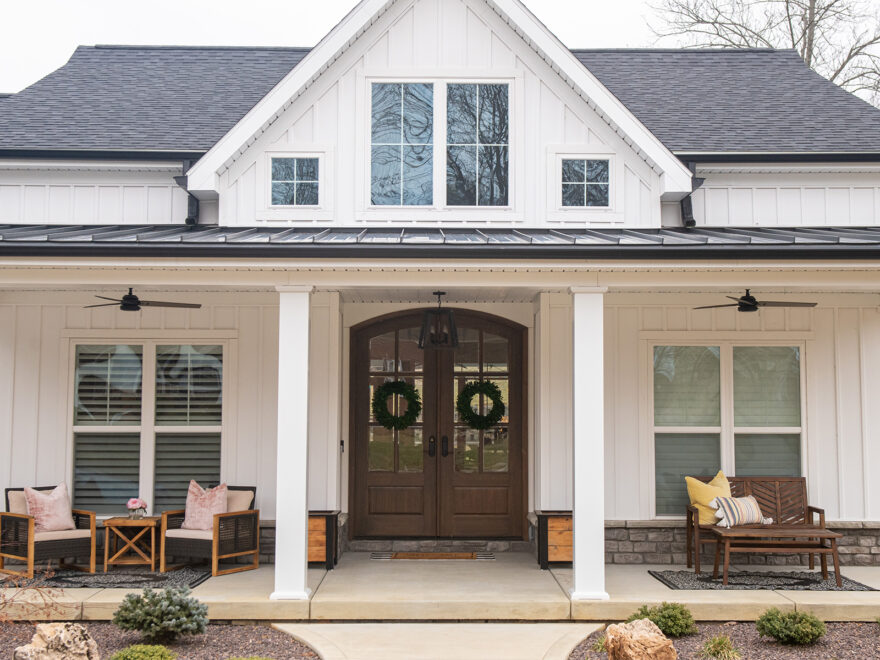 Photo by Darrin Phegley
A Coastal Cottage in Kentucky
If you are out golfing or driving through the Henderson Country Club, you can't help but notice John and Jalayne Smith's beautifully built home by Joe Mattingly Builders. Unlike the look of many homes within the neighborhood, this coastal cottage home, or to some a modern farmhouse look, catches your eye with its beautiful white structure, large double wooden doors and gorgeous landscaping all around, giving off a Florida seaside vibe.
John and Jalayne Smith built their first home in August 2000 in the Henderson Country Club. The neighborhood has also been home to her family for many years, so it wasn't any surprise when they decided to build their forever home on S. Forest Oak, the same street they have been on for the last 22 years. "From the time I was 14, I lived out here. It is just home to us," Jalayne said. 
The opportunity for the Smiths to build their second home came by quite the surprise, as their previous home within the Country Club was not on the market. There was no talk about selling at the time, but a realtor friend had a couple moving into the area who she thought would love the Smith's house. She reached out to them, and they knew downsizing would be in their future, so they decided to go for it. The couple came and looked at their house on a Friday, made an offer on Saturday and suddenly John and Jalayne were in the position to figure out what was next. 
In June 2019, they bought their lot and were able to stay in their previous home until October 2019. They then moved in with Jalayne's mother, who still lives in the neighborhood. The building process took about nine months, as they began building late January of 2020 and moved in on Halloween 2020.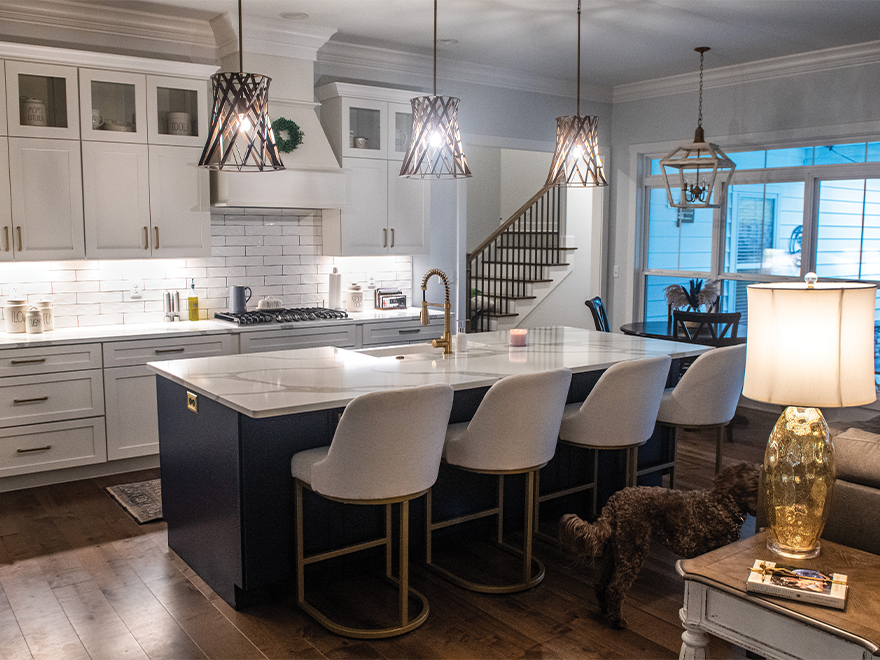 Jalayne laughed saying, "I knew what I wanted, but I didn't know exactly what it was called. It is similar to a farmhouse, but to me it reminds me more of the houses you see in seaside Florida. I really like that. I like the neutrals, crisp white, icy blue colors. I still wanted to put in wood and browns. We wanted the open floor plan. We wanted everything on one floor because we are getting older, so that is something we have to think about." They do have a bonus room and a large heated storage room upstairs over the garage and the back side of the house, but everything else is on one level as they wanted. 
Their home consists of 3 bedrooms, 2.5 baths, a formal dining room, eat-in kitchen, island with a bar, large family room and laundry room with a shower and sink. Jalayne explained how finding the floor plan they wanted was probably the most difficult part about building their house because most house plans don't have all three eating options in one plan – the formal dining room, island with a bar and a place for a kitchen table. However, her daughter was the one who came across a plan providing all three options. The plans were drawn up by a local architect, and they made the necessary changes to make it exactly what they wanted. 
Although John, Jalayne and their two kids talked everything through, Jalayne and her daughter picked out almost everything within their home. From paint colors to cabinets to flooring, John trusted them with the process. Jalayne laughed saying, "I lost on the TV." She preferred a smaller television above the wood mantle but that's what John wanted. Other than that, John would give his thoughts and opinions on room sizes and add-ons, and he did help pick out the hardwood floors once they narrowed it down to a couple options, but he knew it would all come together beautifully. "After several houses, you kind of learn what you like and what you don't like," Jalayne explained. 
The Design Process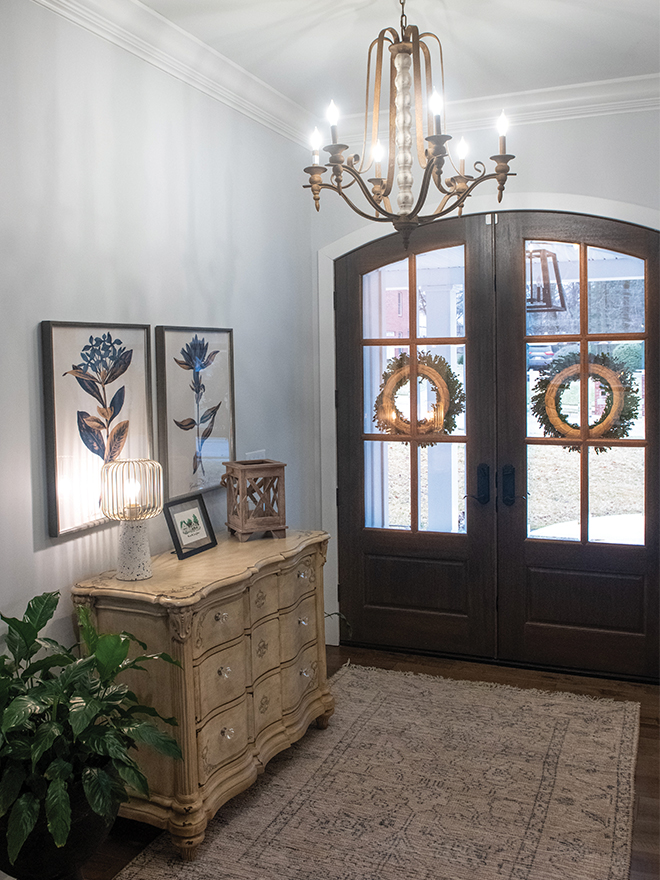 When you walk through the front wood glass doors of the Smith's home, the large navy island becomes the focus. The pop of color grabs your attention. Jalayne is drawn to navy and blues, which she used throughout her home. Before they began building, she had been inside a new home that had a navy island, so she decided to add that within her own home. "I really like the navy with gold and silver, so everything comes full circle."
Their previous home had white cabinets. She thought about doing something different, but she would always go back to the beachy, crisp white look she was going for. With the help of Kerry Floyd at Cabinets By Design, she was able to achieve the look she wanted within her kitchen. They had to use two sets of cabinets to get the tall cabinet look she had in mind. "I wanted the glass, but I didn't want it to be entirely glass." There is just enough glass at the top for her to put seasonal decor. They also added a small coffee bar and a farmhouse sink with the seaside look. 
"We really tried to stay as local as we could," said the proud Hendersonian. The only area they went outside of Henderson for was their lighting, and that was because it was suggested based on the look of her home. The lady who owns Eliminating Expressions used to work at Lowe's and was over their lighting department. Jalayne was able to show them her house and the look she was going for, and they were able to find the perfect lighting. The lighting over her island and the chandelier within her dining room were both fixtures she never would have chosen herself, yet once they were hung, Jalayne could not have been happier. It tied the pops of wood she wanted throughout just enough.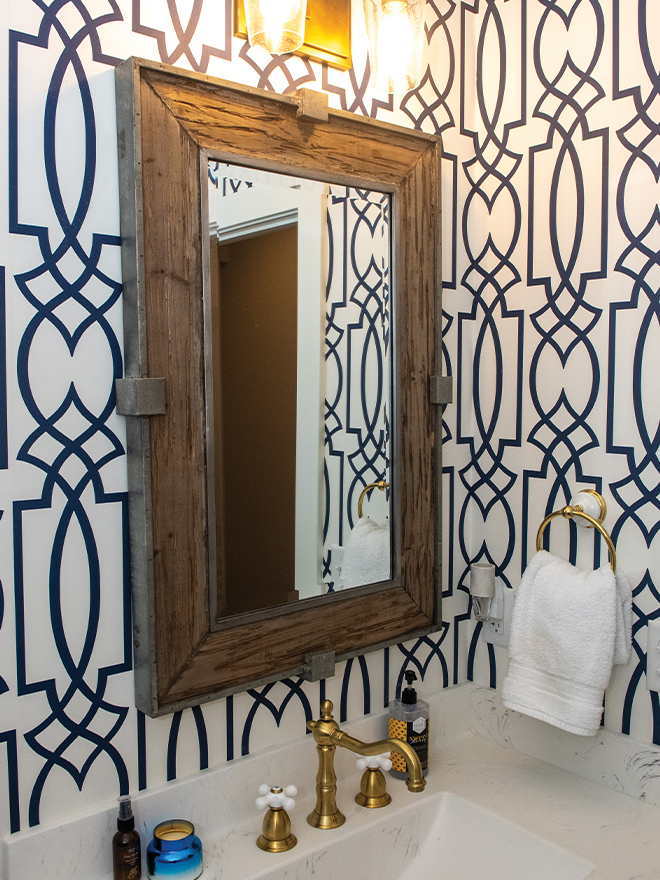 It was really important to keep everything light, airy and open. She did not use window treatments, except for adding the plantation shutters to the front of the house, because she did not want to obstruct the view. The goal was to have clean lines and keep the look very simple. The casings around the windows are flat with no grooves. Sherwin Williams paint color, Ice Cube, was used throughout the entire home. It gives off a hint of blue, which adds a little contrast against the trim. It is very subtle, but just enough to pop a little color. Throughout the home, the Smith's used a lot of neutral colors when it came to decor. Jalayne stayed neutral with the blues and added in different shades throughout, except for the dining room and half bath where she added some wallpaper. Using wallpaper was not the original plan. She has a friend, Ellen Rendle, who she said should have been an interior designer. Ellen is the one who suggested adding the wallpaper to both the half bath and dining room. The wallpaper in her half bath pops the navy, while keeping everything else very simple. "I never would have picked this, and I love it. People comment on this wallpaper all the time, and I never would have done it," said the 1st grade teacher. However, Jalayne's favorite wallpaper is in the dining room. "This was out of my comfort zone, but again, my friend Ellen found this wallpaper and said I think you are going to love it. If I had seen it in a wallpaper book, I would have kept going and not even looked at it." It was only added to one wall, but it ties the navy and gold in from the kitchen perfectly. 
Within the laundry room, they decided to add a shower for their dogs to bathe or her husband to use when he comes in from golfing or mowing. Jalayne said, "It has been really nice not having to worry about him coming through the house since the laundry room is right as you come into the side door." Another unique feature of their home is the added sliding door connecting their laundry room to the master bedroom closet. John and Jalayne had been to the Parade of Homes in Evansville, and she happened to see this within one of the homes. It is extremely convenient for her to throw laundry right into the washer. Square Yard Carpet did all their hardwood flooring, and their bathrooms have tile. Their previous home needed a bathroom remodel, and both John and Jalayne knew what they would want to change. One being to only have a stand up shower and not include a garden tub in the new build.  "Carol Hibbs is wonderful to work with there," exclaimed Jalayne.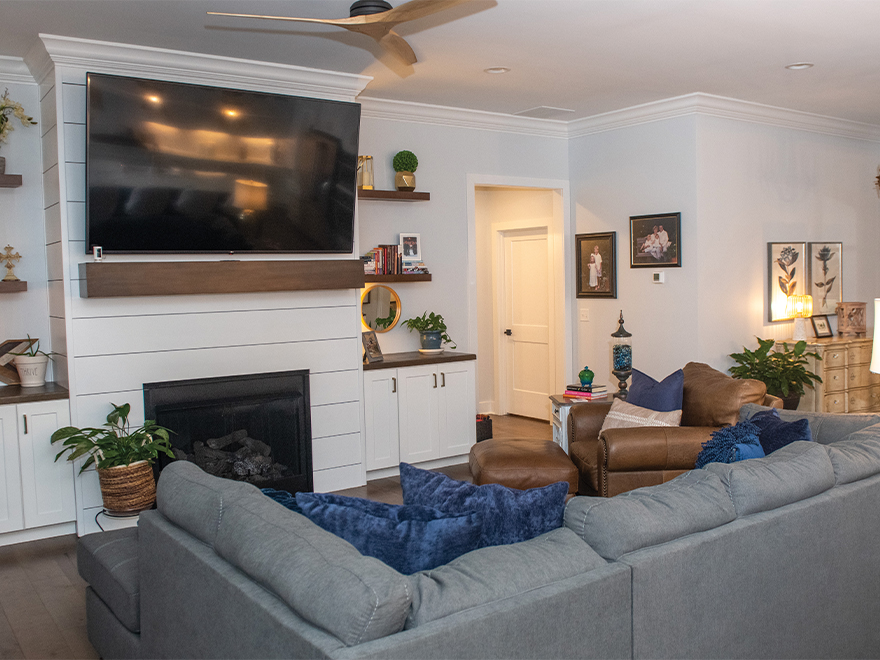 One special surprise given to them was from Joe Mattingly himself. Jalayne wanted a plain block wood mantel to go over their fireplace. Joe surprised them with a mantel he had made out of a walnut tree that was on their lot. "That was a really neat surprise!" In their previous house, they had built-ins around the TV.  Jalayne wanted to do away with the built-ins but still wanted the brown shelving to add a little bit of warmth to the living area.
Jalayne said Joe was so great to work with throughout the entire process. He would offer suggestions and his expertise but let Jalayne make the decision. They raised the ceilings, brought the windows further to the floor and even added a window that wasn't in the original plan because of Joe's guidance. 
When it came to the outside of the home, they used Benton's Garden Center. The owner has a home in Florida, so he knew the look she was going for with landscaping. "I wanted a lot of greenery that would stay green but not necessarily an evergreen. I also wanted a few pops of color, but simple, and low maintenance." They were very happy with how their landscaping turned out. It was exactly as they envisioned. Jeff Coomes also built their retaining wall in the back of their house. 
The Building Experience 
"To be honest, this is not my thing. I do not like to decorate. I don't have that eye at all," Jalayne said. She explained she will see things and know what she likes but doesn't feel she can put it together. However, she feels their home has come together exactly as she dreamed it would.
The experience from building their first home in 2000 to this home was very different. "I was a lot more hands-on here, and I guess some of it comes from being older. Before, there were things they just went ahead and did. I didn't know to say that's not what I want. With this house, I asked more questions, but Joe has great ideas. He doesn't push them on you, but if you ask him, he will give you his honest opinion. It really was a good experience. This is the forever home, and I think we have achieved it!"
Join our list
Subscribe to our mailing list and get interesting stuff and updates to your email inbox.
Reader Interactions