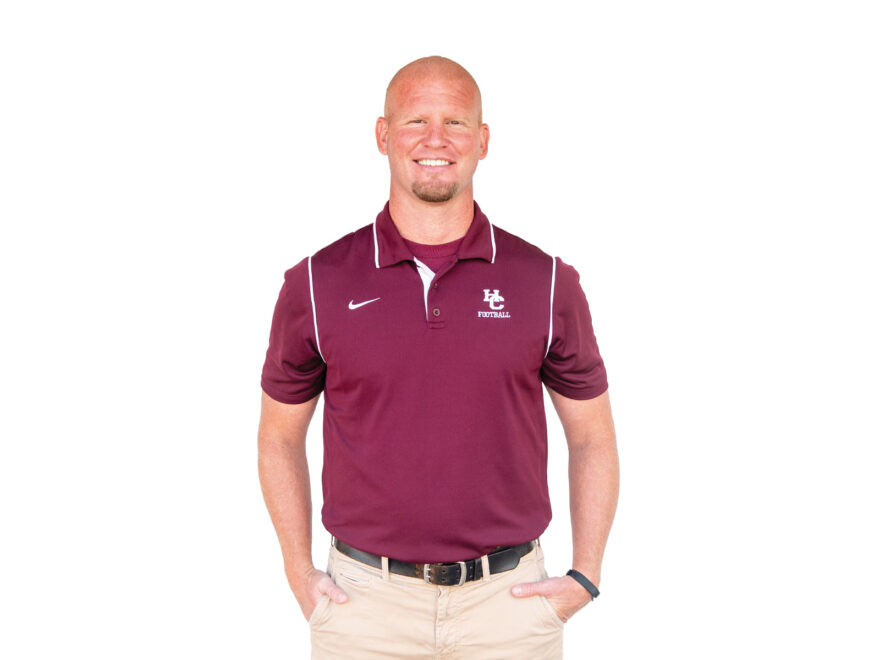 Photo by Darrin Phegley
Tell us a little about yourself (Family, pets, etc.)
My name is Jay Burgett, and I grew up in Mayfield, KY in far Western Kentucky. I attended Murray State University where I played football for the Racers and received my teaching degree in Health/Physical Education in 2008. I met my wife Katie, who is from Owensboro, during my first teaching job at Ohio County High School and married in 2012. We had our first child, Reagan, in 2014 and our son, Tripp, in 2017. We have two dogs, a Maltese named Jake and Golden Retriever named Beau.
What do you do for a living, and how long have you been in that position?
I am the Associate Athletic Director and Associate Head Football Coach at Henderson County High School and this is my first year in both of these positions. This is my 14th year in education and also coaching football.
What is most challenging in your role as Associate Athletic Director and Associate Head Football Coach at the high school level? What is most rewarding?
Currently, most challenges with my position are dealing with the ongoing COVID-19 pandemic and helping to adjust practices and athletic events to keep our student athletes on the field to play. The most rewarding part of my job is being able to be a part of multiple sports while also being able to coach the sport of football.
How do you find balance between work and home life during the football season?
Finding balance between family and work is one of the keys to being successful in life. I have found that when your family supports you in all your endeavors that you must also make the time to spend with them. I always make sure that I spend time with my family as much as possible on the weekends while using the mornings before work and family dinners at night to enjoy each other's company.
What hobbies do you and your family enjoy?
As a family, we love the outdoors, going to the zoo, and spending time together watching movies. We take annual trips to the beach and travel to visit family and friends.
What are your hopes and plans for your new role with Henderson County's football program? How will your previous experience as a Head Football Coach benefit you in this new role?
I hope to aid Coach Josh Boston and Colonel Coaching Staff in building up the young men of Henderson County to be productive members of the community. To help instill values that will last long after their time on the practice and game field preparing them for life after football. My previous experience as a Head Football Coach allows me to see the bigger picture beyond wins and losses. It helps to focus the expertise of each coach on our staff to aid in the development of the athlete and the person behind the helmet.
What are you most excited about for the 2021-2022 football season?
I am excited to take the field for the first time at Colonel Stadium and hear the community cheer on the young men as they fight for the Maroon and White. I am also excited about the opportunity that this season possesses and for the players to be able to compete in the game of football.
If you could offer advice to a young student athlete interested in playing high school football, what advice would you give them?
Do it, you won't regret it! Football has given me or helped prepare me for just about everything that I have done and have gone through in my life. The sport of football made me a driven person with the energy and attitude to attack daily challenges. It has also helped me build lifelong relationships and a career in the educational setting. Without the sport of football, I would not have met my wife and been given the family that the good Lord has graced me with.
Join our list
Subscribe to our mailing list and get interesting stuff and updates to your email inbox.
Reader Interactions