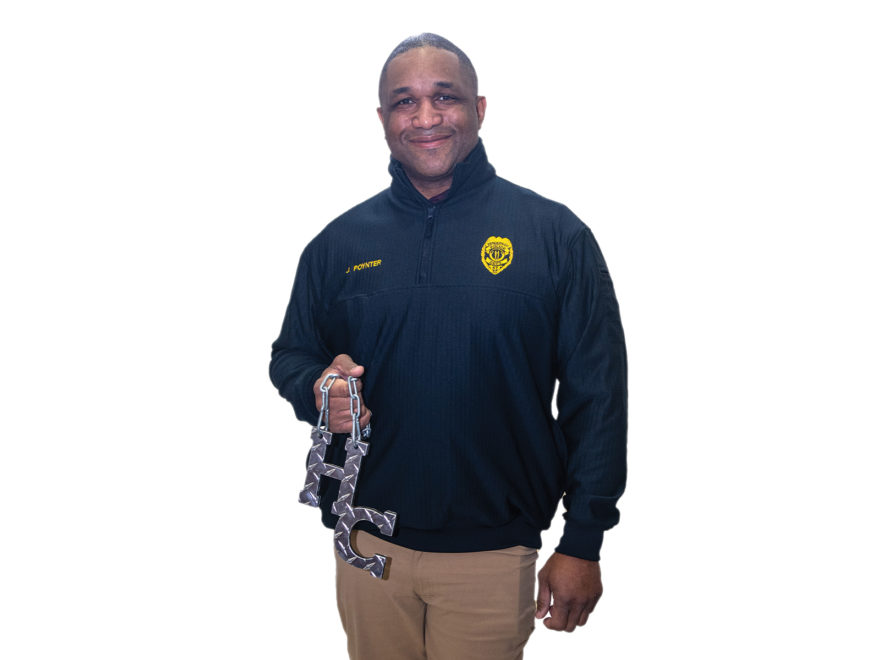 Photo by Darrin Phegley
Tell us about yourself (kids, pets, etc).
I am 45 years old originally from Louisville, KY. I have 3 children Jermaine "JJ" Poynter Jr. (15), who is a sophomore at Henderson County High School; Jessalyn Poynter (18), who is a freshman at Berea University and Jalyn Poynter (20), who is a sophomore at Lee University. I have a cat name Nala and Bullmastiff puppy named Otto Graham. I graduated in 1994 from Marion C. Moore High School in Louisville, KY. I served four years in the US Navy right out of high school as Hull Technician on board the USS Stump DD978, which is a Spruance Class Destroyer within the United States Navy. I attended and graduated from the FBI National Academy 265 session; Academy of Police Supervision Class #46 and Criminal Justice Executive Development Class XVIII.
What do you do for a living and how long have you been in that position?
I am the Operations Major for the Henderson Police Department. I have been with the city almost 20 years, but have been in my current position for four years. I am the first African American to be promoted to a supervisory rank within the Henderson Police Department. I am planning on retiring March 31, 2021, but I will continue to be involved in the community as I am also the Head Wrestling coach for Henderson County High School. This will be my third season as coach.
How do you balance home and work life?
I try and balance my home and work life as best I can by being involved in different things my kids are involved in and by getting involved in things that give me peace of mind, like coaching and family, so I don't have to think about work all the time. I just try and focus on my kids and the things we like to do together.
What hobbies do you and your family enjoy?
I enjoy Jiu-Jitsu and currently hold a blue belt from the Pride Jiu-Jitsu Academy. I love watching sports on TV. My favorite professional sports teams are: Cleveland Browns (Go Browns!), Cleveland Cavaliers and the Cleveland Indians!! I also love both University of Kentucky and Naval Academy sports teams. I also enjoy coaching youth sports, such as football and baseball in my off time. I am a little bit of a gamer and enjoy playing sports games with my son. I am involved in several organizations, such as the Fraternal Order of Police, in which I serve as President. I am also heavily involved with our Cops Connecting with Kids program and serve on the board. Cops Connecting with Kids lets me as a Police Officer build a positive relationship with the kids that get selected while also rewarding those deserving kids with a trip of a lifetime to Disney World. My son "JJ" wrestles for Henderson County High School and enjoys playing recreational baseball during the summertime. My youngest daughter, Jessalyn, enjoys working with animals, such as horses, reading and collecting records. Jalyn, my oldest daughter, enjoys singing and is a part of a music group at her college and takes part in several organizations and clubs at Lee University.
What do you enjoy most about serving the community of Henderson as a police officer? What is the most challenging?
That I get to build and establish positive relationships with the youth of Henderson as a role model or mentor that they don't always have at home, while showing them that if they work hard they can be anything they want to be. The most challenging thing would be getting over the stereotypes and negative ideas about police. But, I find by letting most get to know me as Jermaine Poynter and not just Major Poynter, it helps to overcome a lot of it and shows them that not all Police Officers are bad.
What advice would you give to those wanting to pursue a career as a police officer?
I would advise anyone that wants to be a police officer to work hard and don't be afraid to get involved and provide new and fresh ideas because the world is always changing. Also, be involved in your community. It will not only help you build relationships with those in the community, but it will benefit you both professionally and personally. Last but not least, find that work life balance by getting hobbies and other interest outside of law enforcement because it will give you a lot of good perspectives on things.
Join our list
Subscribe to our mailing list and get interesting stuff and updates to your email inbox.
Reader Interactions