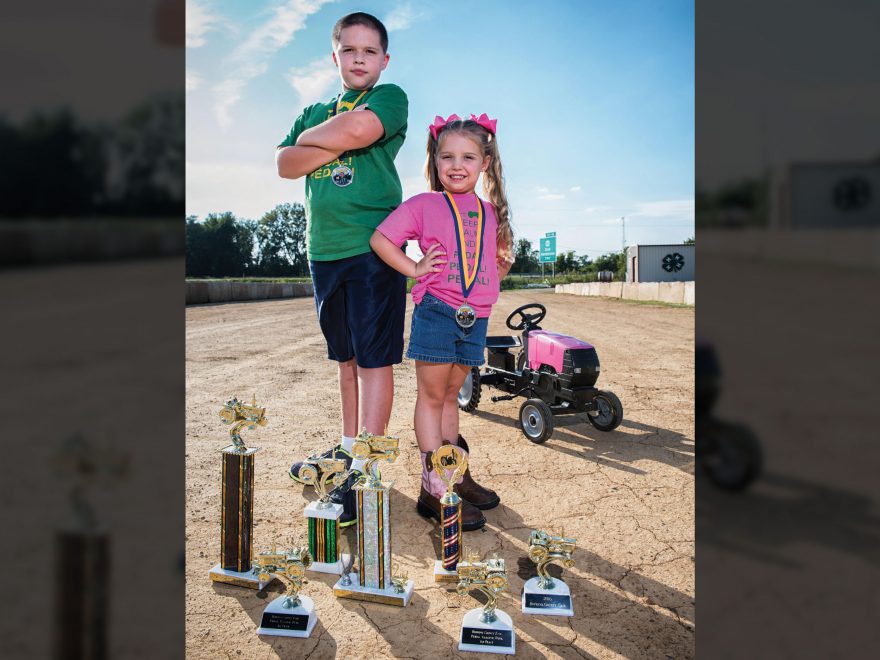 Rugged tires chew through the dirt, churning up clouds of dust. A crowd of anxious parents gathers at the end of the 30-foot track wearing shirts that encourage their kids to "Keep Calm and Pull." The air is thick with anticipation, sweat, and fried fair foods. This is the world of pedal tractor pulling.
We have seen the adult version of this county fair staple: large tractors snatching enormous weights. But for Jaxon, 9, and Ellen, 4, this event is an intense athletic competition. Parents Jamie and BJ Chaney were enjoying a day out at the local fair with their kids last year when something caught Jaxon's eye. It was a small pedal tractor with a sled of weights. Jaxon, who could care less about "ball sports," was hooked as soon as he took home first place that day. Ellen made the impatient wait until the next year when she turned four so she could do it, too. The family made it to seven events this year.
Jaxon and Ellen are real athletes with the training to match. Mom, Jamie, helps them prepare for their competitions. "We've been going bike riding to build up leg strength. We put in 30 miles last weekend alone," says Jamie.
Jamie and BJ, who have been married for 15 years and are high school sweethearts, appreciate the exercise regimen.  On the weekends, the family can be found doing lunges and sprints up and down the Henderson Boat Ramp. The pull is all about leg strength and technique. Ellen, known as "Crazy Legs," is in kindergarten and sometimes needs to be reminded to keep her legs straight, but her gymnastics training helps.
Both kids have a desire to win, but Jaxon "likes to be perfect at everything," says Jamie. This fourth-grader at A.B. Chandler, who also competes in archery, was slightly disappointed when he missed out on placing first at the state fair by one inch. However, he made an impression: Jaxon maxed out the sled weights at 800 pounds. Ellen made it to Nationals by pulling a sled with 130 pounds.
The competition's divisions are distinguished by age and gender. Only ages four through 11 can pull, which makes 16 divisions total. To qualify, the children have to compete at local fairs and only first, second, and third place finishers can advance to the statewide competition where they again have to place in the top three to go to nationals. Everyone shares the same tractors for fairness, though Jamie noted that some fairs request that they bring their own tractors. They have put off purchasing their own tractors as each one can cost $200 for the basic models.
These two tykes qualified for the 2016 National Pedal Pull Championships, which were held at the Corn Palace in Mitchell, South Dakota on September 24, 2016. The family had an incredible road trip with sightseeing at Mt. Rushmore and the Badlands National Forest. They even got to stop by the site of Antique Archaeology, the store featured in their favorite show, American Pickers. The cherry on top: Ellen celebrated her fifth birthday on the way home. The lack of a top 5 finish did not deter either of them. Mom tried to temper the expectations since it was their first time.  They are already excited for the next season.
Join our list
Subscribe to our mailing list and get interesting stuff and updates to your email inbox.
Reader Interactions