Photos by Darrin Phegley
There are many who grow up playing and enjoying the game of baseball, but how many love it so much they build a field in their own yard?
Henderson resident, Randy Sword, has done just that. The field was built for his family and close friends to come together and do what they enjoy most, playing baseball and blitz ball. 
The Sword Family 
Randy, who was born in eastern Kentucky right outside of Pikeville, grew up on a farm in Ohio until the age of 7 before moving to Michigan with his family. 
Randy met his wife, Maureen, in the ninth grade. They were married at 18 and had four kids, three sons and one daughter, before moving to Henderson County at the age of 23. Randy worked at both Accuride and Alcoa doing mechanical work. The Swords bought their land and moved into a trailer, where they lived for 10 years before building their home on their 5-acre lot in 1994. They also have a small farm with 17 acres and another farm with 18 acres near their home. Randy and Maureen will be celebrating their 44th Anniversary on December 11. High school sweethearts, they have built a wonderful life with four kids, 18 grandchildren and 2 great-grandchildren. 
Honoring His Late Parents 
Randy's dad was a baseball player growing up, and he introduced the sport to Randy. Randy played through high school and not only taught his four kids how to play in the cornfield beside their trailer, but now enjoys teaching and playing with his grandchildren, too. 
"I love baseball," Randy said. When his father passed away, he knew he wanted to use the money he received for something good in both his parents' memory. This is when the idea of building his own baseball field came to light. When Randy first shared this thought with his kids, he laughed thinking about their reaction. "What are you going to do?" they said. Although it seemed like a long shot to make it work, Randy is proud of the finished field. He couldn't have done it without the help of his family. 
"When we get together, we always play together," he said. They play blitz ball a lot, which is with a plastic ball and bat. The baseball fan chuckled stating, "What I like about it is you don't have to run bases. I'm going to be 62, so that makes it easy on me." The Sword family lives for baseball, but they also enjoy playing other sports, too. He said the kids will play slip and slide kickball, and he is going to pour concrete to make a basketball court for them to play on, too. "I love watching our kids play."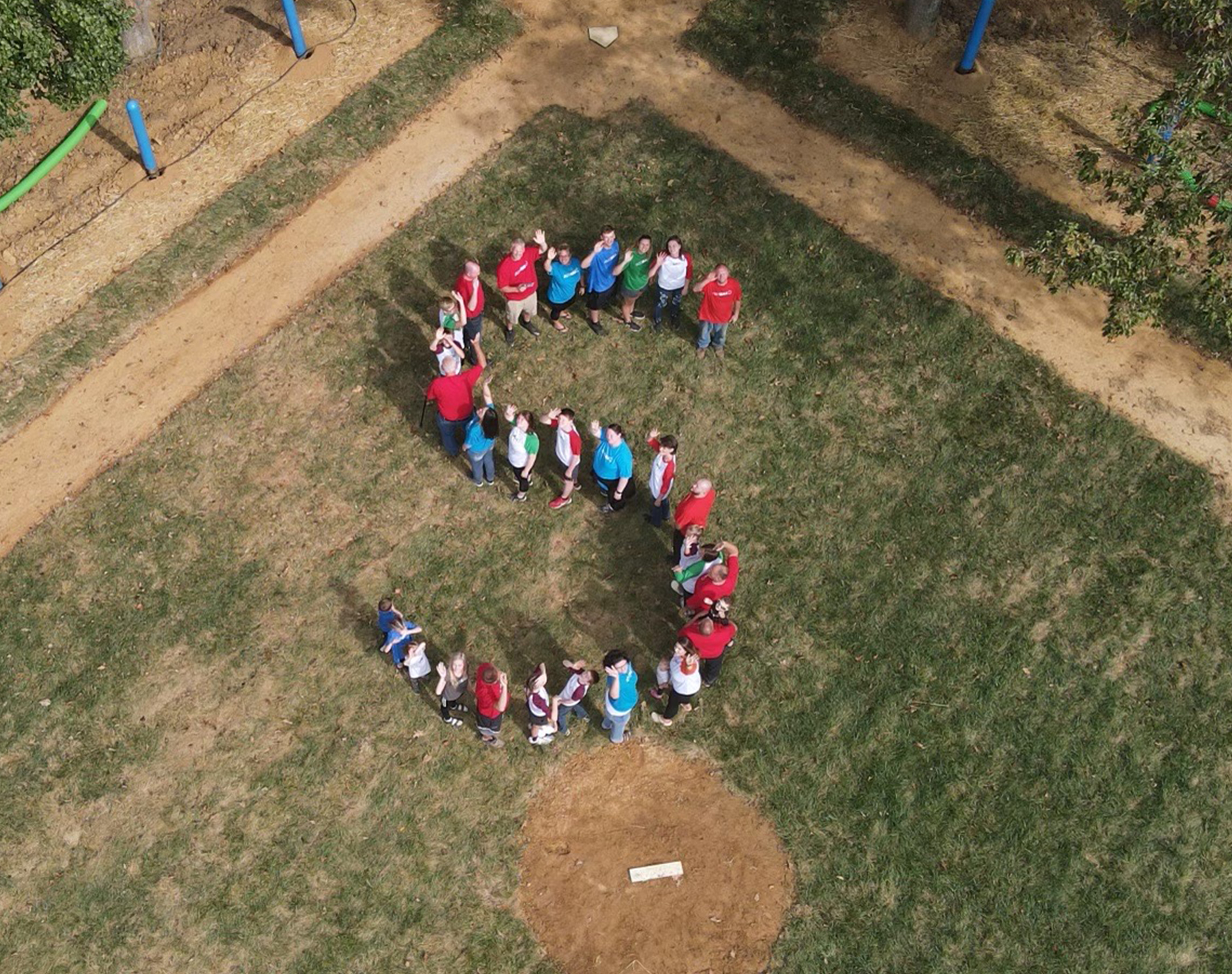 The Building Process
Randy officially started on the field in late summer 2019, where he started hauling the dirt. He had dirt hauled from one of their farms, totaling 140 loads, and the entire family has worked on it since. One of his sons helped him level it out. They laid sod, fertilizer, and straw, and they recently started seeing grass growing in the outfield. Kentucky Ulilities sent an engineer out to place a 45-foot light pole to shine light over the field, and Randy is very grateful for Keith's help because it has already allowed them to play on the field at night. You name it, Randy has thought of it. He was able to get green pipe to use as a top rail for the fence and ran cable through the plastic corrugated pipe. He also drove seven hours roundtrip to Missouri where he picked up a 12-foot long bleacher for everyone to sit on, and he is currently on the lookout for a scoreboard to put up on the field, too. 
In December 2019, Randy had to put the field on hold because his wife, Maureen, had a 3rd stage tumor in her breast. She went through both chemotherapy and radiation. They are very thankful the doctors believe they got it all, and she is recovering well. With that said though, Randy's next project is to build a 30×50 building for their family, but truly, for his wife. She is a cook, as she retired from Niagara Elementary School as the Kitchen Manager for 34 years. Their family is so big they can never eat together at the same time. The building will have its own kitchen for her to cook, so they can enjoy each other's company all under the same roof. 
Let the Games Begin 
Randy is having a sign made for their baseball field that says, "Pops Family Field of Dreams." He loves the movie "Field of Dreams" and his grandkids call him Pops, so it was only fitting. He is going to have his dad's baseball picture placed on the sign and in memory of his parents. 
He wants to have a blitz ball tournament next summer for family and friends where they can have hot dogs, chips and drinks and come together for a day of fun. His daughter-in-law made 40 matching t-shirts for their entire family to wear on the days they play that says "Blitz" across the front. 
Randy would like to give a special thanks to everyone who has helped make this field become a reality for his family. To his family and friends, KU engineer Keith Marks, Dr. Nunez and Ratley Trucking, he couldn't have done this without your help and support. 
The family patriarch said, "My hope is the field stays in my family, and that when we invite friends over that some kid, or somebody would come to know God. That would be one of the best things that could come out of it. Clean family fun for everyone to enjoy."  
Join our list
Subscribe to our mailing list and get interesting stuff and updates to your email inbox.
Reader Interactions