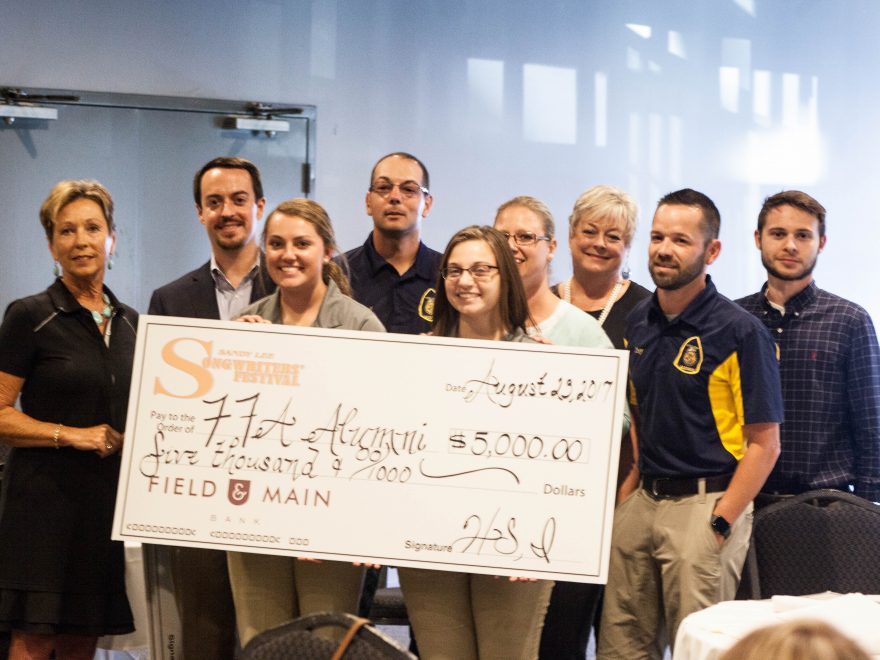 The annual Sandy Lee Watkins Songwriters Festival was another huge success in Downtown Henderson in July. The festival was proud to welcome back over twenty award-winning songwriters to our community to play their hits that we hear on the radio. Even though storytelling and music are their passion – the songwriters return every year because they truly love raising money to support local causes. On behalf of the Board of Directors, Volunteers, Committee Members, and Songwriters we were proud to grant four local organizations with funds from our 2017 festival. The grant recipients were awarded on August 24th in a private ceremony held at Rookies Restaurant in Downtown Henderson. The recipients of the 2017 Sandy Lee Songfest Grant were; Brain Injury Adventure Camp, Henderson County Diabetes Coalition, Audubon Kids Zone, and HCHS FFA Alumni. The recipients will use their funds to support local programs in our community.
The 2018 Sandy Lee Songfest Grant Application will be available online at sandyleesongfest.com on Friday, September 15th and deadline for submissions will be November 15th.
Join our list
Subscribe to our mailing list and get interesting stuff and updates to your email inbox.
Reader Interactions