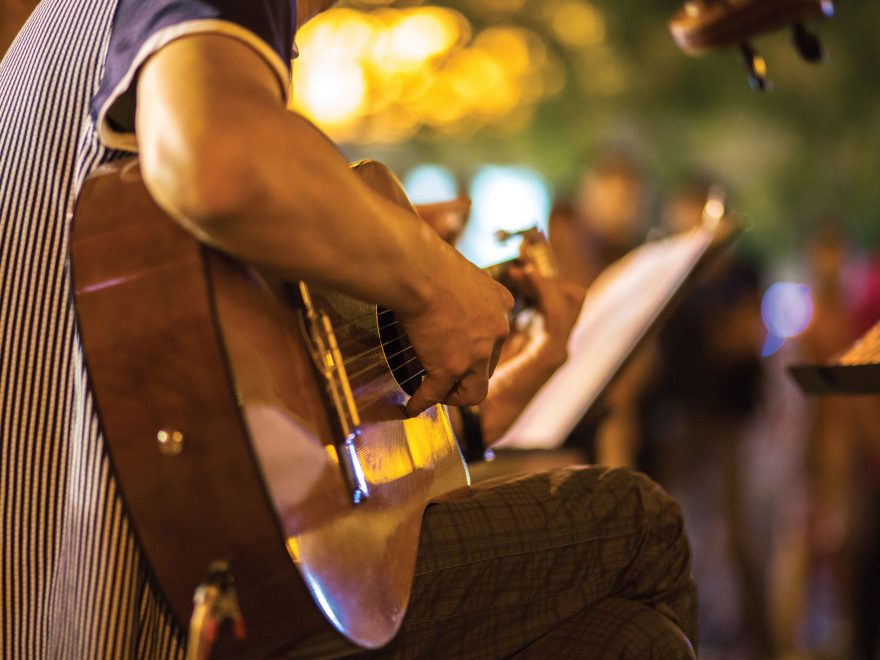 An interview with Singer/Songwriter Don Sampson, One of Sandy Lee Watkins Songwriters' Festival's Finest
The 8th Annual Sandy Lee Watkins Songwriters' Festival is returning to Henderson July 26-29 featuring four nights of intimate, acoustic performances by Nashville singer/songwriters. Sandy Lee fest is your chance to get an up-close, in-the-round experience hearing the stories behind some of your favorite radio hits by the men and women who wrote them.
Henderson Family spoke with 2017 participant Don Sampson (who has written four #1 songs and is one of over 30 artists to appear this year) to give our readers an example of the talent highlighted during the 2017 Sandy Lee Watkins Songwriters' Festival.
From a young age, Don Sampson loved writing and performing his songs. His father, a mailman by trade, had a guitar of his own, which Sampson admired and played whenever he found the opportunity.
"While growing up, my dad was a Hank Williams disciple," Sampson said during a phone interview with Henderson Family Magazine. "The first music I remember hearing of any kind was old Hank Williams records. He was my dad's guy, and he kind of turned into my guy too."
Sampson's love of Williams brought him to other musicians including Merle Haggard, who Sampson considers one of the best songwriters of all time.
A Virginia native who hails from Nashville, Sampson developed a love for music and songwriting throughout his life and is one of the many songwriters that will perform at the Sandy Lee Watkins Songwriters' Festival. This will be his fourth year performing.
In his early 20s, Sampson moved to Nashville and admitted he didn't know exactly what he was doing. He only knew he wanted to be a songwriter, and he figured it out as he went along. The Bluebird Café became a regular haunt for Sampson, and as a young songwriter, he listened to the musicians he aspired to be.
"You form relationships with other musicians, and you write," he said. "You get turned down a lot. You either take advice or you don't, and then move on. But you always keep at it. Even if you're failing, you're still learning, and that's a positive. You have to look at things that way, especially being in a rejection-oriented business. Either that or you have to be stubborn and stupid, which I think I'm a lot of both."
Today, Sampson strives to translate feelings into a song by way of writing. He takes complex experiences and expresses them through his art form. His songwriting also serves as a way to connect people together.
"I don't do this because I'm different than anybody else," he said. "I do this because I'm the same as everybody else. Through the years I've had several people write letters thanking me for saying something that they had always tried to say to their wife or kids or whomever. To me, that's what it is all about."
According to Sampson, every song he writes is different with unique inspiration. Drawing from other artists' experience, he has co-written several songs including "Waiting on a Woman" (recorded by Brad Paisley) and "Tough Little Boys" (recorded by Gary Allan).
"You pick up on their vibe and help them say what they want to say because I was in their shoes at one time. We're all different, but we're all the same. Co-writers are like friends and family."
But Sampson's favorite songs come from those he writes solo. His songs, sprouting from pure inspiration, often focus on subjects that mean the most to him like God and his family. His most beloved song is one that has never been recorded, and he wrote it in his truck. It's called "That's What I Believe."
It is a song Sampson has performed at a previous Sandy Lee Songwriters' Festival.
"No one had ever heard it," he said. "I did that the first year I was up there, and the next year I came back, two people remembered that song and asked me to play it again."
Join our list
Subscribe to our mailing list and get interesting stuff and updates to your email inbox.
Reader Interactions