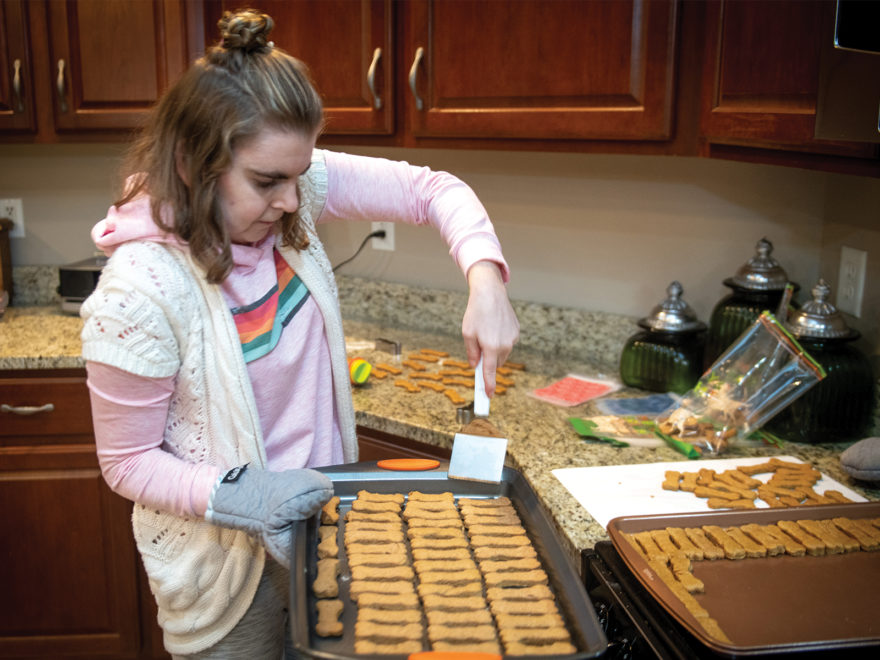 Photos by Darrin Phegley

After seeing how much their dog loved the treats, they decided to start making them for some of their friend's dogs.  It grew from there into what is now known as Shelby's Creations. "We've done greeting cards, lotions and dog treats," Tammy shared while acknowledging that dog treats are their main focus.  Shelby, with the assistance of Tammy, then began branching out and selling the treats to help earn income.  "Most of our customers are business people," Tammy continued, "We stop by their office, we drop off the treats then they Venmo me or leave an envelope."  
​Working the Business
Shelby, who was born with a genetic disorder known as Cornelia de Lange Syndrome and a secondary diagnosis of autism, does most of the work on her own.  "She is very business savvy," boasted the proud mom.  Shelby has successfully grown her business through word of mouth and by seizing networking opportunities as she is about her day in the community.  For example, the young entrepreneur enjoys taking strolls alongside the river in downtown Henderson. There she often encounters locals taking their dogs on walks.  She will confidently approach them to ask if she may pet their dog.  After a bit of small talk, she then tells them of her dog treat business.  From these efforts she has gained new customers that she wouldn't have otherwise known.  "It fits her personality," Tammy added, "She loves one-on-one situations."
The treats, which are made of all-natural ingredients, come in the shape of a dog bone.  They are made from scratch in the Baird's family kitchen.  "I run the KitchenAid and get it all mixed up and scoop it out.  From there she rolls it out, knows how to turn the oven on, sets the time, takes them out.  It's impressive," Tammy described.
Overcoming the Challenges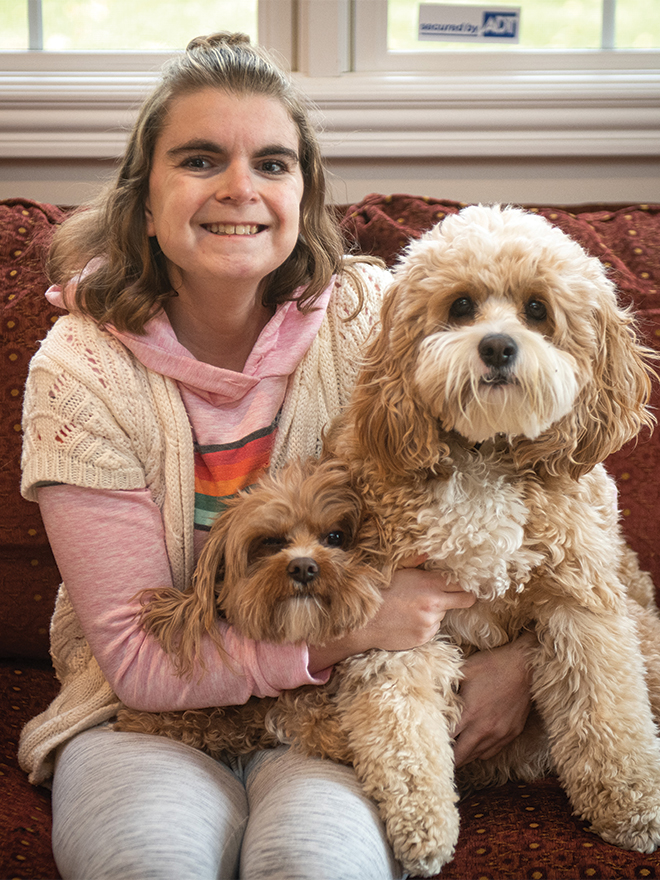 Being the owner of an expanding business poses a special set of challenges.  Having Cornelia de Lange Syndrome and autism, Shelby's challenges often come in the form of behavioral and mood issues.  Fortunately, she has a wide support system of family, friends and therapists that coach her through the rough days.  "She is so high functioning.  She can do so much.  She's grown so much," explained Tammy, as Shelby nodded in agreement.  "She has a functional checklist every day that includes chores, hygiene, health, fitness, etc.  If she gets these done every day of the week then she gets to go shopping.  If these things don't get done then it won't happen," explained her mother.  Shopping is a motivating factor for the young woman as it is one of her favorite activities.  The list of things Shelby shops for is not different from what would be on most any twenty-somethings list.  She shared that on her next shopping day she was in the market for "lip stick and Chapstick."
Shelby sat across from her mother, petting the family dog, as Tammy tearfully gushed, "The blessings far outweigh anything you have to go through.  The first thing people will say is I couldn't do this.  They look at it as a hardship.  It's really not."  Shelby, displayed her business minded spirit by responding with simply stating, "I want to make more dog treats for the people I don't know yet."
Shelby's Creations makes dog treats weekly and will deliver.  There are five peanut butter flavored treats in each bag, which are sold for $3 per bag. 
Orders can be placed by texting 270-724-0837.
Join our list
Subscribe to our mailing list and get interesting stuff and updates to your email inbox.
Reader Interactions