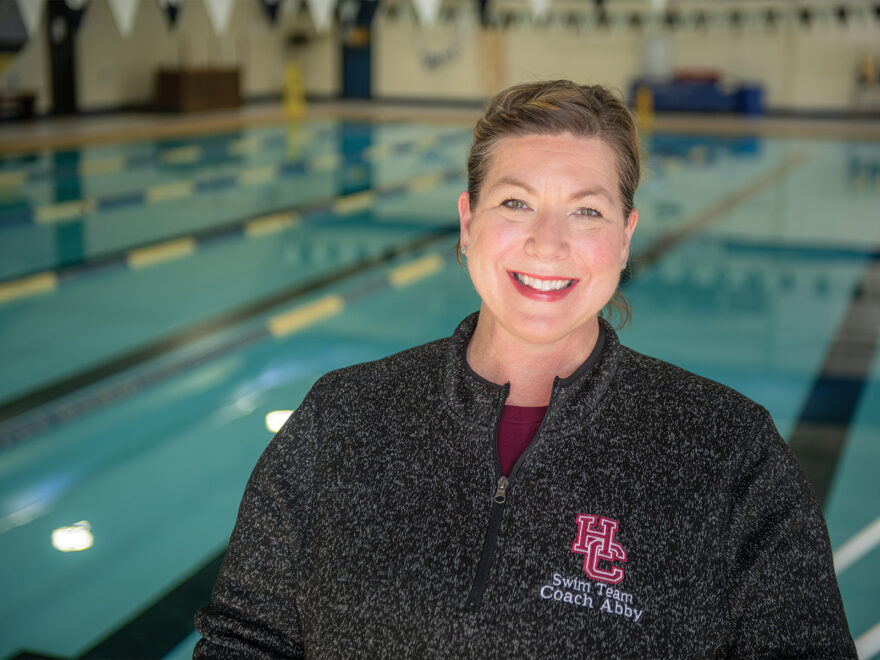 Photo by Darrin Phegley
Most kids are thrilled at the thought of summer because it means they get to go swimming. Whether it be in their own backyard or a community pool, they love splashing around, playing water games and jumping into the water. For Abby Hampton, the love and passion for swimming began at the age of three, and she doesn't remember a time not being in the pool. 
Life Outside of Swimming 
Abby has been married to her husband, John Hampton, for almost 22 years.  They have two children, Amelia Hampton, a freshman at the University of Kentucky, and Jack Hampton, an eighth grader at North Middle School. They also have a whoodle (soft-coated wheaten terrier/Poodle mix) puppy, Louie, who will be trained to be a therapy dog.   
Abby is a Special Education Teacher at Henderson's alternative school, Central Academy. She works with the Performance Based program students, E-learners, and provides service minutes for students with special needs that are on Dayside.  Although her background is working with students with behavioral issues, she originally went to school to become a Marine Biologist. She quickly made the change to Physical Education. With no Physical Education positions available at the time she was job searching, she ended up subbing long-term for a behavior self-contained class at Central.  "I was asked to stay on and got my Master's in Learning Behavioral Disabilities from Murray State University and later my second Master's in Moderate/Severe Disabilities from Western Kentucky University.  This will be my 22nd year working  for Henderson County Schools," Abby said.
When Abby isn't working or coaching, she enjoys reading mystery thrillers and historical fiction books or listening to them via the Libby App. Abby and her family also love visiting beaches, snorkeling and Disney World! 
Growing Up Poolside
"I cannot remember a time that I have not enjoyed swimming.  I know that at a very young age, I was already a seasoned pool nut," expressed the passionate swim coach.  When Abby was very young, her mom was a lifeguard. Abby explained how her mom would get in the pool on her hourly breaks to play with her. "If there was water around, I was in it."
It's hard to think back and remember her first swim meet because it is all she has known, but her parents remembered. Abby's first swim meet was at Plainview Country Club in Louisville at the age of three. Abby is sure her parents have a great embarrassing story and probably captured a great photo to go along with that first swim meet memory, too!  
For Abby, swimming didn't just take place during the summer months. Swimming was a year-round sport for her. She remembers spending her summers at Country Club swim meets but also traveling for USS meets throughout the year to some really fun places she may never have had the opportunity to visit if she wasn't involved in swimming. "To this day, I run into people I swam against or with. It really is a community sport," stated the avid swimmer. 
From Swimming to Coaching
Abby remembers when the thought of teaching swim lessons long-term first sparked her interest – she was 13-years-old. She had started giving swim lessons at TriState Athletic Club, and she really enjoyed helping others learn the skills they needed to be successful swimmers. She had no idea at the time how the roles of teaching swim lessons and coaching would become such a big part of her life in the years ahead. 
Abby had the opportunity to swim in college. She enjoyed representing her school, College of Charleston, as a collegiate athlete. "I consider this to be a huge privilege. I really loved my college. It was the perfect fit for me and it remains the most beautiful campus I've ever visited. I also enjoyed traveling to other colleges and swimming at some really fantastic pools. We visited William and Mary, University of North Carolina, Duke, University of Richmond, Davidson, University of Tampa, East Carolina, and Emory.  Time management was huge in balancing swimming and life in general from high school on," explained the College of Charleston alumna. 
Abby has been trained and learned from some of the best over the years. She loves being a swim coach, but it can definitely bring its own set of challenges at times, too. "I enjoy the actual coaching aspect and seeing the kids who put in the hard work get the results they want.  The challenges for me are available pool times. The YMCA has been very helpful and flexible with us, and I am very thankful to the Aquatics Director, Katherine Hill.  However, the main pool is not the correct size. High school teams swim in yards and our pool is meters, so it presents some challenges when having home meets," Abby said. 
Abby's mother, Kay Underwood,  was a swim coach, and she still continues to coach and swim herself at the YMCA. Swimming runs in Abby's blood. It is a part of her and sharing her passion of swimming with others is what has led her to some awesome coaching opportunities. Before accepting the Henderson County High School Head Swim Coach position, Abby was the swim coach at Owensboro Catholic High School from 2017-2021. 
Both of Abby's children started swimming at the age of 3. They each swam for the YMCA and Marlins. Her daughter, Amelia, swam for Owensboro Catholic and her son, Jack, is now swimming for Henderson County High School. 
Preparing for Competitive Swimming 
"Swimming is a lifelong sport," Abby stated. She encourages young swimmers to have fun with the sport now while they are still in the early stages of learning all the ropes and skills of becoming a competitive swimmer. "Swimmers often burn out, especially if you have swam since a very young age.  It is great to be competitive and always try your best but be sure to be involved in other things as a young swimmer, too.  It can easily take over your life if you let it with doubles (2 practices a day), dryland, lifting, diet, no free weekends, travel schedule and time demands," encourages Coach Abby. 
The Future of Swimming 
Abby is looking forward to her second season as the high school swim coach. "We are hosting an invitational on November 19th at the new pool at the Deaconess Aquatic Center.  We are hoping to have at least 20 different teams there from Kentucky and Indiana.  I've heard that it's a fast pool, so I expect lots of great races.  Last year being the first year, we had a learning curve. This year we are more knowledgeable of the workings and ins and outs.  So, I'm excited for a smoother go at things this year and the future.  Thankfully, many parents have stepped up and taken on more involved roles, too.  Lastly, I'm excited about growing the team!" stated the enthusiastic coach. 
Swim season is from October to February, but students begin conditioning in September. Abby plans to have a parent meeting on Thursday, August 25 and the first day of conditioning will be Tuesday, September 6. 
In regards to lessons, Abby has previously been able to provide both members and nonmembers lessons at the Henderson Country Club, YMCA and private pools in Henderson. 
Student athletes (7th grade and up) who are interested in learning more about the high school swim team can reach Abby at [email protected], or if you have a child needing a swim lesson, you can reach Abby at [email protected]. She is happy to answer questions about competitive swimming, or about swim lessons to ensure the safety of your child as they are introduced to the water.  
Join our list
Subscribe to our mailing list and get interesting stuff and updates to your email inbox.
Reader Interactions