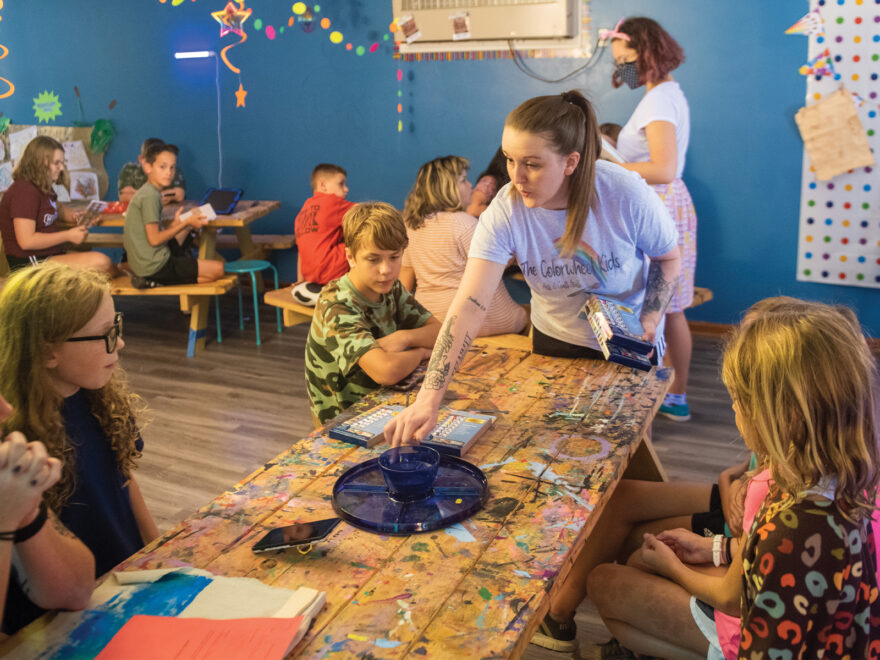 Every Kid is an Artist

 
with Different Abilities
Photos by Darrin Phegley
"I am so sorry. He doesn't have any vision at all." Words no parent is ever prepared to hear, Taylor Heady and her husband, Gavin, were given their son, Levi's, diagnosis of optic nerve hypoplasia when he was only six-months-old. It is a rare but leading condition in childhood blindness. They were told if Levi does have vision it is maybe light perception. Taylor explained, "In the first trimester, your optic nerves form. His did not. The circumference of a straw is what your normal optic nerves look like and his are about string size, so that gives you a comparison." Although their journey has been hard and brought them many challenges and obstacles, it has led Taylor down a path she never imagined. A path bringing joy and serving in a way she never dreamed, and this is only the beginning. 
The Dream

 
Taylor was born and raised in Henderson, and she always knew she was called to serve others. "In high school, I wanted to join the Air Force and be a flight nurse. That was my goal. I wanted to have a lifelong career. I didn't want children or to be married. I wanted to literally be in and out of the United States." However, her plans changed when she gave birth to her first child and had to re-evaluate what she wanted to do. Knowing she wouldn't be joining the Air Force, she knew doing police work is where she was being called. A close family friend, whose father was a sheriff's deputy, suffered a heart attack in the line of duty while talking a lady down from a suicide attempt. This was another tug at her heart that she wanted to do this kind of work. She had the same aspect of wanting to serve others. 
Taylor started out with the State Police working for commercial vehicle reinforcement, with the weigh station across the bridge being her main location. She then moved to Madisonville Police Department and finished off at Spencer County Indiana Sheriff's Department. They cover Rockport all the way up to Santa Claus, IN. Her goal was to retire from there. Levi's diagnosis was at the height of COVID, and Taylor was working 80+ hours a week. She knew very quickly it was not in the cards for her to stay on as a sheriff to care for her son. "I worked for the first female sheriff in Indiana. That was amazing to me. She was phenomenal. I learned a lot from her. I stayed on with reserves up until about six months ago and then turned everything in. That is when I really decided I am done." 
A Window of Opportunity
"Levi is a sensory kid," Taylor said. "Sensory art is essentially what helps him to get better and more tolerable of different textures. It doesn't seem like such a chore or therapy because kids think they are just playing when really kids are getting used to these textures without them comprehending that's what they are doing. For example, there might be a child who doesn't like the texture of mashed potatoes but will play with play-doh." 
Taylor had been babysitting some friend's kids at her house, and the kids were always painting and doing crafts and sidewalk chalk. Taylor explained the moment the idea to open an arts and crafts studio came to light. "I was watching the neighborhood kids – what they say are neurotypical, so no different abilities – and watching the kids interact with Levi and how it was second nature to them. And I thought, a few months ago they didn't know how. They would come in and yell at him saying hi thinking he couldn't hear. Once they got acclimated with Levi, they understood he was like every other kid but there are certain things that needed to be done." And she thought, "I need an art studio that makes that happen for other kids like Levi!" 
Last year, Taylor and her husband talked about renovating their attic and turning it into an art studio. She even made a Facebook post asking if there was anyone interested in art classes if they were to redo their attic. She had a ton of comments. Although they eventually completed their attic and turned it into their family hang out/office, their renovations were put on hold when the December 2021 tornado hit Western Kentucky. Taylor helped with search and rescue all week and then ended up helping people find their belongings before more rain came. The time they got around to completing their attic, Taylor felt they needed a different space. She initially had no intentions of opening an art studio anytime soon but, "God just kept opening doors," expressed the determined mother.  
Shining Light on a New Purpose
The Colorwheel Kids opened its door in May 2022, offering an Open House with its first class being held on Monday, June 6. "It's been a learning experience with what works and what doesn't. This is an arts and crafts studio where we do lots of hands-on things, especially those with autism, where kids can co-mingle. It doesn't matter what you look like, who you are or what your background is.  It helps make things seem like second nature with the different abilities."
A lot of times, kids gather when they have common interests, but here Taylor encourages kids who don't even like art to come because they do other things besides art. For example, one night they made painted foam airplanes and used bedazzled glitter. They do a pinewood derby. "It's not just one interest," Taylor explained. "It's a place where the football kid can come do stuff with the kid who likes to sit in the corner and read." These are the connections Taylor is wanting to bring to the surface through her studio. It is more than an arts and crafts studio for her. It is bringing kids of different abilities and interests together. 
Kids have a choice when they come to The Colorwheel Kids. Taylor lets them go play, and then when they want to come and try something out they can. Those on the spectrum may just go to the calm down or sensory space and not even participate in the art activity for that day. She lets them make it their choice to migrate into the studio and see what this art thing is about. "Behind this door, this is the one space you don't have to make your child fit the mold. This can be an hour of them being them!" 
Taylor told of the first moment she experienced her hope for the studio playing out. There was a student who attends regularly who is nonverbal but makes noises. One night, a new little girl attended a class. The little girl sitting next to her tapped her shoulder and said, "It's okay. He calms down. That's just normal." Taylor said she had to go into her office and try not to cry. The retired deputy said, "It was like when the bulletproof vest came off, it was okay to cry over everything under the sun." If Taylor has made that one difference, it is enough for her. 
Class Offerings
Taylor explains how she has structure but yet doesn't. Every week there is a common theme among all of her classes, but she wants it to be what the kids make it. Having flexibility makes it more fun for kids of all abilities. One week, her classes focused on pointillism. The older group did an actual project, the intermediate group did a pointillism pond – a group project – where they used blue paint and cotton balls. The little group had water cans and Taylor made rainbow lines. The little ones had to fingerpaint dots. 
She offers drop-in sessions, but they are sessions that are based on life skills. For example, they have offered a junior makeup artist, junior gardener, and a junior cake decorating class. They have a junior tattoo artist class coming up with an entire crew coming over from Evansville to lead the class. 
Monthly memberships are available. Children ages 2-5 is $65 and ages 6+ is $85 per month. This fee includes all supplies, crafts and a snack. Drop-in sessions can be found on her Facebook page with a link to sign-up. Most classes offer 10-12 spots. Donations and sponsorships are always welcome, too.
  Although Taylor comes from a family of artists, she says, "I enjoy having guest artists. I am here to participate with them and DIY the heck out of some stuff."
The Colorwheel

 

Keeps on Rolling
Taylor is excited to continue to see her studio and vision grow. When she opened, she thought she might have 15-20 kids interested. Currently, she has 48 monthly memberships and 1,200 likes on Facebook. "That is 1,200 more that didn't comprehend the different abilities." It is so important to her to bring awareness to all different abilities and how beneficial it is to co-mingle for kids. The studio was recently asked to participate in the Wendell Foster Expo in Owensboro. 
They are also offering special adult drop-ins now. Parent's nights. "We have a DIY cornhole board coming up. Winner takes all. The group decides how much they want to put in. Tacoholics is bringing the ChimiTruck, too." She wants everyone to know that the studio is versatile and not just for little kids. They can offer birthday parties, baby showers, etc. 
But, what's next? After hearing from parents in Madisonville, Hopkinsville and even as far as Crittenden County interested in what Taylor's studio was providing, Taylor and Gavin have decided to take it to the next level. They are currently looking to purchase a school bus to offer a "color-on-wheels" mobile bus. Taylor's husband is a project manager for a restoration company, so he is very handy.  They are going to renovate and make a mobile bus that visits different locations one weekend a month. However, this will take money to make this goal happen. Taylor has a GoFundMe, but she doesn't feel like many yet comprehend the idea of the purpose of her studio and just see them as an arts and crafts studio. The excited studio owner said, "There is so much more that goes on here. It's almost like a mentorship."
There is an Arts for All program in Kentucky who plans to come down in September for them to potentially receive a grant from. They also received a grant from 911 Gives Hope. Taylor fought in "Guns N' Hoses" so she is close with that organization. 
The possibilities are endless if they can purchase a bus to renovate. Taylor says she could take it to field day at the schools, Tri-Fest and surrounding fairs and do walk-up crafts. When she thinks about what she wants the bus to be – wild and crazy! "I want the kids who are part of the studio to have a part in doing it. I want people to see it from a mile away, look into it and learn more about the different abilities!"
Making a Larger Impact
"I was heartbroken when I left the sheriff's department. I've always felt that God put me here for a reason. I'm not here to just live my life. I am here to live a life to serve others in some aspect. I felt that was my last shot. I felt like I almost let that down. I didn't know how I was going to make an impact any larger than what I was already doing. But once I started to piece together and look at talents of my own to serve in a different aspect, it made the transition a lot easier. 
Her previous experience has helped her in this new studio. For example, law enforcement helps within her studio when reading body language. There was a little boy who is bipolar who attends her studio. She could tell one evening he was going to have an episode by his body language. She was able to get him to the calm down room beforehand, and he told her he is thankful he has a place to go.
"I wanted to live with a purpose, and this studio had a purpose. We are all artists, but we all have different abilities!"
To learn more about The Colorwheels Kids, or to find out about their upcoming classes, you may visit their website at www.thecolorwheelkids.net, call them at 270-844-2513 or find them on Facebook.   
Join our list
Subscribe to our mailing list and get interesting stuff and updates to your email inbox.
Reader Interactions