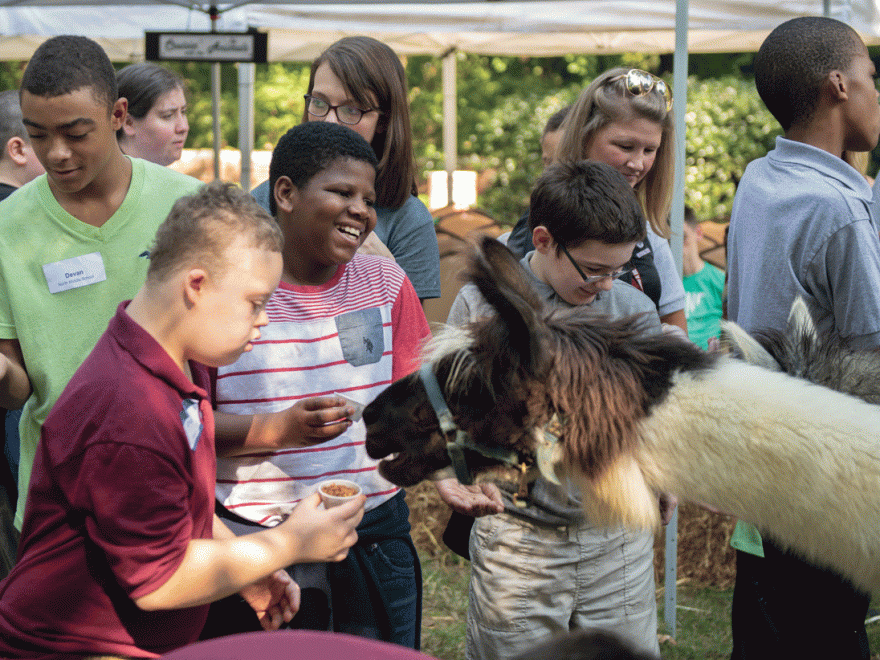 Do you remember going on field trips when you were little? The excitement and anticipation of you and your fellow classmates as the bus came to a stop was like no other. That is exactly how the students who attend the Audubon Arts & Music Festival feel each year they are being dropped off. Hosted by John James Audubon State Park, this event is going on its 24th year and in 2010 won a National award. There are many within the community who may have never heard of this festival, as it is an event specifically put together for students with disabilities and by invitation only. This festival not only serves students within Henderson County but those within the Tri-State area, too. Over the years, students have and continue to attend from Webster, Union, Daviess, Hopkins, Christian and Vanderburgh counties. 
Kim McGrew has been coordinating this event for 18 of the 24 years it has taken place, and this event is so heartwarming not only to her but to everyone involved. She puts so much time and effort into coming up with creative, fun themes for students to experience each year. This year's theme was 50s Rock n' Roll. Many of these students may only get to come to this one event all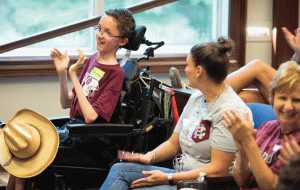 school year, as their disability may not allow them to take other field trips. Audubon wanted to provide a day these amazing students could look forward to every year. Kim has been able to watch kids come from elementary all the way through high school who are now coming with the Hugh Sandefur Center, an adult learning center in Henderson. "I still get cold chill bumps every time I think about it. It's probably the most rewarding thing I have ever done in my life. You must be here to experience it. No one understands it until they come." Kim said.
Kim begins working months out planning the festival each year. She sends the applications and photo release forms to the board office and those are sent to the special education teachers within each of the schools. All paperwork is submitted ahead of time for t-shirts to be ordered and sorted by day as well as class schedules. This provides Kim and Audubon enough time to prepare for this three-day event. Each year, students are grouped together and rotate "classes" every hour. They try to group the students together based on age level. This year's classes were 50's Rock n' Roll (music), Portraits with the Pink Lady (Art), Daddy O's Pottery (potter's wheel) and Cruisin' with the Animals.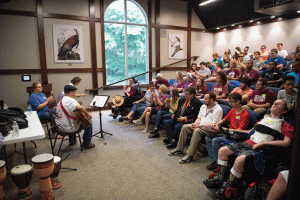 In music, students sing songs and play instruments, such as drums, to songs that go along with the theme for that year. John Gage has led this class for 18 years. He looks forward to this festival every year. He said he grew up during the 50s, so he had plenty of songs to play for this year's theme, but he also allows the students to request songs, too. Gage said, "The first day I did this 18 years ago was actually on 9/11. It was happening that morning. It was a Tuesday morning. I remember it vividly. I was tuning my guitar and saw what was on the news. I was staggered and shocked. Over the years, this wonderful special arts experience has grown and expanded out of the ashes of 9/11. It is bringing hope when you felt reason to despair all those years ago. God bless those who support it and put up money to help make it happen." Gage said he enjoys seeing the effect music can have on people. He has gotten to know these same students over the years, and it's an honor to be there and serve them. 
In art, students use fabric crayons to draw a portrait of themselves on a piece of paper, and the portraits are put onto t-shirts with a heat press for them to take home.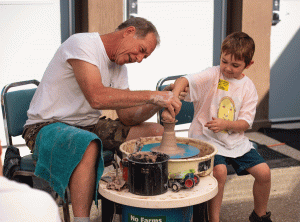 In pottery, students are given hands-on experience to make their own pottery bowl. Albert Bauman, who leads the potter's wheel, said, "I think it's a marvelous festival. I have been coming
and working at Audubon for 35 years." Bauman explained how this year two physical and occupational therapists from the school system came. "The sense of teamwork, especially this year, was overwhelming. It was a delight to be able to interact and work with those folks to come up with great ideas and solutions for the kids. Some know what they are doing while others need help to get their hands open or around something," he exclaimed. 
At the animals stop, they can visit and pet a variety of animals in the museum gardens. During lunch, students can enjoy face painting, music and balloons! Every year these classes will change. In the past, they have had a storyteller, a canvas for students to paint and much more. Volunteers are always willing to donate their time. Henderson County High School sends 6-10 freshman students each year.  A different group of students and a teacher will come each day.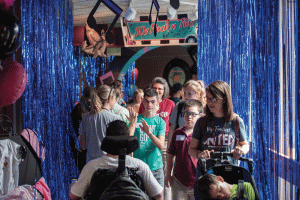 One example of how touching this event can be for students is of a little girl who attended this year. Her teacher said she never talks but when she saw the animals at the festival she ran over and kneeled beside them and began to speak. Her teacher was amazed, but this is exactly what this festival is all about. It offers hope. It offers excitement, and it introduces these students and adults to new interests, new friends and new opportunities for personal growth. 
What makes this festival even more special is students can come for free because of the wonderful sponsors. This year's sponsors were the Preston Family Foundation, Friends of Audubon, Royal Crown Cola, Sureway North and Audubon Museum. 
Kim said, "It's just fun to see them laugh. The gleam in their eyes is incredible. To get them here and give them opportunities to broaden their horizons is a wonderful thing."   
Lyndi Mauk, editor of Henderson Family Magazine, was born and raised in the Bluegrass State. She is grateful to be going through life alongside her husband and best friend, Brandon, and being a mother to their little girl.
Join our list
Subscribe to our mailing list and get interesting stuff and updates to your email inbox.
Reader Interactions