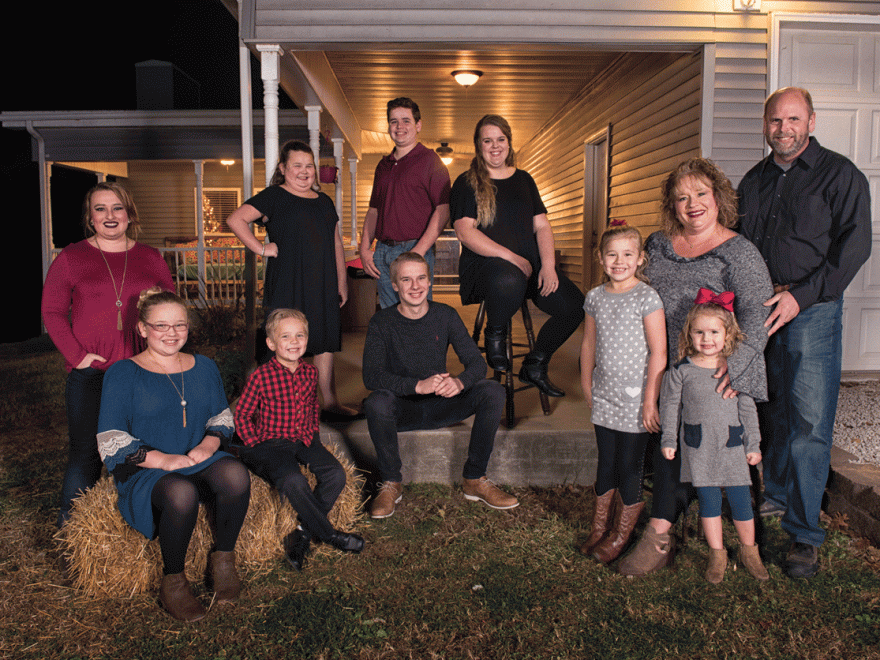 When most parents think about their children's education, they think about where their kids are going to go to school. However, many don't consider the possibility of homeschooling. Although there are many who homeschool their children, you often do not hear much about it or know enough of what homeschool life is like for both the parents or their children. 
Rhonda Phegley and her husband, Darrin, made the decision when their first-born was 2-years-old that she would leave her full-time job as a professional photographer and homeschool. Little did she know, they would have eight more children. She has been blessed to homeschool each one of them. Their children range from ages 3 to 21, and this fall will mark 18 years she has been a homeschooling mother.
Rhonda explained that she and her husband are both Christians and were convicted that she would leave her job to homeschool. "We believe the Bible is truth and, ultimately, it was a conviction. We wanted to raise our kids from beginning to end completely. We were convicted that I would leave my job and profession and be home with children, and it would be ultimately my life's work."
She explained that when they first started thinking about homeschooling, a couple who also homeschooled came into their life, and they knew it wasn't a coincidence. 
The biggest challenge with homeschooling isn't usually within her home, but the perception that homeschooled children may have a lack of socialization. She explained how that isn't the case. Her kids are very socialized. They are involved in church, sports, a homeschooling group, and much more. Her older kids have jobs. Her daughter is learning to be a beautician and works at Tumbleweed. Her oldest son works at the Henderson County Public Library. If there is anything happening in the community, they always go. "We are out. People know us," she explained. 
Rhonda is the Director of a homeschool group called Audubon Christian Co-Op. There are about 100 kids from a total of 22 families. They meet every Friday from Labor Day through graduation season, about the second week of May. 
There are different groups for homeschooled kids to join for different ages. For example, her oldest son loves music. He taught himself to play guitar, piano, violin and trumpet. They allowed time for his love of music when he was being homeschooled. At one point, there was a homeschool band he was a part of. 
"Education isn't all about books. There is social interaction, etiquette, and manners," she said. 
"We are a teaching home. We go above and beyond what the state requires of us. I would do more than that anyway. We are always learning. We have a family identity that is built around us being together. Big ones help little ones. We learn basic skills. We grow a garden. We pitch in. Everyone doesn't drift off to their room and disappear."
Some days vary, but they typically have a six-hour school day. They have a school room with computers just like you would imagine. Her goal is for them to be a little more independent by the time they reach middle school. They use online materials, DVDs and have aids for all levels. "I teach at a table with my kids. A lot of independent study. I teach every subject." They read out loud and put things on the board. "It's very much like a one-room schoolhouse," she explained. 
Curriculums are everywhere. Aids and tutors are available. She covers everything, including evolution, just like kids learn within a public or private school, but they can teach in different ways and teach their beliefs. Rhonda knows the text inside and out now since she has been homeschooling so long. "The opportunities are endless today. From online to DVD to accredited programs through schools. Plus, if you need anything, Pam Dailey, owner of Daily Bread Book Nook in Hebbardsville, will have it."
Some of her kids have different learning styles and homeschooling has allowed her to teach them in ways that they might not have been able to learn otherwise. For example, one of her kids disliked math and graphing. She said they went out one summer and learned how to graph in the garden. "We lined up and used the string and seeds and watched it grow. The door opened for him and now he is a builder. He has time to do that in our school." Being able to cater to their learning styles and needs is what makes homeschooling so beneficial. 
When it comes to homeschooling, Mom and teacher are the same. They go hand-in-hand. It is a teaching-home mentality. 
"We don't have the hoops to jump through like accelerated reader programs. There is no pressure. For us, it is a freedom. They are learning when they don't even realize it." She and Darrin have meetings to discuss how things are going, what they need to do differently, etc. "We strive for excellence in every area," Rhonda said. 
Rhonda recommends homeschooling, but she also thinks it is important for anyone who might be considering it to ask, "What are your reasonings and are you committed?" 
"We are diligent. That's why I am reluctant to recommend homeschooling to people that I don't personally know. I don't want to recommend something to someone and them not do well, and it look poorly on me and my family when we have worked so hard to be respected homeschoolers. This is my testimony, but you have to make the decision that is best for you." 
Rhonda hopes that homeschoolers can be seen in a positive light. Things seen on TV isn't what homeschooling truly is, and she wants homeschoolers to be seen for what they really are in this community. 
"We have been blessed by having our kids home, and our children have been blessed by the relationships we have built with them. I think that is what the world needs—more families that are committed to that family unit. I can't say enough good things about what God's done in our life through this. Being able to homeschool has been a gift. It's worked out wonderfully. We never homeschooled our kids because we thought we were keeping them from something. We homeschooled them because we thought we were giving them something."  
Lyndi Mauk, editor of Henderson Family Magazine, was born and raised in the Bluegrass State. She is grateful to be going through life alongside her husband and best friend, Brandon, and being a mother to their little girl.
Join our list
Subscribe to our mailing list and get interesting stuff and updates to your email inbox.
Reader Interactions