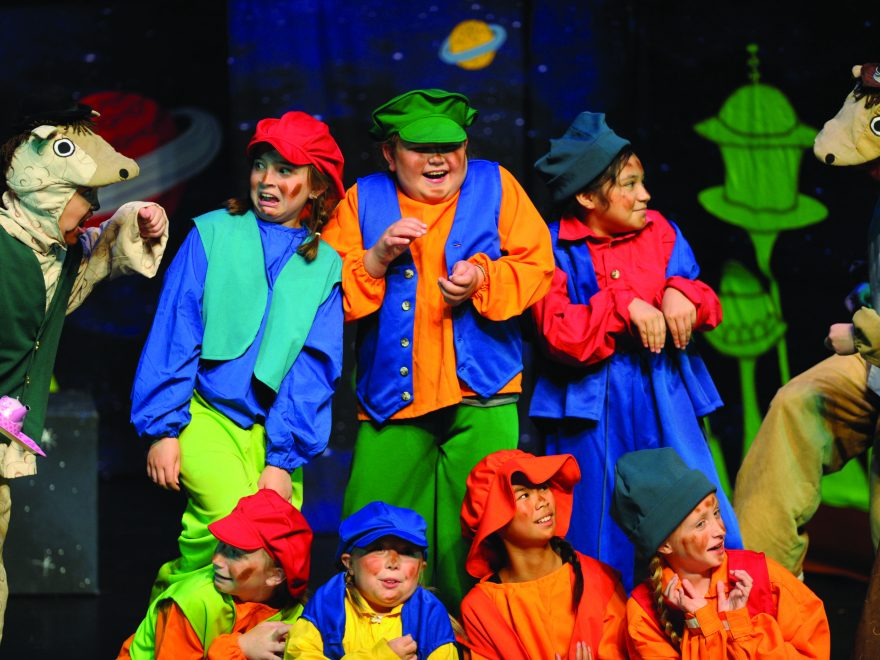 One week plus 47 children equals a truly spectacular performance.
Each summer, the Missoula Community Theatre (MCT) comes to town to transform the tristate's children into performers. This year, the group performed Gulliver's Travels. The kicker? Forty-seven children learned their lines and music numbers in just five days, with a performance on the sixth day, which took place Saturday, June 17 at the Preston Arts Center in Henderson.
How did they do it? MCT Tour actor Terry Evans and Director Lindsay Abrams are experienced professionals. For the past three years, both have taught thousands of students, ranging from first to twelfth grades, how to be performers. These children often are without any experience on stage and are not required to have any preparation for the audition process. Not only do Terry and Lindsay bring patience with them, but they bring all costumes, scenery, props, and makeup necessary for the performance.
In Henderson, Lindsay said she and Terry had a blast. "The kids have had such a sense of humor," Lindsay said. "They are cracking us up. Sometimes the things they say, we're like 'oh my goodness, we never thought they would actually say that, but that's really funny.'"
On Monday, June 12, students from all over the tristate auditioned and were cast in just two hours. "Parents say it's always so interesting watching us do the audition process because they have no idea what we're doing and we're able to cast a whole show in under two hours. That's amazing and that never really happens," Lindsey said.
Lindsay explained how the unique audition process works.
"First, we introduce ourselves and the show to them… because they don't know anything about the show," Lindsay said. "Then we put them in an audition square, and we give them line readings, and we have them sing a song for us. It's actually a really fun process for them. We do a lot of readings from television shows or movies they might know and they are like 'oh, that's the line from Toy Story' and they're like, freaking out."
Lindsay said that during auditions, they look for three things: loud, clear voices, big expressive bodies, and most importantly, if the child can follow directions. "Because we're only here for one week, we have to make sure everybody is on the same page and listening to us because Saturday, they're going to have a show," Lindsay added.
While only having five days from 10 a.m. to 2:30 p.m. (with a short lunch break) to audition, practice, and rehearse sounds impossible, Terry said they not only have enough time to practice, but they include help with life skills.
"We try to emphasize the importance of commitment, responsibility, and respect from the beginning, as these areas kind of go into memorizing their lines and learning what they're supposed to do. Because if they don't do that, they're not only letting themselves down but they're letting down everybody else on stage," Terry said.
For those who missed the show in June, this play allowed performers to use their imagination. The main character Gulliver discovers fighting aliens, Yahoos (human-like creatures), and robots while lost in space. The cast consisted of two students who played Gulliver; a Giant King, Queen, and Princess of Brobdingnag; a maniacal scientist of Lapunta; a giant wasp; plus Houyhnhnm Horses, Yahoos, robots, and aliens.
It was 14-year-old Sarah Tuma's first time (ever) performing on stage, despite landing a leading role as Gulliver #1. Sarah said her first experience on stage was a positive one, as she said she learned a lot about herself throughout the process.
"I've learned that if I put my mind to something, I can really do it," Sarah said. "I really doubt myself a lot, for some reason, I don't know why. It's just something I always do. But this is showing me that I don't have to do that. If I just trust myself, it will happen."
Another performer was 9-year-old Baylee Womack, who played a Yahoo. In her second year in a MCT show, Baylee said she isn't afraid while she is on stage and likes to feel like "it's all about her" while under the lights on stage.
Baylee added that she loved working with other children too, especially younger kids.
"I love having fun with other people," Baylee said. "Seeing how they act and how they make up things. If you want to be dramatic, it's fun to see them be dramatic."
Thanks to the efforts by Henderson Area Arts Alliance and sponsorship by Hillyard Lions, the 47 children in the show participate in the performance for free.
"A lot of times, kids can't participate in sports, arts, or whatever because it costs money," HAAA Executive Director, Alex Caudill, said. "If you want to join a soccer team, you have to buy your own uniform, cleats, and all these things so this is something that a lot of these kids and their parents look forward to every year. There's not much else like it."
For more information about the Missoula Children's Theatre, visit mctinc.org. For more information about HAAA, visit haaa.org.
Join our list
Subscribe to our mailing list and get interesting stuff and updates to your email inbox.
Reader Interactions