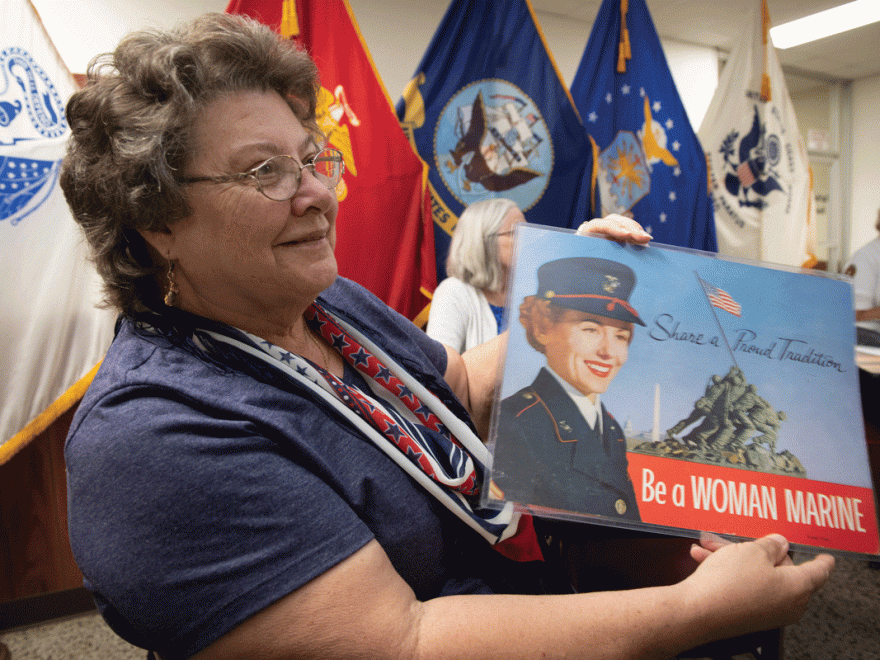 I was a marine," boasts Commander Barbara Kortz. "I'll be in Washington, D.C., for a week in August. On the Vietnam Wall, there are 8 ladies' names. Bet you didn't know that." Kortz, a 1968 graduate of Castle High School in Newburgh, joined the marines upon high school graduation. "There was no money for school. I was the oldest of 6 kids. I would have never left Evansville if I hadn't joined the military. My dad was a marine so I decided to do that too." After serving overseas as a United States Marine, Kortz returned home to the Evansville area where she worked and raised her family.   
Decades later, the local grandmother's heart is never far from her fellow sisters who have and are serving in the Armed forces. Her passion is evidenced by her dedication to growing the local chapter of Tri-State Women Veterans. She remains on a quest to simply identify women in the area who have served so that she can recruit them to the group. "Lots of ladies don't consider themselves real veterans because they weren't in combat. If you signed that dotted line on that contract, that means that you could have been sent to war anytime. Lots of women have died or been injured while serving. We have ladies in our group who have been to Iraq and Afghanistan, in the heat of it. I volunteered to go to Vietnam, but they never sent me. They only sent me as far as Okinawa," she proclaims with intensity in her voice.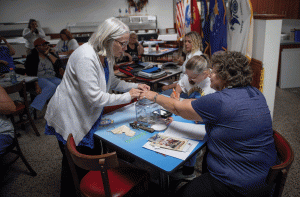 "Honoring Women Veterans Conference" is an annual event which provides valuable information, networking opportunities, friendships and even a little pampering for all women veterans in the area. The one-day conference is free for any woman veteran who would like to attend. "We have a continental breakfast, door prizes, guest speakers, break-out sessions and lots of pampering." Kortz explains. "The night ends with a nice dinner, which everyone always seems to really enjoy." After attending her first conference, Ms Kortz returned to the conference the following year and asked how she could help. She then began a book where she collected names of female veterans she found in the area. "That's how our group got started," she states, "We are an offspring of the conference. I'm the founder and commander." 
Tri-State Women Veterans' mission statement reads, in part "…reaching out to meet the unique needs of the brave women who have served in all branches of the Armed forces." The group is a non-profit 501c organization that is supported by both fundraising and by the generous donations of local business who see the value in their efforts. "Tom Davis gave us a large donation to go towards our conference on behalf of the Elks Club in Henderson," gushes Kortz. This group of women have servanthood pumping through their veins as they continue serving by contributing to the community. Fundraisers generate money that is then used to support the costs of the women's conference as well as the monthly meetings. "We also use the funds for any veteran sister who is in need. When a need comes up, in the community or in our group, we try to help," she said. Most recently, the group has donated a portion of their funds to the YMCA and Toys for Tots. Tri-State Women Veterans is devoted to meeting the unique needs and challenges facing women veterans through providing an opportunity to share experiences, offering resources and creating an environment for friendships to flourish.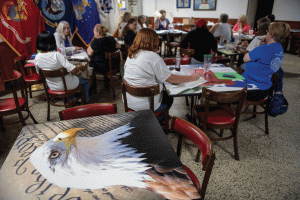 Tri-State Women Veterans currently consists of a diverse group of ladies ranging in age from about 20 to 98 and whom have served in all branches of the military, spanning many wars. Commander Kortz points to a picture in a large photo album of a white-haired lady seated within a large group of women, "She was one of our more mature ladies. She was 106 when she died. She was an army nurse." The stories that are shared in the group are told from the perspectives of women who lived in a vast range of time eras, but who are all united by their mutual love of this country. "When I was serving, women were secretaries, supply, administration, things of that sort. It's not that way anymore. We've broken the glass ceiling," gushes Kortz. These veterans have served in an array of capacities including a member who was an army nurse stationed in Iraq. "She told me they had rifles by the doors and that they could hear the sounds of war going on outside the courtyard where they were operating," an adoring Kortz recalls. "She's in her 40s now. She came to our first meeting with no expectations of ever coming back, but she loved it. She says our group, which meets every month, has given her support and helped her." Another group member was a Marine Lioness; a term used to describe "US women soldiers who were used to respect local customs regarding the prohibition of men touching or searching local women during operations in Iraq and Afghanistan (Wikipedia)." An impressed Commander Kortz explains that, "She would get information from the civilian women about what was going on in the towns, then take the information back to help save our troops." 
The 69-year-old is quick to tell you that she is delighted to be a woman veteran. In fact, she's proud of all women veterans and admires their strength and dedication, noting a stark difference between men veterans and women veterans is that, "Women have never been drafted. Women have always volunteered on their own. They didn't come get us." 
If you are a woman veteran, or know of someone who is, please contact Commander Barbara Kortz at 812-550-0552 or by emailing her at [email protected] The group meets every 3rd Tuesday, at 6:30pm, at VFW Post 1114 on 110 N. Wabash Avenue of Flags in Evansville. Additional information about joining or donating to this group can also be found by following them on Facebook.
For information on next year's conference, please contact Trudy Buckman or Wendy Freeman of the Evansville Vet Center at 812-473-5993. Cherie Leonhardt of University of Evansville can also be contacted at 812-488-2141 or by emailing her at [email protected] To register for the conference please visit evansville.edu/veteransaffairs. 
Amanda Waggener is a blogger for the Huffington Post, author of No Grit No Pearl blog site and is a native of Henderson. She and her husband are the parents of two teenagers who they are raising with us much zeal as they can muster.
Join our list
Subscribe to our mailing list and get interesting stuff and updates to your email inbox.
Reader Interactions