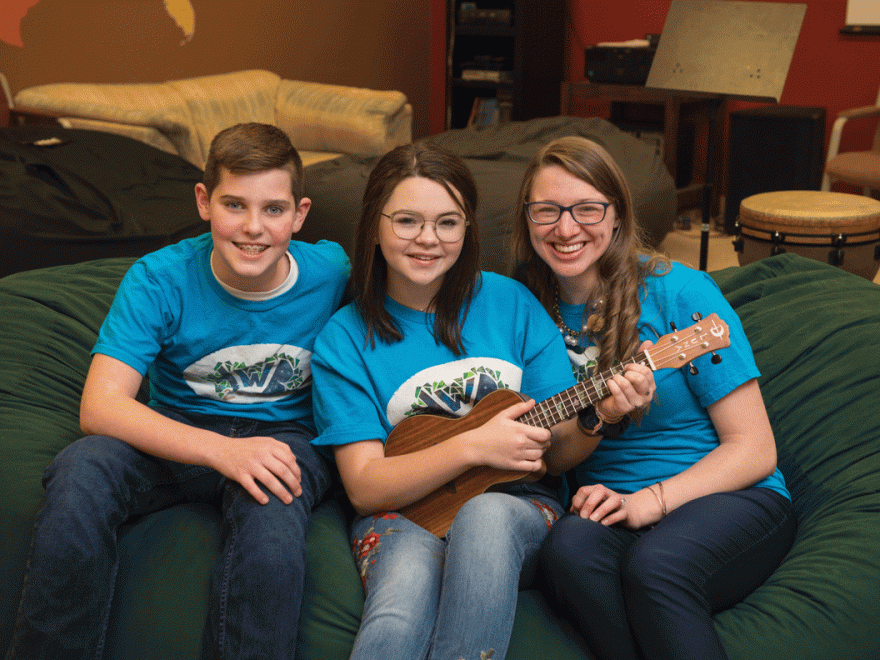 You do not have to look far to find music with a meaning. Kids at Holy Name School recently watched their dreams come true when they were called to make a CD. 
Where the Idea Originated 
Jenny Mills, director of liturgy and music at Holy Name of Jesus Catholic School, worked with the children all year and wanted to plan a fun and creative way to reward them for their efforts. She wanted everyone to be all in so she surveyed the kids to find out what they wanted to do and the unanimous answer was a recording project. 
Not only was Mills exposing the kids to professional recording equipment and an experience of a lifetime, she was drawing new people into the music program with this alluring endeavor. "We had some church favorites that would entice people to buy the CD and then had to find ones that were over 100 years-old or originals that we had written which was a fun challenge," said Mills. Kids gave input on the styles they wanted to learn and the skills they wanted to put forward so it was truly all about them. One of the highlights is going on a mini-tour and seeing a positive response in the community. "This CD is something that has the kids fired up about being involved at church and sharing their gifts, talking about faith and sharing and growing with each other," said Mills. 
The Love of Music
There is something special about seeing kids step up and improve the quality of music ministry. "I love the energy that they bring," said Mills. Every child has his own background and story. Sam Couch sang off and on throughout his life and even picked up the guitar but came back to vocals and had a blast. "I was the youngest one there and it was a very fun process," said Couch. Couch explained that he did not do a lot but it was still a big experience for him. "I will definitely have a future in music," said Couch. He hoped other kids would follow his footsteps and get involved in church ministry because it can help them out. Then there is Brenna Cleavenger who has been singing in the choir since she was little. She finds a huge sense of belonging in the ministry. "It is like a family and I really like the people," said Cleavenger. For her it is about much more than just the music. "We go to events and it makes me feel special," said Cleavenger. 
A Vision for the Future
You are sure to notice new friendships blooming as well as personal growth as a result of music ministry. If you have ever caught your child praying before bed or singing in the shower, he may want to take his talent to the next level. "My vision is that every young person who plays in a band or orchestra or sings in their room, if they go to mass anyway on the weekend, should be sharing their gifts and the church would only benefit from it with amazing memories and music," said Mills. Anyone can do it. "I was taught when I was in high school that God gave you gifts and you need to use them," said Mills. 
If you want to check these kids out, they play at 5:30 p.m. mass at Holy Name almost every week. The door is always wide open. CDs can also be bought at the parish at the church's office from 7:30 a.m.-5 p.m. on Monday-Thursday and 7:30 a.m.-2 p.m. on Friday for $10. Concert dates will be announced soon and the CD can also be purchased at the shows. If your child is looking to expand his faith, friendship circle and musical talent, this is a great opportunity.  
Jamie Lober, author of Pink Power (www.getpinkpower.com), is dedicated to providing information on women's and pediatric health topics. She can be reached at [email protected]
Join our list
Subscribe to our mailing list and get interesting stuff and updates to your email inbox.
Reader Interactions