When I was five weeks old, a man carefully scooped me out of a pen full of straw and my floppy eared, clumsy brothers and sisters, and held me close to his chest. I was so exhausted that – through heavy eyelids – I saw his lips mouth the words, "This is the one." A woman next to him snapped several pictures of us — and now, a year later, she's still constantly taking my picture.
Today, I go by the name Winston, am one-year-old, and live in a loft in Downtown Henderson with this man and woman, who I now call Pop Pop and Mom. Even though they don't have four legs or have brown spots and white fur like me, they still treat me like I'm one of their pups. They are always taking me on squirrel "hunts" at Central Park and Audubon Mill Park, letting me race up the hills on the Eagle Glen Pet Trail at Audubon Park, walking me on the sidewalks so I can search for misplaced pieces of trash, and they watch me chase butterflies and crickets at Redbanks Park. If you see me walking and say my name, I'll gallop up to you with a friendly growl and try to squeeze in between your legs for a good butt scratch. But my favorite days are when Mom and Pop Pop tell me it's time to "load up" and we take a short drive to the dog park.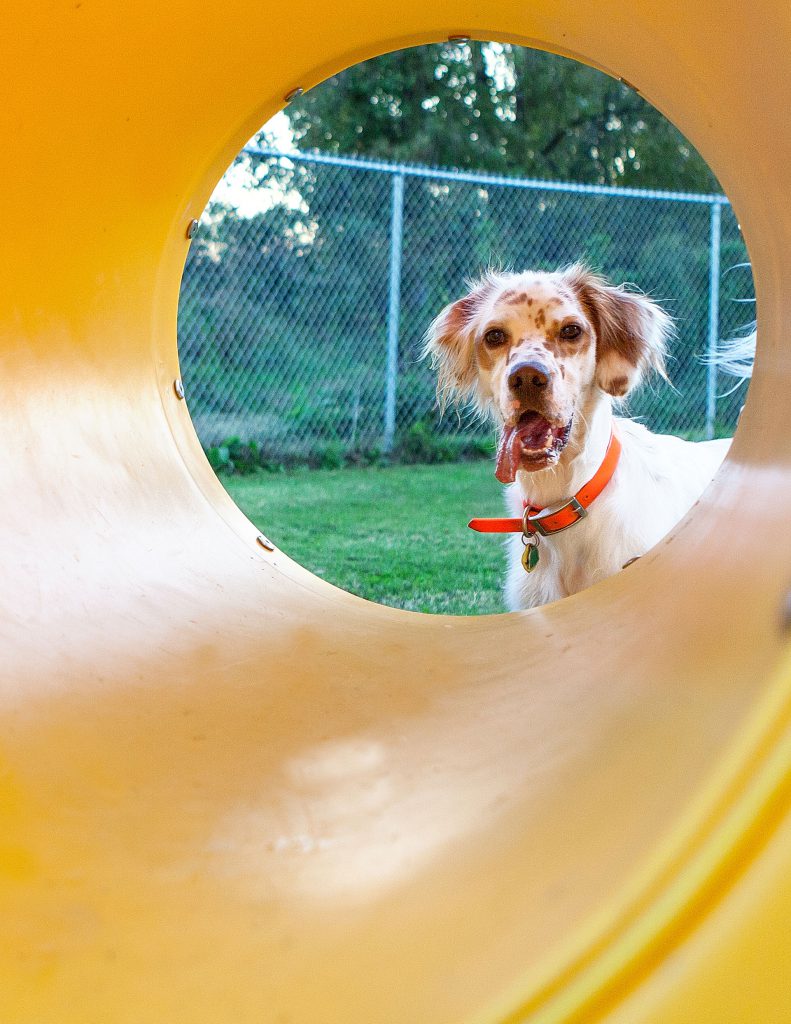 It's the only place I can run leash-free without my parents telling me to come back. I'm told my breed – English Setters – are extremely high energy, but I don't know what they're talking about. I just want to run 12 hours a day and stalk birds. That's normal, right? Without us having a yard of any kind in the middle of the city, Mom and Pop Pop say the Community Bark Park is just what I needed, and I agree.
Before we go, Mom often posts online arranging for my friends and new ones to meet so when we get there we are never bored. I'm released from my harness, and I'm off to the races. I play with dogs of all types from Martha the Beagle to Brick the Great Dane to Ruger, another English Setter like me, to Remington the Chesapeake Bay Retriever/Labradoodle while my parents chat with the other moms and dads. We chase each other in big circles, or play fight like charging bulls, or sometimes we all simply enjoy being outside so much that we keep to ourselves and sniff the air and the grass. Within 30 minutes to an hour of nonstop play, us pups each claim a water bowl and lay down in the grass refusing to move again until our parents tell us it's time to go.
When it starts getting dark, I begrudgingly lift my legs into my harness to go home, and I wait for the next trip to the dog park when I can meet you and your pups.
WHAT: Community Bark Park, .62-acre dog park
HISTORY: Opened in June 2014 and managed by the City of Henderson Parks and Recreation Department
WHERE: Community Park, 1776 Madison St., Henderson, KY
WHEN: Open seven days a week, sunrise to sunset
COST: Free; no membership required
FEATURES: Two fenced play areas (one for large dogs, and one for dogs weighing less than 30 pounds), agility equipment, dog waste bag dispensers and receptacles, a dog watering fountain, and a picnic table
FOR MORE INFORMATION: Visit the Friends of Henderson Dog Park Facebook page
Join our list
Subscribe to our mailing list and get interesting stuff and updates to your email inbox.
Reader Interactions