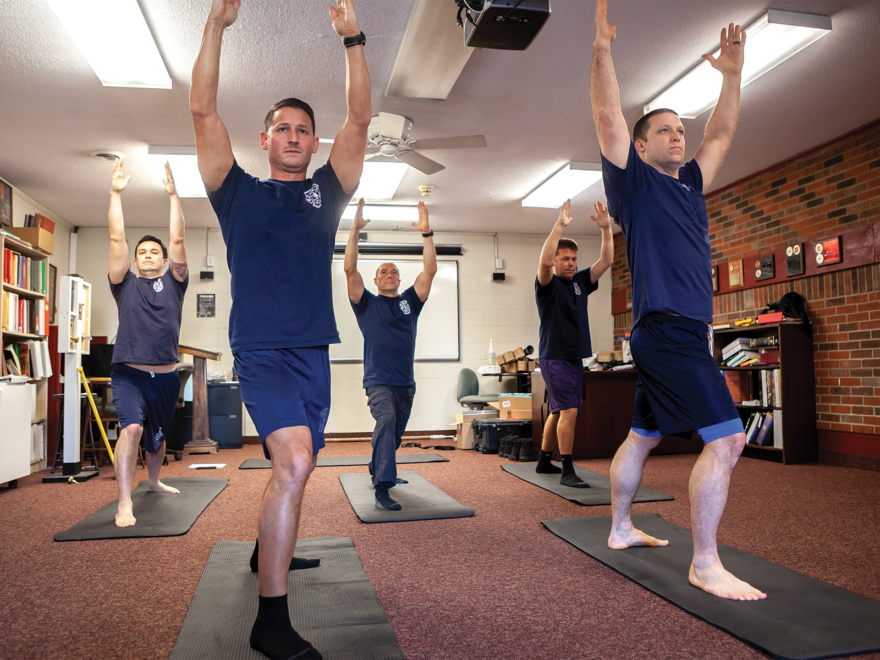 When Henderson native and father of two, Lieutenant Josh Dixon, became a firefighter in 2007 it was for the noblest of reasons. "I wanted the opportunity to serve the community and to make a difference. No other job can give you the feeling you can get as a firefighter."
The Henderson County High School and Henderson Community College graduate has deep roots in the area, which fuels his desire to serve. But as with any profession, he accepts the good with the bad. The good of serving Henderson is coupled with the bad of being a firsthand witness to tragedies and heartache. "When people see us, it's usually not for happy reasons," Dixon analyzes. "First responders can't control what goes on outside of us. We show up to structure fires, extrications and bad medical emergencies." The soft-spoken man with a thick southern drawl shares how, "Sometimes we are eating dinner and get called out to an accident where a child has died. Then we must come back and finish our dinner. Each time that happens it touches you. You may store it back in your mind, but occasionally, it will pop back up."
Controlling the Circumstances Within
He and his colleagues may not be capable of controlling the circumstances on the outside of their bodies, but they certainly can control what happens on the inside. Enter Yoga for First Responders (YFFR). YFFR is a non-profit that teaches yoga as a form of stress relief to local first responders. Chief Scott Foreman, who is "a huge advocate for health and wellness was doing a breath work study about how to breathe in our masks." During his work, he was introduced to someone with the non-profit. "That's how Henderson got keyed into it," Josh explains. Chief Foreman then sent Assistant Chief Aaron Thompson and Lieutenant Chris Watson, along with Josh, to Indianapolis to be trained and then bring it back to offer to first responders here in Henderson. 
A Positive Outcome
"I do yoga classes at fire station 1 because it's centrally located," shares Josh. Josh is a peer fitness trainer for the department. Stress relief, self-discipline, work performance, endurance and physical and mental flexibility are the main goals with the new program. The yoga classes are an optional class that is offered to any first responder in Henderson County. Averaging between 7 and 15 people per class, he can already see it's benefits. "We've had really good feedback. It helps with post-traumatic stress, stress on the job and it can even be used at home." In the class, the first responders learn how to use tactical breath work to self-regulate and control their heart rates in stressful situations. "You'd think it (yoga) would be about doing the poses and flexibility, but it's mainly learning how to breathe," continues Josh. 
He shared a story of how one firefighter used their newly learned skills to calm anxiety on a recent call. As soon as the firefighter from his station arrived on scene he immediately could see that the automobile accident was fatal. He told Josh how he could feel panic rising in him. As the panic was rising the first responder used his 3-part breathing to regulate, which then caused the nervousness to subside allowing him to have a calm mind and clear focus on his training while making decisions on the scene.  
There isn't anything else Mr. Dixon would rather be doing than driving a big red fire engine around town, but when asked what he would do if he hadn't become a firefighter, he said, "I would probably be running my family's business, Shaw's Flowers. I was born and raised in the shop." 
Whether it's firefighter, yoga instructor or florist, Henderson is proud to have people like Josh and the team of first responders helping to keep Henderson safe.
If you'd like to learn more about the non-profit or would like to donate to help continue this valuable service, please visit www.yogaforfirstresponders.org.  
Join our list
Subscribe to our mailing list and get interesting stuff and updates to your email inbox.
Reader Interactions