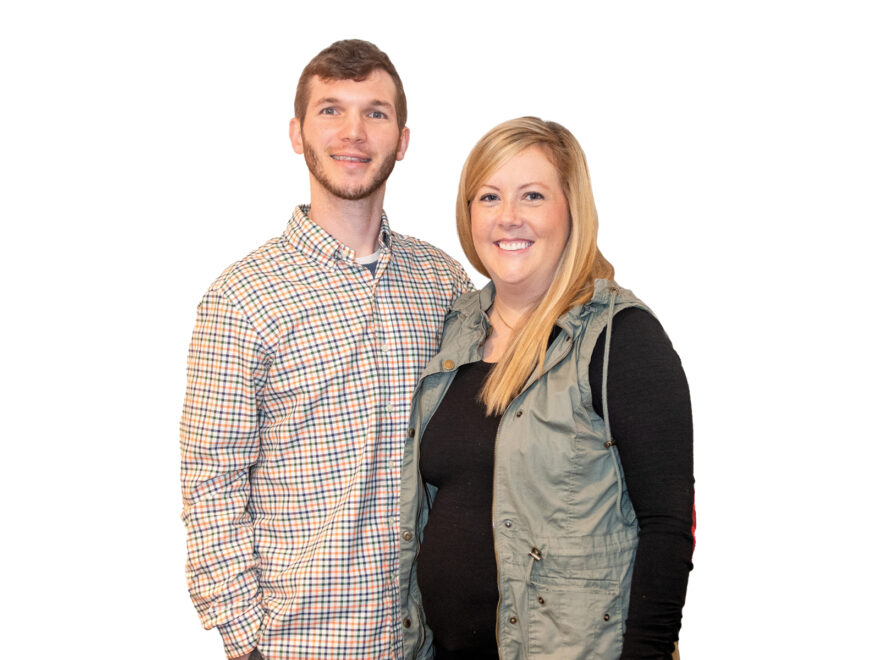 Tell us a little about yourself (Family, pets, etc.)
I (Allison) was born and raised right here in Henderson, Ky. I moved back in 2015. Bradley was raised in Waco, Tx (No, he doesn't know Chip and JoAnna) and moved here in 2018. We met at Whims & Wishes in 2018 (two weeks after he moved here). We married in 2019, had our first born, Olivia, 17 months, in 2020. We are expecting our 2nd child in April 2022!  We have two dogs, Zosy (a lab) and Baylor (Go Bears!) is a goldendoodle. 
What do you do for a living, and how long have you been in those positions?
I am a Clinical Pharmacist, working for Deaconess since 2015.  Bradley is an E-commerce Manager for a local downtown business. This is a new role for him since August 2021. Prior to this, some may have seen him working for Leslie and Tore Stuen at Whims & Wishes. In Spring 2021, Leslie approached us about buying the business. Leslie had hired Bradley to help grow her business in 2018 and met me (Allison) when I came into the studio to paint with some friends. One year later we were engaged at the studio with a handwritten sign made by Bradley. We were hesitant at first about taking over (having a one year old and both of us still working full-time), but we couldn't pass up the opportunity to continue to grow a business that meant so much to us. In July 2021, we became the new owners of Whims & Wishes. Since purchasing, we have looked for creative ways to get more involved in the community and local downtown businesses. We recently hosted a kids pumpkin painting event and had our first paint party on September 23 at The Olive Leaf in downtown Henderson!
What hobbies do you enjoy as a family? 
Watching Baylor football, going for walks and finding shows to watch to help us unwind at the end of a long day.  Allison also likes to read and is part of a book club here in Henderson. 
What is most challenging in your new role as entrepreneurs? What is most rewarding?
Since taking over Whims & Wishes, we have had so much fun!  We have grown as a couple and learned a lot about each other and our strengths/weaknesses. We have loved getting out and making relationships with the community and other small businesses downtown. The most challenging thing we have encountered is finding wood! The lumbar shortage is real and lumbar prices have continued to rise. We have made runs all around the tri-state area looking for good, quality wood for our customers to only come back with a third of what we need to fill our orders.  Our customers have been so patient and understanding through it all. I will say the most rewarding for both of us is seeing the reaction on a customer's face when they get that unique handwritten sign.  It makes the late nights and long hours all worth it! 
How do you find balance between work and home life, especially during the busy holiday season? 
This is another thing we are working on. Since we no longer have the storefront location, we work from our home. So, separating home/work life is very difficult. We both have our 32-40hr/week careers that student loans just won't let us give up yet,  so we both find ourselves working 60-65 hours a week during this holiday season. We give ourselves a lot of grace, only work when our daughter is either with Grammie and Pop Pop or sleeping. We know these are years we can't get back with her and don't want to miss out on precious moments.
What are your hopes and plans for the future of Whims & Wishes? 
We love that our downtown is coming to life again and want to continue to get involved in the community, hosting free events for children (most recent event of painting pumpkins) and throwing paint parties with our paint pals.  Right now, we are taking it day-by-day and trusting God with our bigger plans for the long-term future of Whims & Wishes.  
Join our list
Subscribe to our mailing list and get interesting stuff and updates to your email inbox.
Reader Interactions