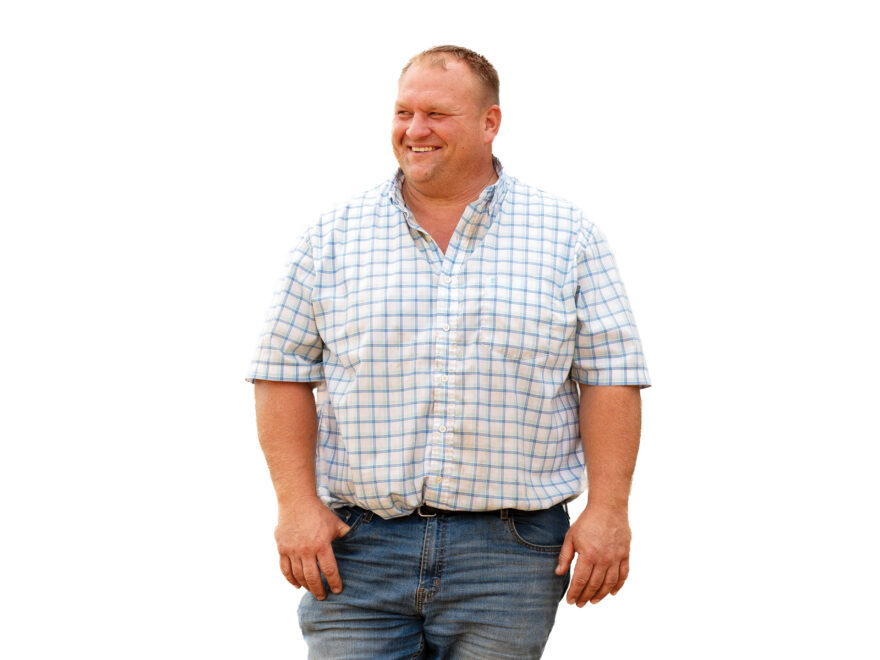 Tell us a little about yourself (family, kids, pets, etc)
My name is Wes Overton. I am the middle child of three.  My brother is two years older, and my sister is four years younger.  I grew up on my father's first-generation farm in Zion where my brother and I raised vegetables to sell with my grandfather.  During high school, my brother and I baled and sold alfalfa hay, mums, and worked on my father's farm. I graduated high school in 2002 and attended college where I received a degree in liberal arts.  In 2008, I met my bride, Ashley Hunt. In 2011, we became engaged and married in 2012.  That same year Ashley became an RN.  Ashley and I moved into my farmhouse on Alves Ferry Rd, along with her son Dakota, and started our lives together.  Little over a year later, I became a father with a daughter, Allie. We had our son, Avery, two years later, and then almost three years later we had our last daughter, Ava Claire.  Our children have a dog, Lucy, horses, 4H hogs, and numerous chickens, of which they sell eggs to neighbors.  Allie will also be selling mums this fall.
What do you do for a living and how long have you been working in this position?
I am currently a producer of agricultural commodities. My brother, father and I work alongside each other each day.  We produce corn, soybeans and perform custom farming for some elder neighbors.  We have also raised vegetables, tobacco, and custom fed chickens for Tyson foods. I have been a farmer full-time since 2004. I started out raising 40,000 lbs burley and 12,000 lbs dark tobacco.  
What do you enjoy most about your job? What are some of the challenges? 
Farming is an interesting career! Agriculture is a career in which you have very little control of outcomes due to the reliance on mother nature.  One rain stands between a bad, good or great year! Farming gives you the privilege to work outdoors with nature.  Only someone who grew up on a farm can understand the smell of fresh dirt, the sound of a corn field in the wind, or the smell of an ear forming on the stalk.  It is quite satisfying seeing the seeds you planted germinating from the soil.  One of the best parts of being a farmer is raising children where life is real! They get to see the results of their hard work.  The skills and values they learn outside is unmeasurable.  There are several issues facing agriculture, one of the top ones right now is solar farms.  Crops can't grow everywhere, and the placement of solar panels on cleared productive soil is terrible.  Finding skilled labor is very difficult for several reasons: the high wages paid for off farm jobs, the complexity of the technology, and the lack of work ethic are just a few.  It's not easy sending a novice operator to perform a task with a quarter to a half million-dollar piece of equipment.  Inputs have been quite the issue in recent years, both availability and price.
Outside of farming, what hobbies does your family enjoy? 
We attend church and church events regularly.  My children enjoy the children's programs they participate in. My children and I also like to ride horses and camp.  My brother's family and mine enjoy dealing with horses and are looking into starting training for both horses and people looking to learn to ride.  My children love to go to fun shows with their horses where they barrel race, pole bending, and simply trail riding. We enjoy time on the boat with my parents as well.  
How do you find balance between work and family? 
It is quite difficult sometimes to juggle fun with work, but with the understanding that we all work hard together, the balance works.  There are times horse riding must take a pause to spray beans, or camping gets cut short because fields dry for planting. The best part about living and working on a farm, work is part of the fun. I teach my family, with our love and respect for each other, smiles and hugs win in the end. 
What advice would you give to those interested in the agriculture industry? 
The best advice I can give a young person looking to enter the agricultural field is to find someone to shadow.  Find an older farmer to work with.  Far more will be learned from shared wisdom than a text or YouTube video.  You must be patient. Farming is expensive, success is earned and fought for. One cannot compare to a multi-generation operation. Find a hole in the marketplace and fill it. Be willing to do what others are not. Your most valuable asset is your labor, use it wisely and to your advantage.  Most importantly is persistence! You're going to fail. You will have a bad year. Hard work can't always cure bad management, but learn to adapt, redirect and try again. Above all, have an active relationship with our God and creator!  
Join our list
Subscribe to our mailing list and get interesting stuff and updates to your email inbox.
Reader Interactions