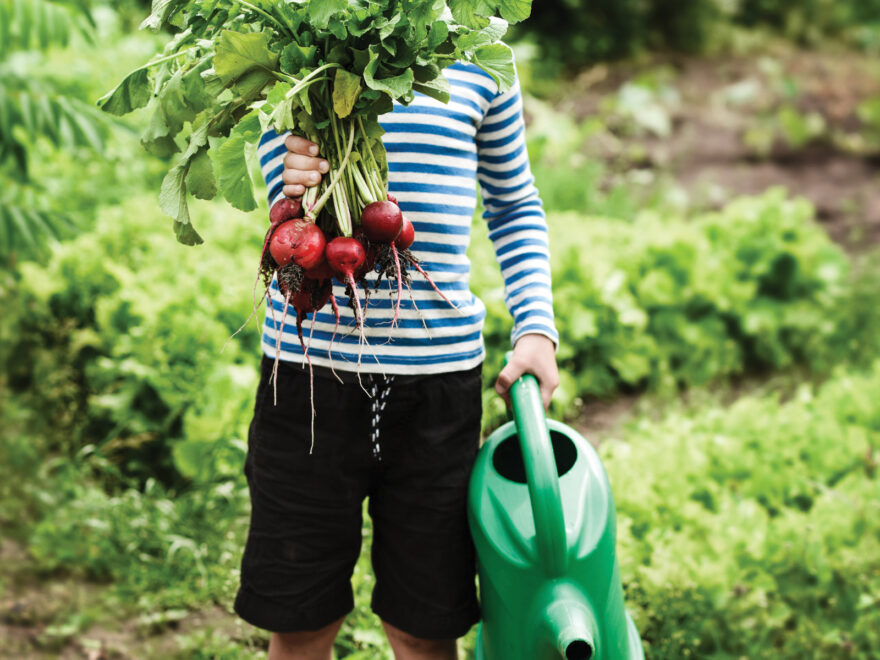 Fall is a great time to busy yourself in the garden and yard. Planting a fall vegetable garden, spring blooming bulbs, cool season annual flower seeds, biannual flower seeds, herbs, perennials, trees and shrubs, and mulching, composting and fertilizing are just several things you can take advantage of during the cooler weather. 
Getting the Soil Prepped
When beginning a fall vegetable garden, your first step will be preparing the soil. At our farm, Rain'R Shine, we focus on soil health so we don't usually till. Instead, we have permanent beds and rows that are created by tarping the grass and adding layers of compost as topsoil once the tarp is removed. This involves leaving a silage tarp on the area you plan to garden for six weeks in the summer and even longer in other seasons. Once the grass is dead you remove the tarp and rake up the remaining debris. However, tilling is an option, especially if this is the first time you are breaking ground. For established spring gardens, clearing out spring vegetables and weeds will be your first step. Fertilizing and composting will be the last step before planting your seeds and transplants. I can't emphasize enough the importance and impact the addition of compost can have on your plants. It is a step I wouldn't leave out! We mix it in and use it as mulch. There are many local resources for getting great compost. This year we tried Jerry O'Bryan's Pig Farm in Owensboro, whose compost is acceptable for organic crop production. 
Roots and Greens Are Great Fall Crops
First, we can talk about carrots because they are somewhat more complicated to grow. Dark, deep, soft soil is the dirt you want to see in your garden. Compacted ground is something to avoid, so building your soil up with compost is a must for most plants, but so important for carrots. When harvesting carrots you will be very thankful for the deep loose soil. Once seeded, carrots need to stay moist until they germinate. One trick to help with the moisture is to tarp them until they sprout. However, with this method you must pay very close attention and remove the tarp as soon as they sprout, or you may end up killing your plants. Once sprouted, the seedlings will need to be watered often. Sometimes an additional light watering in the afternoon can be helpful to cool them down from the midday summer heat. Hoops can be made from pvc pipes or spring wires, and covered with shade cloth to also keep the summer heat at bay. 
Radishes are another root I'd like to mention because they are so easy. Once the soil is prepared, I really like broadcasting the seeds, and lightly raking and tamping the seeds into the soil with a garden rake. It's as easy as that! The seeds will need to stay moist while they germinate and are young plants. Radishes will also benefit from a light additional watering during the hot days at the end of summer. 
Lettuce and greens are a plant to consider in your fall garden. Leaf lettuce mixes can be planted like radishes, by broadcasting the seeds and tamping them into the soil with a garden rake. At our farm, we don't usually broadcast seeds due to the strategic system we use for market gardening, but it works great on a small scale in a home garden. Lettuce can benefit from the use of shade clothes on small caterpillar tunnels made with pvc or spring wire. Watering in the morning keeps fungus at bay, but remember a light midday sprinkle can cool greens off during hot sunny days just like your roots.
Head lettuce is an additional option. If you aren't buying transplants, you may need to start seeds in trays by late August before they can be transplanted into your garden. We have achieved this by germinating the seeds in trays in the shade during the day and placing them under a plant light at night, or starting indoors with a plant light. If you don't have a plant light you can try filtered light, but direct sunlight and summer heat can cause lettuce to not have great germination rates. 
When planting seeds follow the guidelines for zone 6b and be sure to follow the seed packets for the planting depth and spacing. 
Pollination and Healthy Ecosystems In Your Backyard
The last plant I want to mention is the addition of flowers for pollination and a healthy ecosystem. Flowers bring pollinators into your garden, and some even act as trap plants to harmful insects. These aspects will help your vegetables and greens thrive. Zinnias are a great late summer annual. They are easy to plant from seed, and some varieties mature and bloom in as little as 35 days. 
If Fall Planting Isn't an Option
If planting this fall isn't an option, you can consider prepping your garden for spring by covering the soil with a silage tarp or mulches, such as fall leaves, compost and cardboard, or by planting a cover crop. Fall gardening is an often overlooked opportunity to get another harvest in and to enjoy time outdoors before the Kentucky winter sets in. Good luck and happy planting!  
Mandy Sue Glaser is a local farmer, photographer, illustrator and author at Rain'R Shine Farm and Wild WILD light Photography. She enjoys spending time outdoors with her family and pets, and being part of the community of Henderson, Kentucky. She believes in finding ways to improve her surroundings and the environment she is a part of, and embraces the idea of "leaving things better than how we find them."
Join our list
Subscribe to our mailing list and get interesting stuff and updates to your email inbox.
Reader Interactions