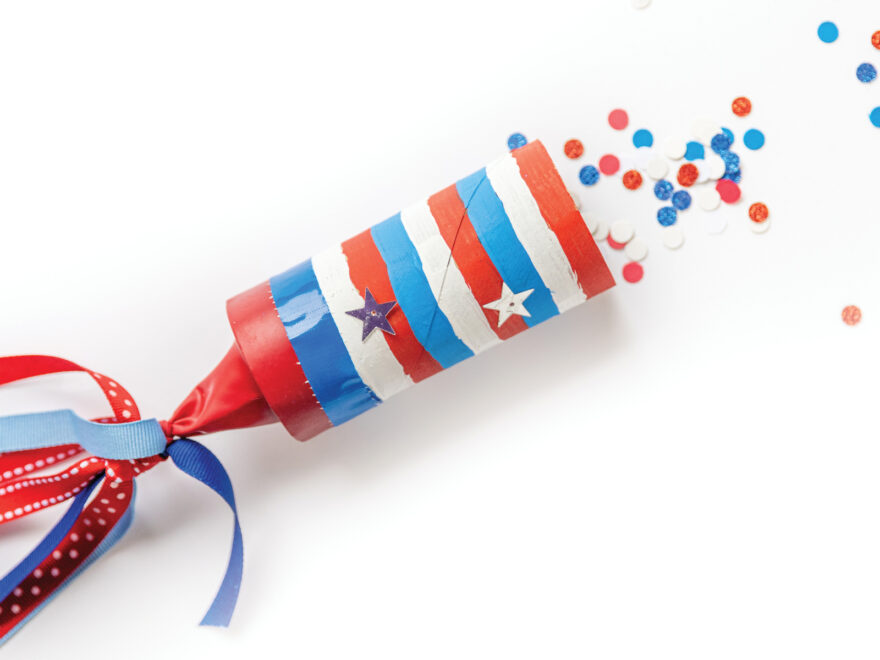 Photo by Jamie Plain 
Add these patriotic party poppers to your Fourth of July celebration this year! Kids young and old will not only love the confetti, but they will love making this super simple craft!
What you'll need:
›› Toilet paper tube
›› Red, white & blue tissue paper or construction paper
›› 12-inch balloons
›› Scissors
›› Tape
›› Decoration materials (paint, paper, markers, ribbon, etc.)
Instructions: 
›› Decorate the toilet paper tube however you would like! Set out patriotic decoration materials and let your kids use their creativity.
›› Knot the end of a 12-inch balloon, then cut it in half using scissors.
Wrap and tape the cut end of the balloon over one end of the toilet paper tube.
›› Cut red, white, and blue construction paper or tissue paper into small confetti pieces, and fill the toilet paper tube with the confetti. In our example, we used a hole punch to make the confetti. But cutting confetti would be great fine motor skill practice for little ones.
›› Pull on the knotted end of the balloon and let it go to see the confetti fly.
Join our list
Subscribe to our mailing list and get interesting stuff and updates to your email inbox.
Reader Interactions