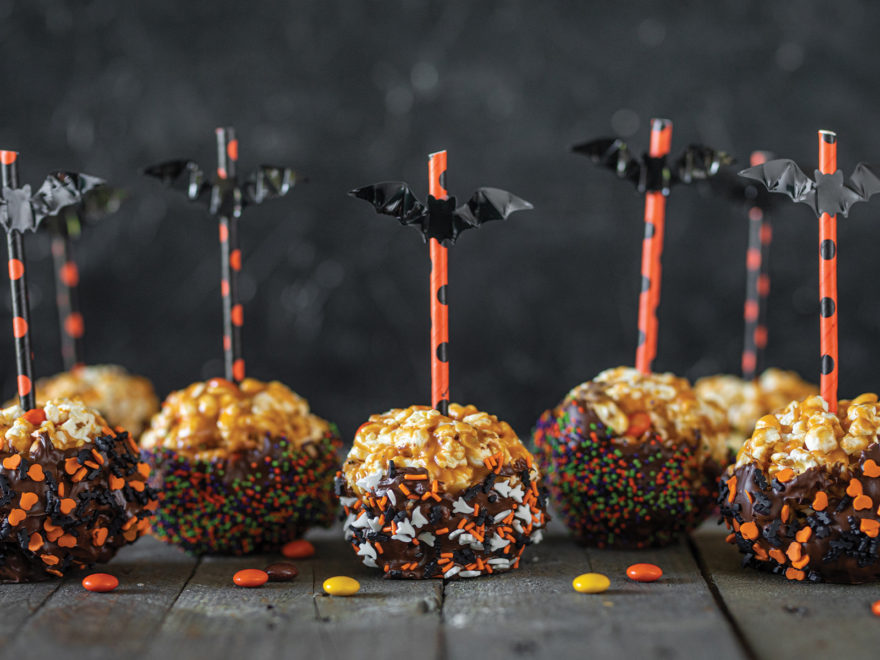 Photos by Jamie Alexander
Popcorn balls are always popular around Halloween. The classic type of popcorn balls include some candy-making work (sugar-melting, thermometers, etc) that not everybody is always interested in. That's why this "melt everything together and be done with it" version is appealing to people like me! You can keep these simple, or dress them up with an extra coat of chocolate and sprinkles to make them Halloween-ready. Have your kids help decorate them to have their own custom, spooky treats!
INGREDIENTS: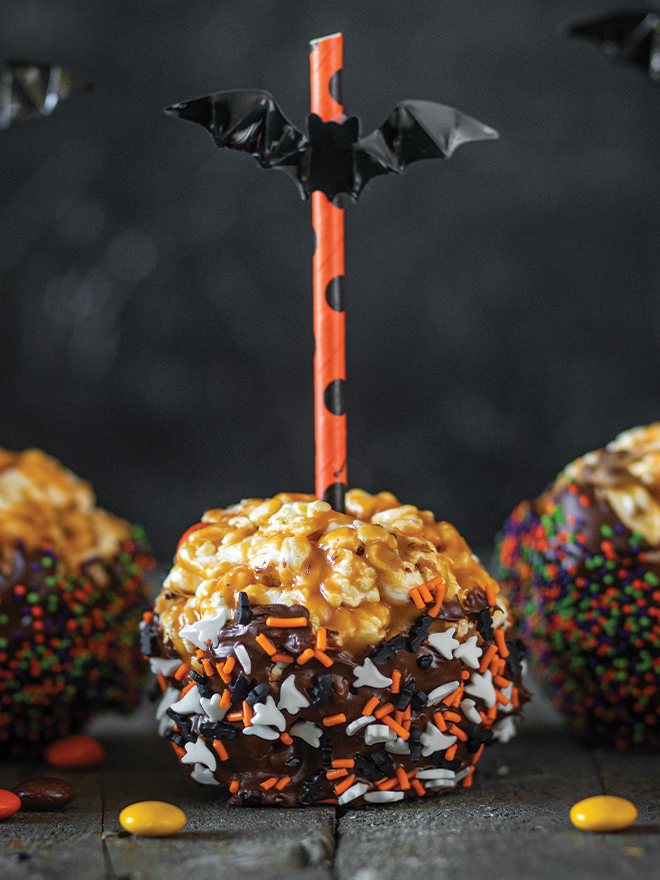 ›› 1 bag of popped popcorn
›› 1 bag of caramel candies (unwrapped)
›› 3/4 cup Reeses Pieces
›› 1 bag semi-sweet chocolate chips
›› 4 tablespoons butter
›› Paper straws, or popsicle sticks 
›› Sprinkles or candies for "garnish" 
›› Optional: 1 tablespoon of heavy cream for "softer" caramel
INSTRUCTIONS:
›› Cook unwrapped caramel candies and butter in a medium-sized sauce on low heat, and stir until everything is melted and smooth (if you want a softer caramel, you can also try adding some heavy cream at this point as well).
›› Place popped popcorn and Reeses Pieces in a large mixing bowl, before pouring the caramel mixture on top and gently folding until all the popcorn/candy is coated. Let it stand for a couple of minutes to cool down a bit.
›› As the popcorn cools, melt your chocolate chips by placing them in a microwave-safe bowl and microwaving them in 30-second intervals until melted and smooth (stir after each 30-seconds).
›› Grease your hands with butter, and shape the popcorn into baseball-sized balls. Stick a straw in each popcorn ball, before dipping them in chocolate and rolling in your choice of sprinkles/candy. Place on wax paper and let them cool until the chocolate has set. 
Join our list
Subscribe to our mailing list and get interesting stuff and updates to your email inbox.
Reader Interactions