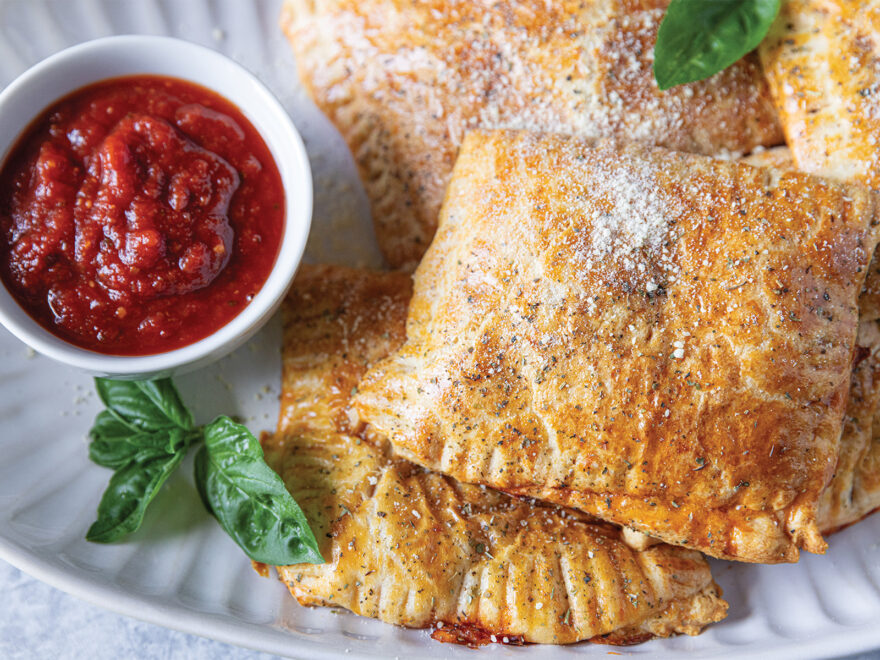 Photos by Jamie Plain
It's almost time for school again, which means busy nights without a lot of time to cook for the pickiest eaters in your home!  We used Crescent Rolls three different ways in order to create these kid-approved meals. There's so much more you can make with store bought dough besides dinner rolls! Keep your back-to-school meal-prepping simple by popping open a can of this dough, there's nothing better than a shortcut in the kitchen! 
Pizza Pockets
Ingredients:
›› 1 can Crescent Rolls
›› 1/4 cup pizza sauce
›› 1 cup mozzarella cheese
›› Pepperoni slices to taste
›› Italian seasoning and grated parmesan to garnish
Instructions:
›› Preheat oven to 375°F. Separate the crescent rolls into four separate rectangles (pressing the perforations together on the triangles to seal them together)
›› Spread a tablespoon of pizza sauce on one side of each rectangle (leaving half empty). Top with a sprinkle of shredded mozzarella and pepperoni to taste. Fold dough from the empty side to cover the filling, then firmly press the edges together with a fork to seal it. poke a small hole in the top of each pocket (for steam)
›› Top each pocket with italian seasoning and grated parmesan (to taste), then bake in the preheated oven for 15 minutes or until golden brown. 
Chicken, Broccoli, & Cheese Rolls
Ingredients:
›› 1 cup full cooked breast, shredded
›› 1 cup finely chopped broccoli
›› 1 cup shredded cheddar
›› 2 cans crescent rolls
Instructions:
›› In a large bowl, combine broccoli, chicken, and cheese until all ingredients are evenly mixed. 
›› Spoon some mixture into the longer end of the crescent roll and roll it up.
›› Bake at 375°F for 10-12 minutes, until golden brown. Serve warm!
Taco Ring
Ingredients:
›› 1 lb ground beef
›› 1/2 cup onion
›› 1/2 cup water
›› 1 pkg. taco seasoning
›› 2 cans crescent rolls
›› shredded cheese to taste
›› additional taco toppings of choice
Instructions:
›› Preheat oven to 375°F.
›› In a skillet over medium heat, cook ground beef alongside onions until the beef has just browned, then drain the oil.
›› Add water and taco seasoning to cooked meat and simmer for 10min, stirring often.
›› Open the crescent rolls and arrange each triangle in a circle on a large baking dish. Do this by overlapping the wide end of the triangles and face the pointed ends outward, so it looks similar to a sunburst. 
›› Spoon the beef mixture over the overlapped part of the circle, then top with shredded cheese. 
›› Take the pointed end of the triangle and bright it over top the meat mixture, then tuck it on the opposite end. Repeat until all the tips of the dough have been tucked, turning the sunburst into a ring.
– Bake the taco ring for 18 minutes or until golden brown. Let cool and add serve with toppings of your choice!  
Join our list
Subscribe to our mailing list and get interesting stuff and updates to your email inbox.
Reader Interactions