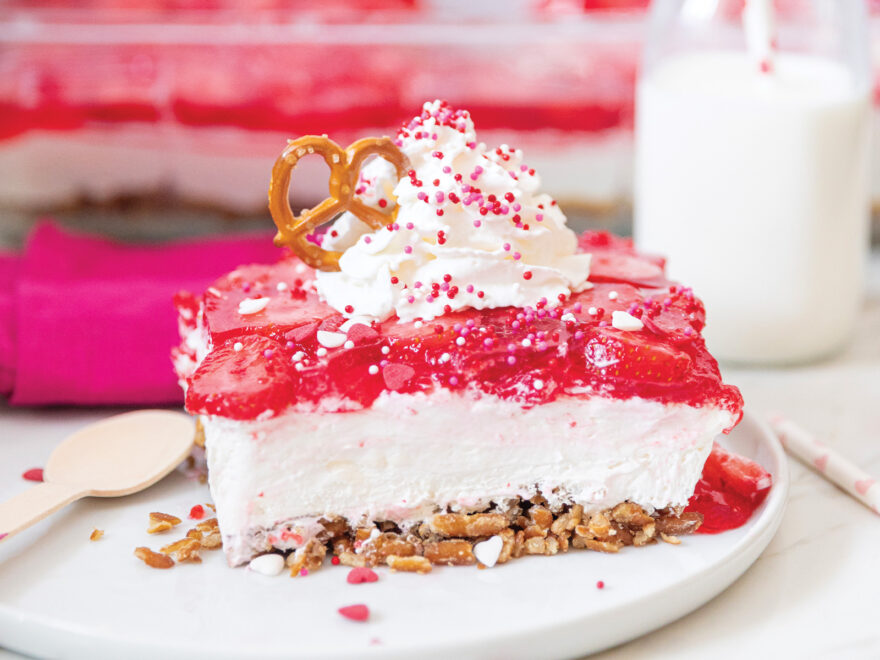 Photos by Jamie Plain
Strawberries are the unofficial fruit associated with Valentine's Day, so we think this treat is a perfect way to celebrate the day! Your kids will love this as a sweet Valentine's Day dessert, or even as a side dish at dinner! It's a delicious combination of sweet and salty, and is very simple to make. To avoid sogginess, be sure to allow each layer to cool before adding the next, and cover the pretzel layer completely with the whipped cream layer (to make sure no jello can seep down). Make sure to make this dish ahead of time! It will need to set in the fridge for around 4 hours! Make sure to share this treat at your children's Valentine's Day festivities! 
Ingredients:
Crust:
›› 3 cups of pretzels 
›› 1 cup  butter, melted
›› 3 tablespoons confectioners sugar
Filling:
›› 16oz. tub of cool whip, thawed
›› 2 8oz. packages of cream cheese, softened
›› 1 cup confectioners sugar
Topping:
›› 1 6oz. package of strawberry jello
›› 2 cups boiling water
›› 1 16oz. Package fresh strawberries, sliced. 
›› Optional: Valentine's Day sprinkles to make it festive!
Instructions:
›› Preheat oven to 375 degrees F and spray a 9×13 casserole dish with cooking spray. 
›› Combine Jello with boiling water and stir until completely dissolved. Set aside to cool to room temperature.
›› Crush pretzels in a ziplock bag using a rolling pin (or in a blender). Combine pretzels, melted butter, and 3 tablespoons of confectioners sugar in a medium size bowl until pretzels are coated. Press into the prepared dish. Bake for 10minutes then set on the counter to cool.
›› In a large mixing bowl, beat softened cream cheese and one cup of confectioners sugar until fluffy. Fold in the cream cheese and spread evenly over the completely cooled pretzel mixture (making sure to spread it to the edges). Chill for one hour. 
›› Slice 16oz strawberries and stir into your room temperature jello. Pour the strawberry mixture over your cooled cream cheese layer and chill to set (2-4 hours). Serve cool and enjoy!  
Join our list
Subscribe to our mailing list and get interesting stuff and updates to your email inbox.
Reader Interactions