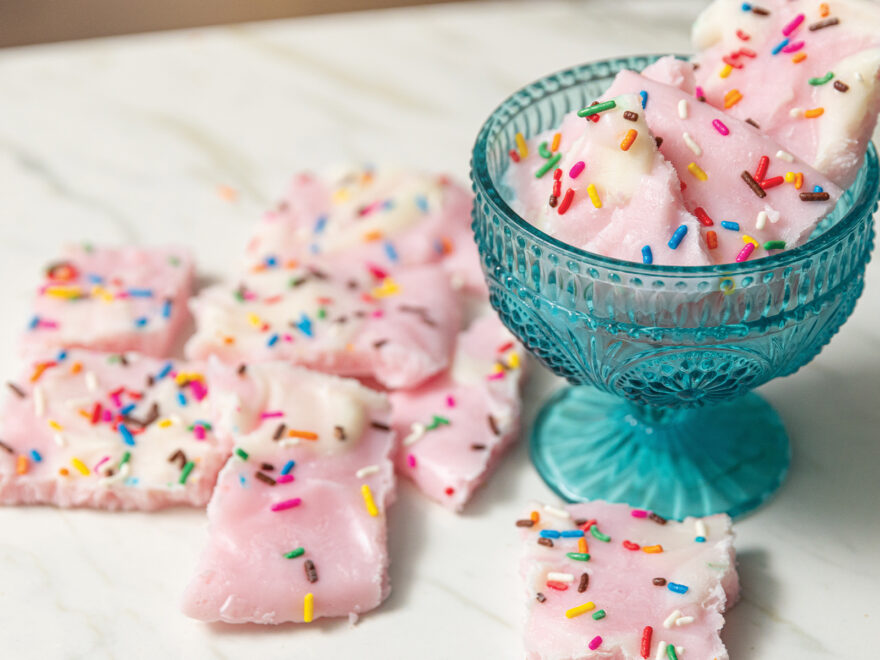 Photo by: Jamie Plain 
This magical summer snack could not be easier to make!  Kids love eating this colorful treat, and it is perfect for cooling down on a hot summer day. Just three ingredients and a quick trip to the freezer and this healthy snack is ready to enjoy! 
WHAT YOU'll NEED:
›› 2 cups Strawberry Yogurt
›› 1/2 cup Vanilla Yogurt
›› Rainbow Sprinkles
Instructions:
›› Line a baking sheet with parchment paper. 
›› Pour strawberry yogurt on the baking sheet and spread it out into an even layer.
›› Place dollops of the vanilla yogurt over the strawberry yogurt.
›› Using a spoon, slowly swirl the vanilla yogurt and the strawberry yogurt together. Avoid overmixing to keep a swirl pattern! Top with rainbow sprinkles.
›› Place the baking sheet in the freezer until completely frozen (at least 3 hours). 
›› Once Frozen, peel the yogurt bark off the parchment paper and break into smaller pieces. Serve immediately or store the pieces in a freezer bag!  
Join our list
Subscribe to our mailing list and get interesting stuff and updates to your email inbox.
Reader Interactions