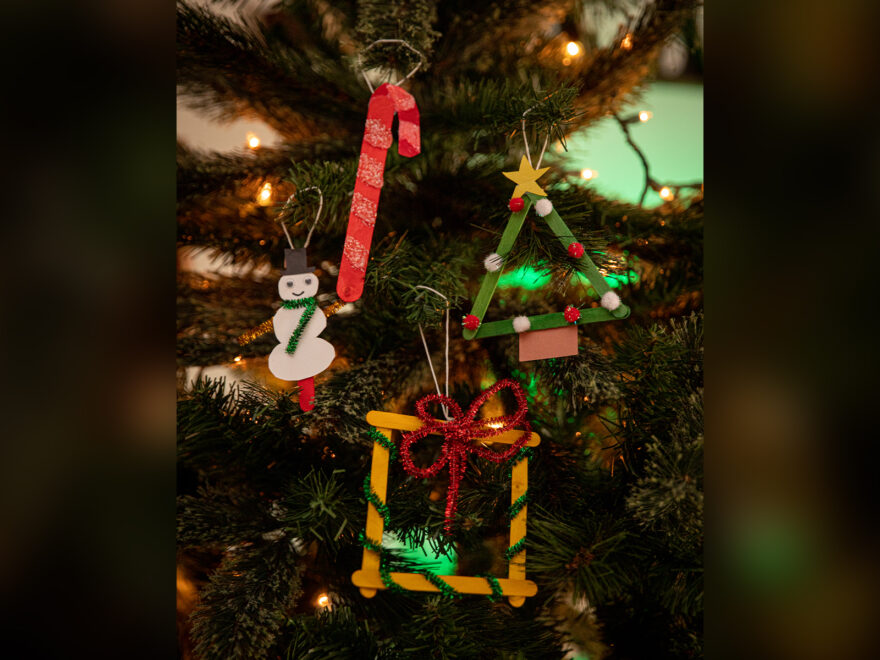 Photo by Jamie Alexander
Let your kid's imagination soar as they come up with clever ways to use their popsicle sticks to make Christmas ornaments for your family's Christmas tree, or to gift to their teachers and friends this holiday season. From Christmas trees to gifts to candy canes and more, your kids will be able to add cute, crafty ornaments to the tree this year and for years to come. This is a great way to make memories with your kids, while keeping those memories alive each year as they hang for all to see. 
What You Will Need: 
›› Popsicle sticks (pre-colored optional)
›› Paint/Paintbrush (if you're not using pre-colored sticks)
›› Pom poms
›› Fuzzy sticks 
›› Glue/Tape
›› String 
›› Scissors (optional)
›› Cardstock/construction paper (optional)
›› Markers (optional) 
Instructions:
›› Place popsicle sticks in the image you are making (ex. Christmas tree)
›› Glue/tape each end together
›› Glue pom poms along the sticks, wrap the popsicle sticks with fuzzy sticks or let your kids use markers to decorate 
›› Use cardstock paper to cut out a star, bow, etc. 
*Bonus – add a family Christmas photo inside your ornament to look back on each year! 
Join our list
Subscribe to our mailing list and get interesting stuff and updates to your email inbox.
Reader Interactions