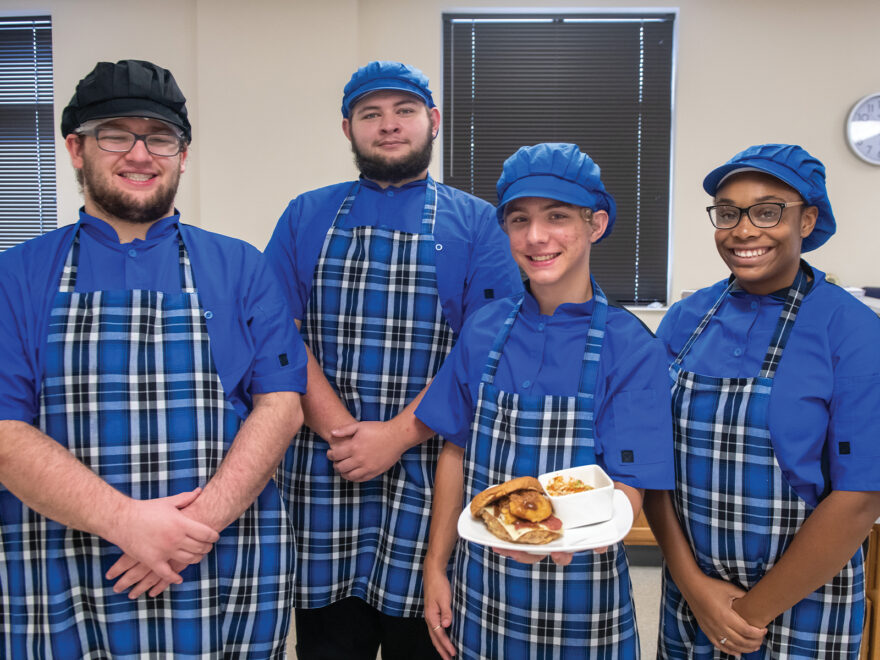 Photos by Darrin Phegley
The Colonel Cookin' Crazies have been making quite a name for themselves in Henderson and in Kentucky. This dedicated cooking group, led by Charlotte Baumgartner and Ginny Johnson, has impressed the judges at many competitions with their signature dish, the pork burger with spicy slaw.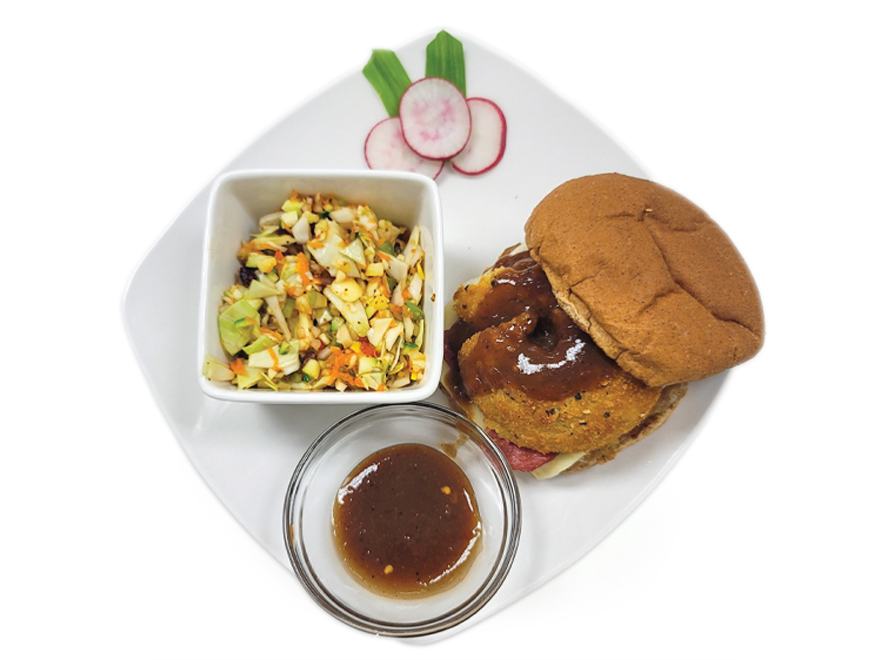 This group recently participated in the Kentucky Farm to School Junior Chef Competition where they placed first out of sixteen, allowing them to advance to nationals where they were named the winners of the National Southeast Junior Chef Competition. This year was the first time that Henderson County has won the entire event. There was a lot on the line for this competition, including a full tuition scholarship to Sullivan University for each student, all of which plan on participating in the Culinary Arts program. For the virtual nationals competition, the students filmed a video of them cooking their dish. It was judged on many different elements including the recipe requirements, their execution and teamwork, safety and sanitation, creativity, innovation, taste appeal, presentation and appearance.
The students/chefs involved include junior Tyler Brocato, senior Elijah Ledoux, HCHS graduate Drew Neal, and HCHS graduate Jasmine Satcher. I had the opportunity to interview each student during one of their practice days, and they had a lot to say about the Colonel Cookin' Crazies. Here are their responses: 
What made you join this group? 
Tyler: "I was shown around by the seniors from my freshman year and I always liked cooking and thought it would be fun, so this competition was an added bonus." 
Elijah: "Mrs. Ginny approached me about joining the club. During quarantine, I had started learning to cook at home. I joined the culinary course last year and she came up to me and asked if I wanted to join, and I said of course." 
Drew:"I was inspired to join through culinary class. I said, 'Hey, Mrs. Ginny, do we have a club for this?' And she said, 'Yes, this farm to school thing,' and she thought I would make a good addition to the team and here we are." 
Jasmine: "I love to cook, and whenever I cook I don't feel like it's a job and that's what I love about it. I've been cooking since I was little." 
What does the competition mean to you?
Tyler: "I can learn a lot about cooking from this competition and I met a lot of new people like the chefs and judges. New relationships really help me and I like that. And education-wise, the scholarship will really help me."
Elijah: "The competition means a lot to me. I've been planning on going to culinary school for a while now and these scholarships are going to help move my education forward."
Drew:"The competition is interesting and it's cool to go and compete against others. We came up with this as a team and we're just pushing through the best we can." 
Jasmine: "This competition means a lot. I get to go to my dream school and do what I love to do. It also means that I get to use local stuff to cook and it's really important to me to help my community." 
Anything else you would like to add?
Tyler: "The junior chef state competition opened a lot of doors to me and helped me meet a lot of chefs from all around the state from Henderson, Owensboro, everywhere. And that's helped me out at my work at Hometown Roots."
Elijah: "It's just been great being around the team and making new friends to talk to."
Jasmine: "Do what you love to do and not what people tell you to do." 
We are so proud of the Colonel Cookin' Crazies and to have such dedicated students and faculty that are determined to achieve their goals. 
Join our list
Subscribe to our mailing list and get interesting stuff and updates to your email inbox.
Reader Interactions