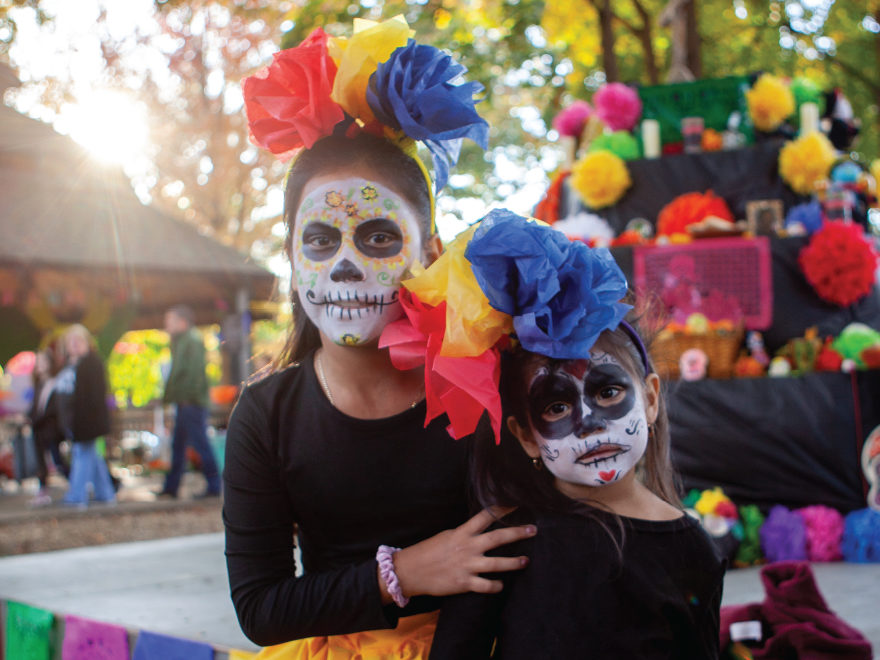 Henderson Residents Celebrate Life at the Inaugural Day of the Dead Festival
Día de los Muertos, or Day of the Dead, is a Hispanic holiday focusing on deceased loved ones. The holiday traditionally begins on October 31 and ends on November 2. Henderson witnessed the first celebration and observation of the holiday on November 2, 2019 in our very own Central Park.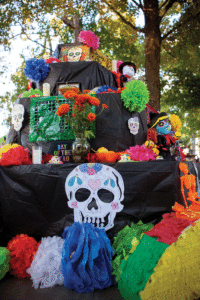 I had the chance to speak on the phone with Brad Schneider, our County Judge Executive who has taken an interest in this event as a private citizen. Mr. Schneider tried hard to think of an event that would appeal to the Hispanic people of Henderson, and based on the attendance, he did a spectacular job. When asked about the event, Mr. Schneider had plenty to say. "It's a great cultural experience for local people and a special outreach to our Hispanic community. We hope to make it an annual thing."
The inspiration behind the Day of the Dead event comes from the Hispanic people of Henderson. "It struck me how many Hispanic people we have living and working in the community. You didn't see them much in the community… they were cloistered and stuck to themselves, so I tried to think of an event that would speak out to them." Mr. Schneider took the idea to Abraham Brown, director of Hispanic outreach of Holy Name Church, who loved it and began preparations for the big day.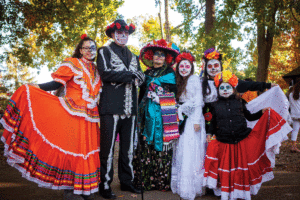 Day of the Dead is a day of many emotions and different aspects. "It's fun, it's celebratory, but there's also some solemnness about it. It's about acknowledging that death happens to us all and that's not a bad thing. It's a celebration of our relatives that are on the other side," said Mr. Schneider. There were plots for families to set up mock gravestones for their loved ones, an "olfrenda," which is an altar for the deceased loved ones, as well as many colorful skulls and decorations. Included in the decorations is an eight foot tall skeleton of "La Catrina," the matron saint of Día de los Muertos, made by Eric Ridenour.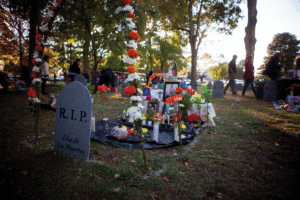 The festivities included a mariachi band, traditional dancers, crafts and face painting, traditional cultural activities, food trucks, and a beer garden. There was also a candlelight procession to allow the families to mourn the passing of their loved ones and share in the warmth they still held for them.
This event was not put on by many corporate sponsorships. The people of Henderson made this happen through private donations. All proceeds, such as those from the beer garden, will be going towards next year's event. The city is hoping to make Día de los Muertos an annual event, especially since this one turned out exceedingly well.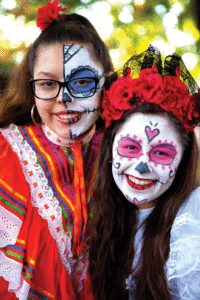 The organization committee includes Brad Schneider, Abraham Brown, the Henderson County Tourism Commission and Abby Dixon, Downtown Henderson Partnership and Lindsay Locasto, Medina's Grocery, Tacoholics owner Marcos Nicholas, the City and County Parks Departments, including Trace Stevens and Mitzi Weber, and more. Eric Ridenour of the Montessori Academy of Evansville also was a big help, as he and his school have put on multiple Day of the Dead events over the past few years. Mr. Schneider said of him that "he has an absolute, total enthusiasm for Day of the Dead." Mr. Ridenour decided to move his event to Henderson and packed up all of his Día de los Muertos equipment to bring it across the river. Brad Schneider wants to thank the director of Montessori Academy of Evansville Diane Barron for her help and support. Mr. Schneider said, "we have all these people who have latched on to this and decided to help because of how excited they are."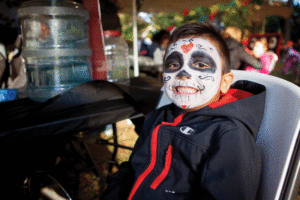 Overall, the event was very well attended. Día de los Muertos had over 400 RSVPs on Facebook. Many more showed up to have a great time and to celebrate their loved ones. I feel very thankful to have attended this event and to be able to celebrate the holiday of a different culture right in my hometown, and I am very grateful to the CIty of Henderson and all those that were involved for making November 2 such a memorable day. I can't wait to see even more attendance next year and to see this event become one that holds a special place in the town's heart.  
Kaycee Garner has lived in Henderson her entire life and plans to keep it that way. She loves animals and movies, and enjoys drawing with charcoal and working on local political campaigns in her spare time.
Join our list
Subscribe to our mailing list and get interesting stuff and updates to your email inbox.
Reader Interactions