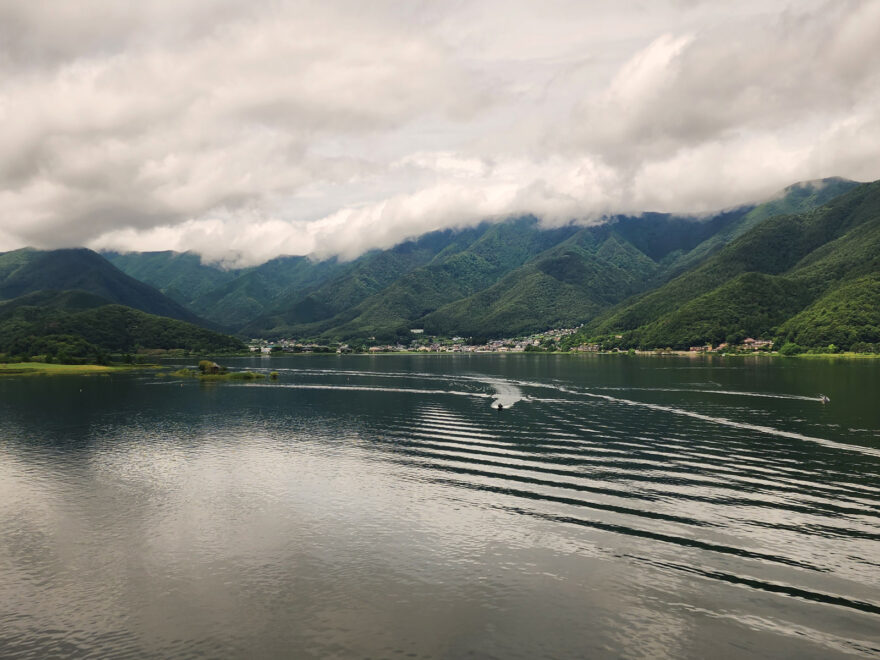 Going from Henderson, Kentucky with a city population just shy of 28,000 to Tokyo, Japan, the biggest metropolitan area in the world housing 39.1 million people is sure to be a culture shock. This past summer of 2023, thirty-two lucky Hendersonians got to experience the bright lights, big city atmosphere, and the sense of wonder that makes Tokyo one of the most popular tourist destinations in the world. 
Education First Tours, or EF Tours, is a tour company that provides student-oriented trips all around the world. This particular trip to Tokyo was all about science, technology, engineering, and mathematics (STEM). Twenty students and recent graduates from Henderson County High School and 12 adults braved this journey to Tokyo in an effort to further their knowledge about some of the greatest up and coming research and technology out there. I was lucky enough to be a part of this trip, and it's all thanks to Dalton Inge, Computer Information Technology teacher at Henderson County High School.
"The trip being all about STEM and what is progressing technology forward is just really cool. Also, offering the trip out so far in advance made it so much more feasible for a wider range of kids to go. It started to be planned almost two years before the trip itself, so that let parents make payments in increments and allowed families to save to be able to send their kids on the trip of a lifetime. I really hope to offer the trip again in a few years," stated Dalton. 
The Trip Begins!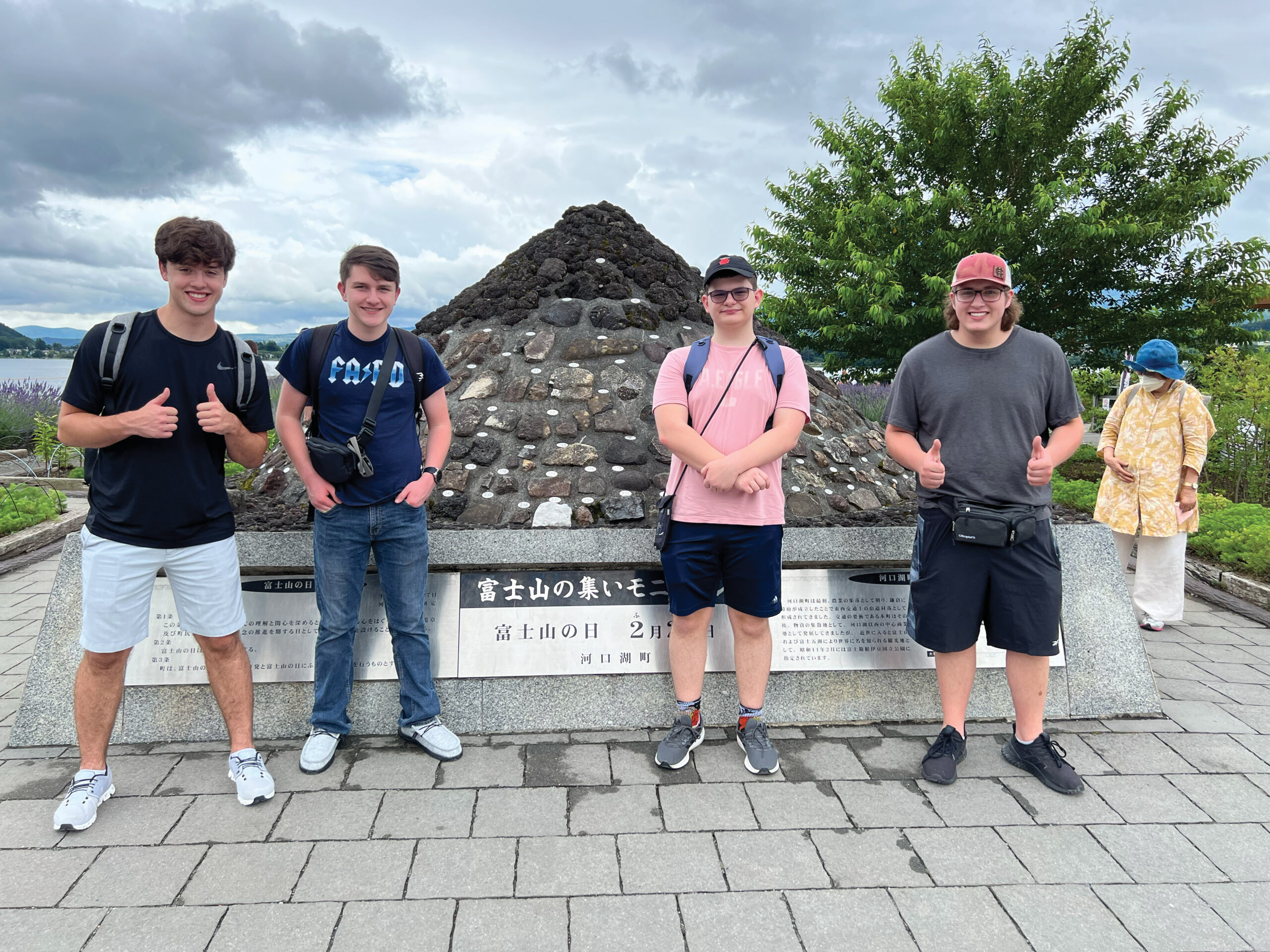 The trip began with over 28 hours of straight travel. It was a guarantee that everyone was exhausted by the time we arrived in the Narita Airport, but we managed to make it safe and sound and met our wonderful tour guide named Yoshi, who made the trip even more special for us. Yoshi guided us from the airport to our hotel and helped us all find somewhere good to eat before crashing after the long day. 
While some found familiarity and comfort in the Burger King and the 7/11 convenience store down the road from the hotel, others branched off into food unknown, exploring the local ramen and sushi shops and hoping they had English menus. Many students used their cell phones and Google translate to figure out the Japanese menus while others looked at the pictures and hoped for the best. Regardless of the choice they made for dinner, the exhausted group returned early to the hotel for a much needed night of sleep before the real adventure began. 
The First Full Day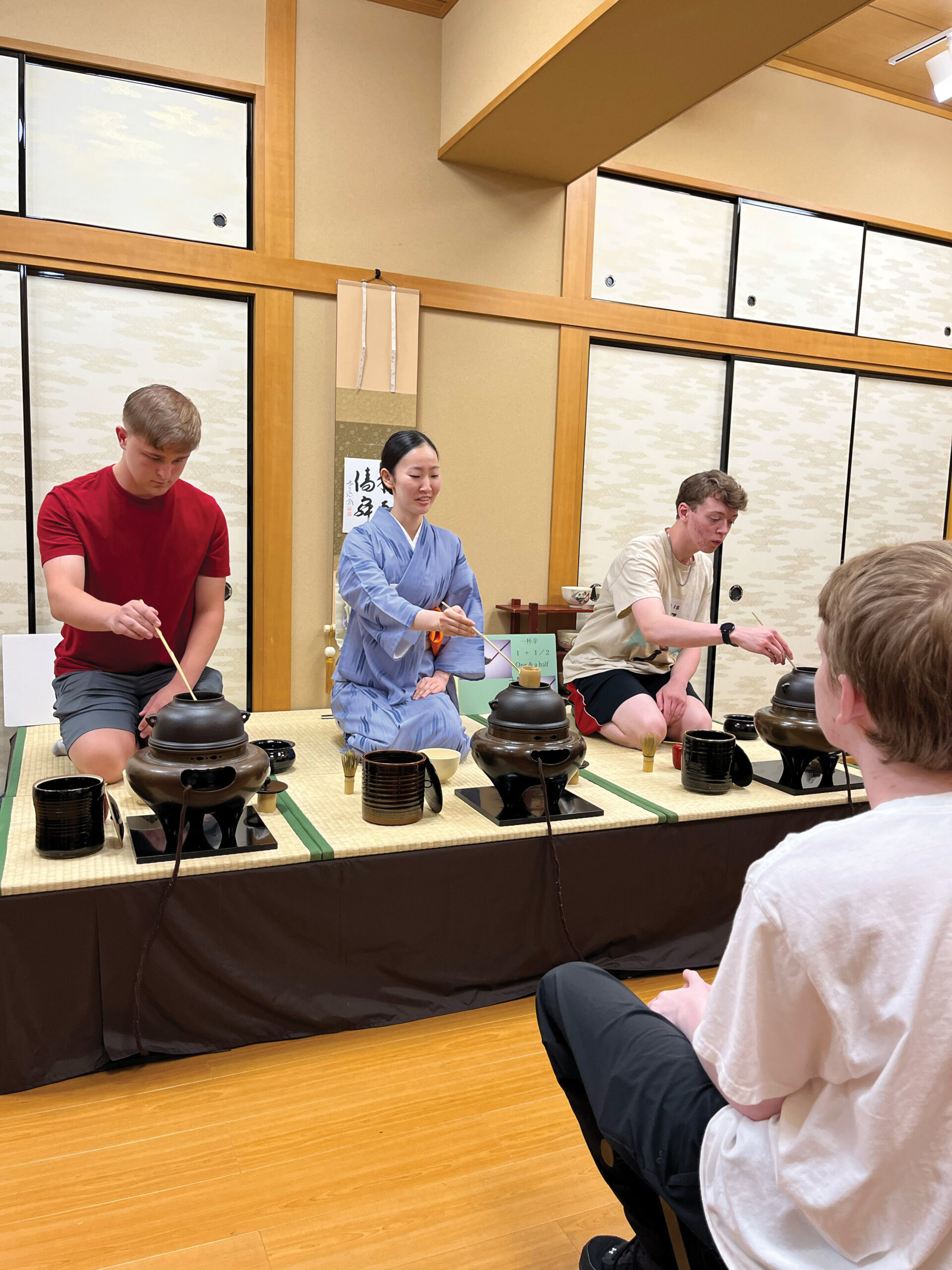 The next morning, we awoke bright and early to eat a breakfast of rice, noodles, fried chicken, French fries, and many other interesting foods. The hotel staff tried to be very accommodating to our American palettes, which for some was much appreciated. Our private tour bus picked us up, and from there we set off. Local senior Ben Frederick recounts how his first day went: "On the first day after the flight, I was incredibly excited to begin seeing Tokyo and start our tour. The first day of the tour came with a trip to the Shibuya Station, The Tokyo Skytree, and lastly a hotpot style dinner. The Shibuya Station was incredible, and clearly well designed, varying strongly from the architectural style in America, and more suited to the need to build structures for so many people passing through Japan's largest city. I was impressed by Japan's accommodations for foreigners and people with disabilities at the station. The Skytree was incredible, and although I'm afraid of heights, I did stand on the glass floor for a picture. Lastly, the hotpot dinner was a lot of fun, and I got to serve as my table's assigned cook. I even got one of my picky friends to try some Japanese food he wouldn't have before. In all it was an incredible day and a great start to the trip!"
A Packed Schedule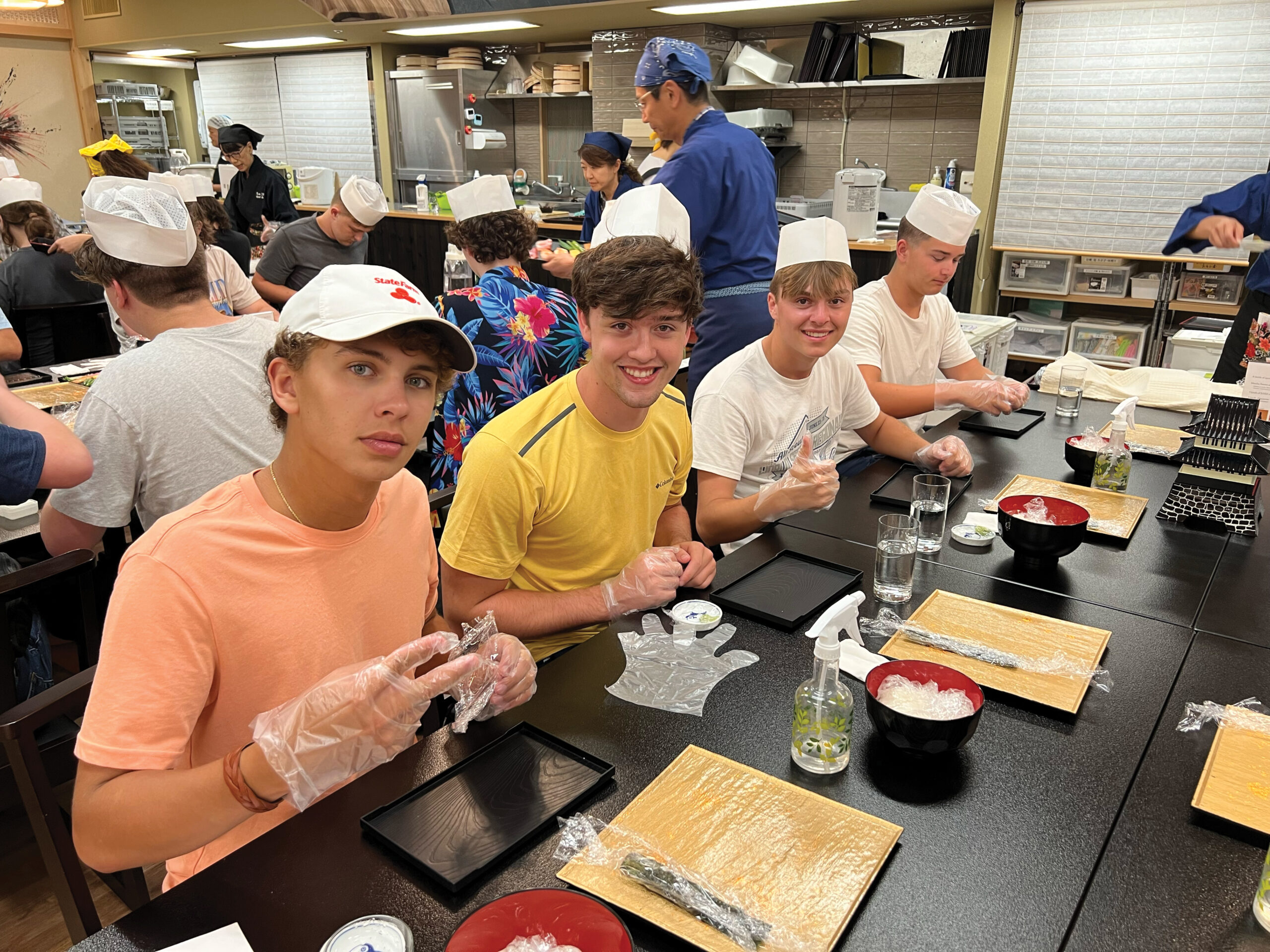 The days that followed were filled with science museums, disaster prevention parks and simulations, and incredible views of the city and Mt. Fuji. We viewed and interacted with incredible robotics, including the artificial limb technology found at CyberDyne Studios and the reactive therapy seals named Paro that responded to touch and voice. Some of the group members even experienced earthquake simulators that shook them around the room. 
By the time we arrived back at the hotel at the end of each evening, everyone was exhausted, but some pushed themselves further to get as much out of Tokyo as they possibly could. Many students found joy in visiting the Akihabara prefecture, a part of the city known as the anime and video game hub. You could find them playing rhythm games, winning figures and stuffed video game characters out of claw machines, and buying trinkets to take home for themselves and their families. This district was definitely where we spent the most time and it feels like we barely got to explore any of it. Marc Carter, a recent Henderson County High School graduate, found this part of town to be incredibly fascinating:
"I thought that Akihabara was very intriguing. I heard a lot about what it looked like and was looking forward to seeing it. I wasn't disappointed either; several of us traveled together to the district days before we were scheduled to visit. We saw it all at night and it was a completely different experience. They call Akihabara the electric town due to all the lights and it was amazing to see it all at night. It was also very nice to see so much pop culture concentrated in one place, such as merchandise for popular games and shows."
Favorite Parts of the Trip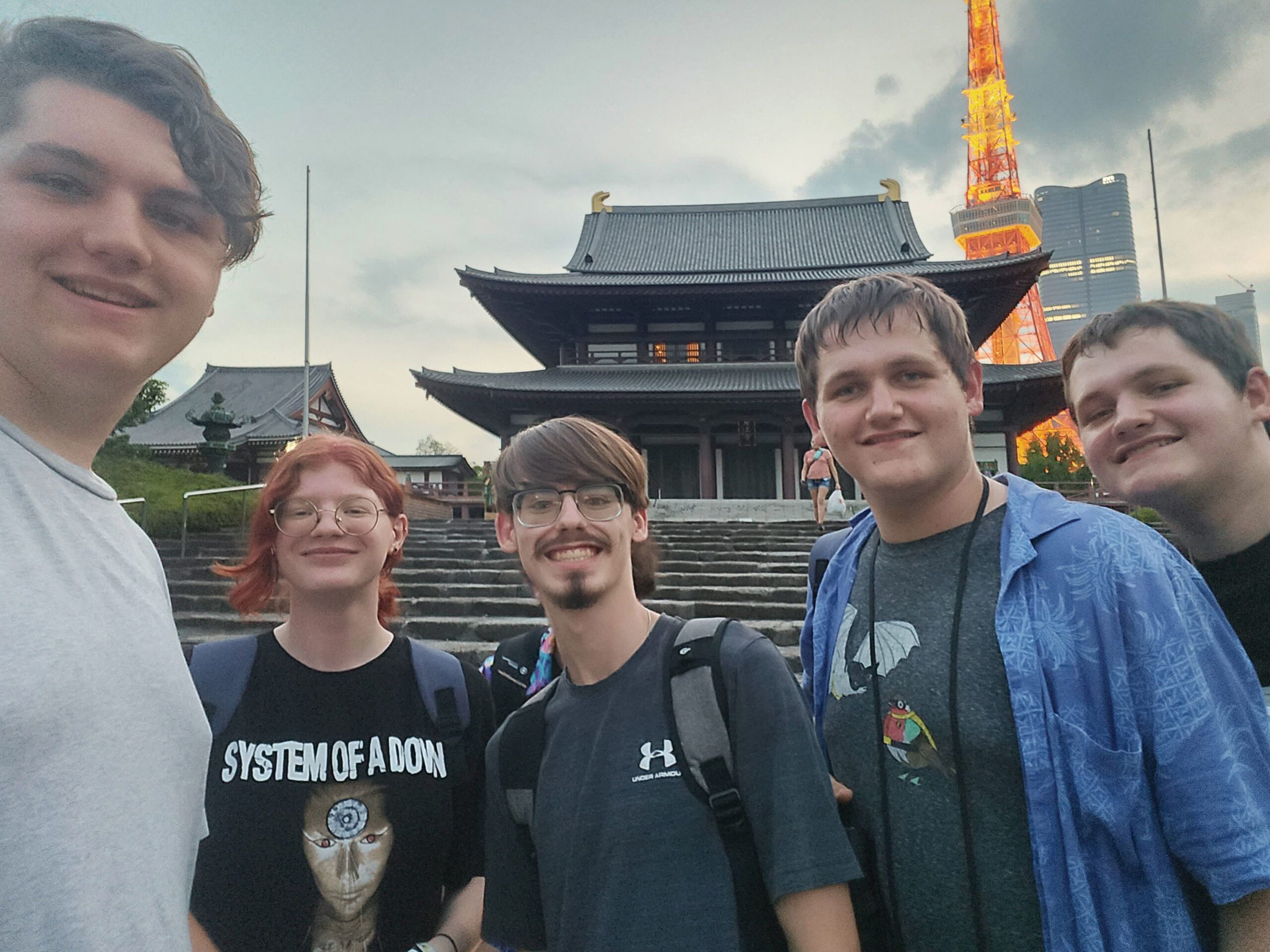 With the wide variety of activities and places we saw in Japan, it is definitely hard to choose a favorite. Below are the favorite parts of some of the students who went on the trip:
"TeamLab Planets Tokyo had to be my absolute favorite activity. For some context, I process senses a little bit differently and more intensely than others, so this was an amazing experience. All the lights, water, and projections were so nice to look at and touch, and there was a room where flowers would rise and fall from the ceiling. We got to lay in that room for about 10 minutes, and by the end, I was tearing up from how relaxed I felt in that moment," said Zavor Murphy, local high school junior. 
"One of my favorite parts of the trip was going to Karaoke. While I don't think I can sing all that well, it was fun to see everyone having a great time and Yoshi was amazing singing Bohemian Rhapsody," recounted Marc Carter. 
Penn Raleigh, high school senior, had similar thoughts. "My favorite part of the trip was doing karaoke with Yoshi and going with the group that was going to Akihabara to play claw machines was a blast."
Ben Frederick had more of a personal favorite from an adventure all his own: "My favorite part of the trip was when I was able to take a slight journey to find the only souvenir I had planned on purchasing in Japan, a Yanagiba. While working at Koi: Asian Fusion, I found the knives of the sushi chefs interesting, and I had asked about them while I worked there." Ben was able to find a special knife shop after asking the workers at our sushi class about where to find this type of knife. The experience of looking for the knife turned out to be his favorite because of the kindness of the locals he met. "It was really special to get to interact with people along the way and I really got a sense of what the different areas of Tokyo are like while looking around."
The Heartbreaking Goodbye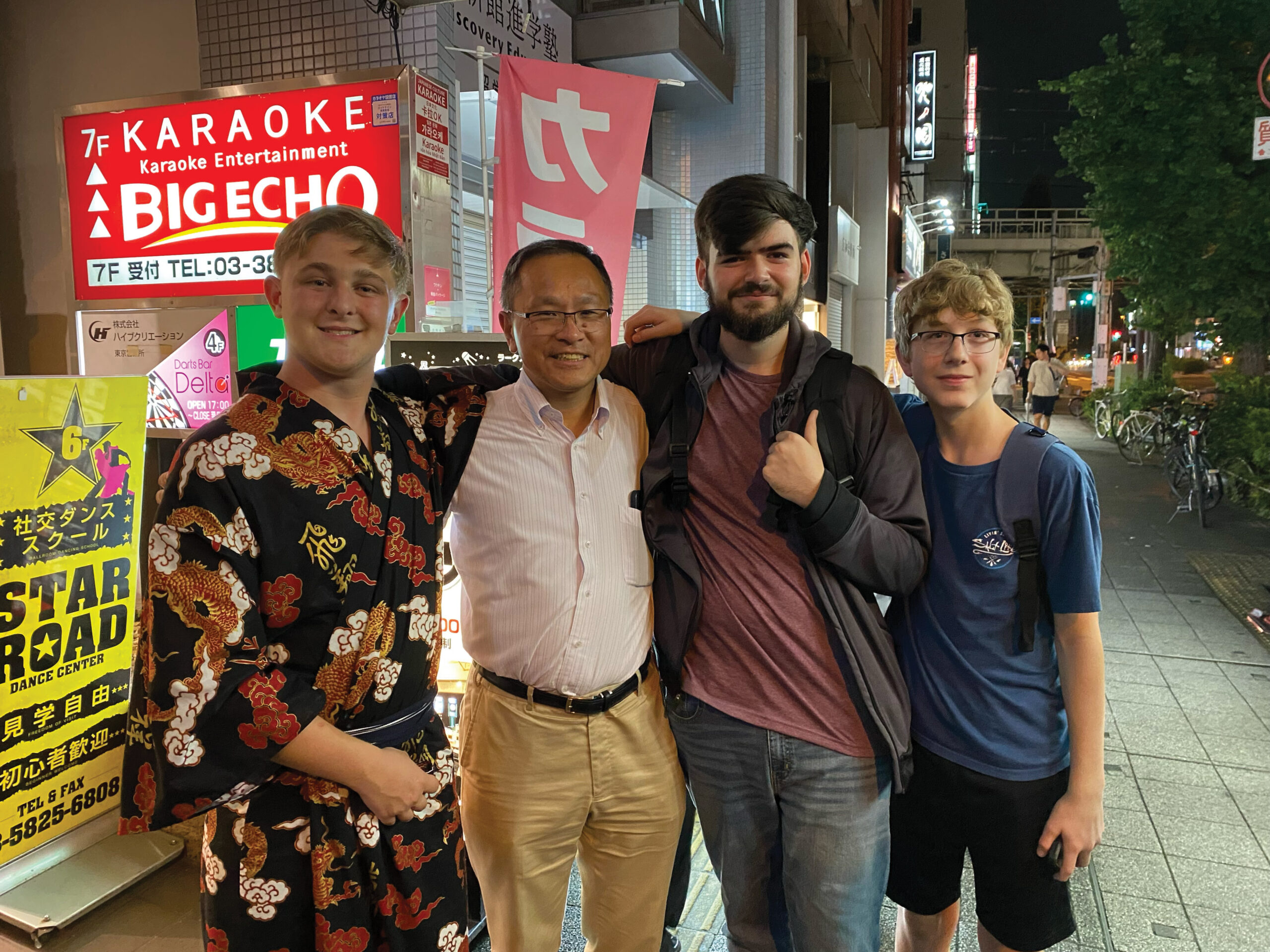 Getting on the bus for the final time was hard for us all, although we were ready to go home to see our families. This trip was filled with constant entertainment and we learned so much about not only Japan and its culture, but also about the coming technologies that the rest of the world has yet to see. When asked if they would like to return one day, these trip-goers had similar responses:
"Most definitely." -Zavor Murphy
"Yes, I would love to." -Marc Carter
"I would love to return to Japan someday." -Ben Frederick
"I plan on going back as soon as I can." -Penn Raleigh
If you plan on going to Japan yourself, Penn has some advice: "If you ever decide to go to Japan and play claw machines, make sure that you have a plan for bringing home as well as storing or selling any figures you don't want."
Overall, our trip was amazing in ways we could have only dreamed before going. Everyone who went was touched by the city of Tokyo and its beauty, and we all can't wait to go back one day. Until next time, Japan!    
Join our list
Subscribe to our mailing list and get interesting stuff and updates to your email inbox.
Reader Interactions