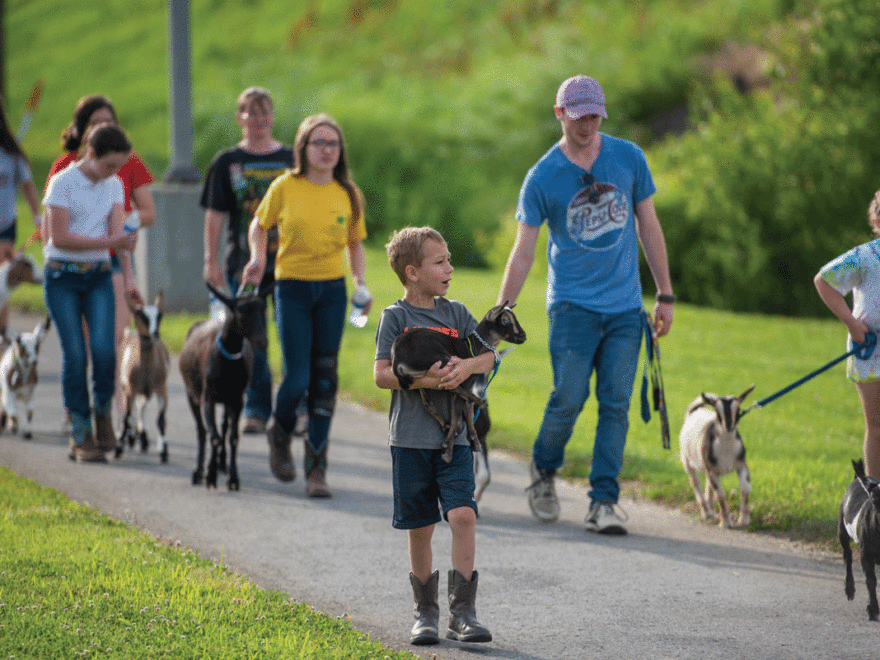 Taking Their Love for Animals and Teaching the Importance of Hard Work and Responsibility at a Young Age
The 4H Livestock Club started four years ago, and now has over 60 children and 68 families that participate. In the Livestock Club, there are beef goats, dairy goats, beef cattle, swine, sheep, chickens, rabbits, and country ham. Each species of animal has different requirements to be able to even be shown, and the kids that do the showing have a lot to learn about their animals. Luckily, Heather Fehd, 4H Livestock Club President, and some other dedicated members are willing to teach them. 
Weekly Workshops
"Every week since April, we have weekly workshops. The workshops give our dedicated kids a chance to work with their goats in a group setting and learn about showmanship, body parts, and how to handle their animals." The 4H Livestock Club is made up of kids aged 9 to 19, and the 5 to 8-year-olds are "clover buds," who can participate in everything the older kids can except for country ham showing. 
"You ask them questions, and they'll tell you anything you want to know." Heather was right. A circle of kids gathered around me, their goats in tow, and were very eager to tell me about their animals. 
A young boy named Zander Todd excitedly showed me each part of his goat, Black Magdalene, or Black Maggie. Zander is one of the youngest members of the group at 7-years-old, but you would not be able to tell if you were trying to guess his age through his knowledge. It was obvious he was passionate about the club and his animals. His favorite part of 4H is learning about goat parts. 
I asked one young lady, Katy Kostbade, to tell me about her specialty, beef cattle. She responded with "uhh… they're black," before giggling. After a moment of thinking, she told me quite a bit about beef cattle and what kinds of criteria they are judged on. 
Montana Fehd, daughter of Heather, called herself the "showmanship queen," and seemed to have the knowledge to back up her claim. At every question, her arm shot up into the air to provide an answer. As one could guess from her bright smile during showing practice and her title, showmanship is her favorite part of 4H. She also likes the obstacle course. 
Ella Forbes showed me "Lamby," a sheep that was extremely friendly and soft. Her favorite part about 4H is spending time with all of the animals. 
Requirements as a 4H Member 
According to Heather, the kids must learn how to guide their goats through obstacle courses and through pools of water. They also must learn how to show off their goats to the judges by positioning them correctly and keeping their heads held high. I was able to watch a short practice and I was truly impressed with not only how many things the kids have to remember, but also with how well they performed. While I am definitely not a judge of goat shows, I did think that they all looked amazing and very professional. 
The kids not only have to know their stuff, they also have to be certified to show their animals. They have to complete a project book on the species they will be showing, and they must complete at least 6 hours of education before they can compete in a fair. Those who show country ham also have to give a speech in front of all spectators and contestants. Participating in the fair requires a lot of dedication and animal care, but every member of this club was happy to put in the time and the work. 
The Livestock club has a busy time ahead of them, with workshops every week up until the fair, and many fair-related activities the week of. 
The fair is open to any resident of Kentucky that is in good standing with FFA and the 4H club. Judges will come from all over to judge the animals that will be presented, and prizes will be presented to the top animals. Winners have a chance to move on to the Kentucky state fair. It's sure to be a treat, so be sure to bring your families down to the fairgrounds for some high-quality performances from our local livestock families. 
Kaycee Garner has lived in Henderson her entire life and plans to keep it that way. She loves animals and movies, and enjoys drawing with charcoal and working on local political campaigns in her spare time.
Join our list
Subscribe to our mailing list and get interesting stuff and updates to your email inbox.
Reader Interactions