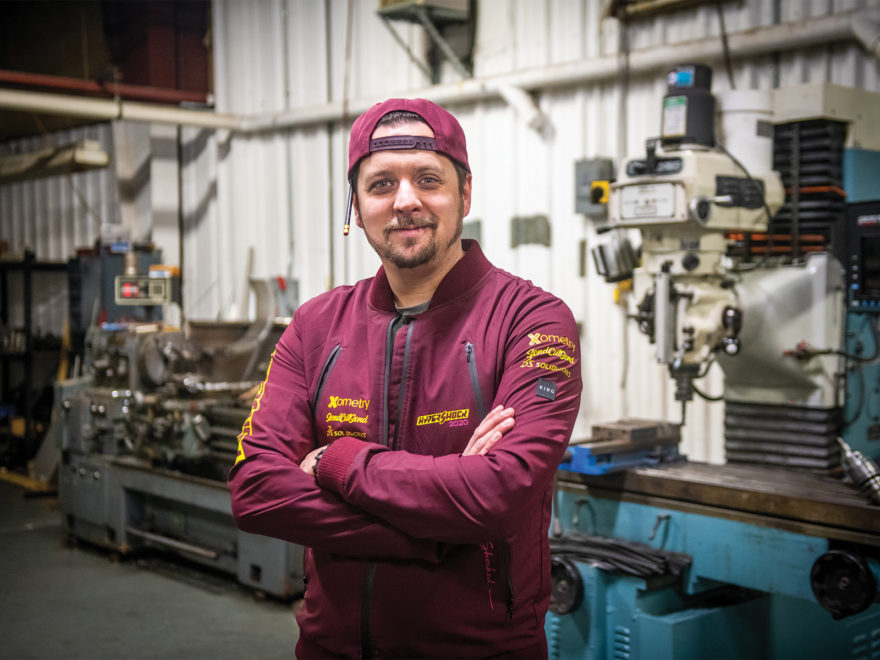 Photo by Darrin Phegley
There are a multitude of hobbies in the world. There's skiing, model train building, collecting, and even the hobby of building robots to fight each other. On the TV show BattleBots, that is exactly what contestants do, and one of these contestants is Henderson's own Collin Royster of Royster's Machine Shop. 
BattleBots is a show that has been aired since the early 1990's, which is when a young Collin first garnered interest in the show. "You spend time building a robot, put it in the ring with another, and they destroy each other," according to Collin. It seems like enough to capture any kid's imagination, but how does one go from enjoying the show to actually being a part of it?
Collin's wife, Natalie, has also been a fan of the show for some time. Natalie even developed a favorite team, Hypershock. When Collin tried to purchase a Hypershock jacket for his wife, he had an idea: what if he made parts for the Hypershock robots in his own Henderson shop? 
With an idea in mind, Collin went to work in contacting Hypershock. About three months after the first email, they responded, thus setting in motion the journey that led to Collin's run on BattleBots. "Natalie freaked out. She had no idea what to do," according to Collin. 
He started to create parts for multiple robots and sent them along to Hypershock, who would give him feedback about what worked and what did not. After some time, Collin was able to be a part of the entire process and traveled to California. They were supposed to film BattleBots in April, but because of COVID, they started to film October of last year. They had to follow many precautions for COVID, including getting tested every three days, wearing masks, and social distancing with only those involved with the show. 
Collin worked with machinists and engineers from all around the world for three weeks. "It was crazy. I'm just a guy from Henderson, Kentucky trying to make stuff, and I was surrounded by all these people," said Collin. "It was very stressful. We had to build the robot at the studio, and we had 48 hours to get the booth set up and the robot ready for filming."
Collin made all of the machine components for Hypershock this last season. Someone else designed the robots and Collin was able to actually make them in his shop. This was Collin's first time building robots, but he has experience in building costumes and props that he has premiered all across Henderson. Early last year, Collin had an exhibit at the Preston Arts Center at Henderson Community College. In fact, his exhibit was a chance to show off his work and helped him get onto the BattleBots show.
On the set of BattleBots, Collin had a lot of interest shown in his work. "Everybody seemed very interested in what I was doing. There are a lot of dreamers out there, but not a lot of makers. I had an edge; you know I have 20 years in the machining industry. I was showing people from MIT how to do things and it was crazy," said Collin. "I hope to come back again and do this all over again."
At the airing of the show, Collin's family was very excited to see him on TV, especially his 2-year-old daughter, Emory. "She was so excited. We pointed when I was about to come out with the first robot for the first fight, and she started jumping up and down and saying 'There's Dada!' And then she was kind of confused like…how am I there and here at the same time?" Collin laughed as he described the experience, and said he was thankful for his family. He especially thanks his wife, Natalie, for allowing him to go be on BattleBots while she stayed home to keep the house in order. Collin said that he could not do it without her. 
In order to get into robot building and machining, Collin believes that learning as much as you can about it is the most important part. He recommends taking machining classes at Henderson County High School and Henderson Community College to get a good set of knowledge built up. He also recommends that current students do co-op to get experience around the equipment and in a shop. "Know that you don't know everything," Collin emphasized. He stressed that it is important to be willing to learn. 
BattleBots Bounty Hunters can be watched on DiscoveryPlus and BattleBots can be watched on the Discovery Channel on Thursdays at 7PM CST. Collin cannot tell us how he and Hypershock did in the competitions, so interested readers will have to tune in for the chance to see him on screen.
Join our list
Subscribe to our mailing list and get interesting stuff and updates to your email inbox.
Reader Interactions