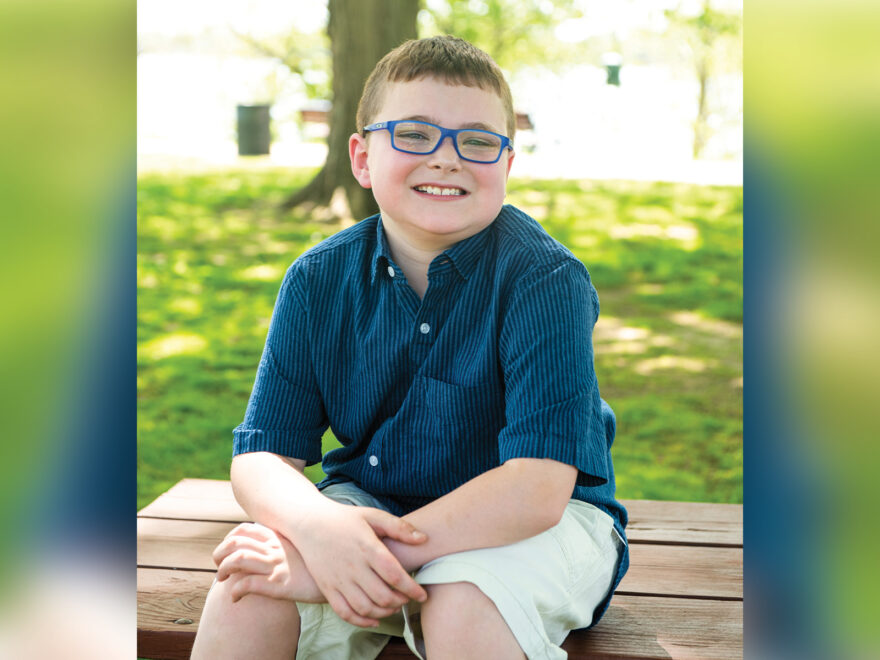 Photo by Darrin Phegley
May is known for many different things, including for being the month of Memorial Day, the month children start their summer break, and the month that many people start to open up their swimming pools. May means more to some than others, however, as May is also speech apraxia awareness month. Speech apraxia is a disorder that affects the brain pathways that are involved in forming speech, meaning that those who have it find much difficulty in speaking and learning to speak. One Henderson resident, Leslie Rideout, has honorably decided to share the story of her son, Holden, who has speech apraxia and is on the autism spectrum disorder.
A Rare Disorder
Leslie states that Holden has held both diagnoses since he was three and a half. Leslie described what speech apraxia has been like for Holden and those afflicted with speech apraxia. "They know what they want to say, but they can't get out what they want to say." Leslie states that 1 in every 1,000 children who attend speech therapy are diagnosed with speech apraxia, meaning that it is a fairly rare disorder. Leslie is very passionate about spreading the word about speech apraxia. "Most people that we come in contact with have never even heard of it. Most people have heard of autism, but most people have not heard of speech apraxia. Even his therapists said they didn't really know what it was until they started studying it after they got out of school."
Therapy Leads to Progress
Holden attended speech therapy three times a week but has been moved to twice a week due to his progress. He also gets speech therapy and occupational therapy at school. "He's made a lot of progress over the years. We started out at three and he couldn't speak. He had no sounds and couldn't say anything. He couldn't make the sound 'shhh'- something so easy he couldn't do." Leslie states that Holden's progress has been immense. "He's a happy kid now. He can vocalize and do so many things now with the therapy he's been given over the years." Holden is in a regular classroom and can do most of the things that the other kids do, but he needs extra support. He has a special education teacher that comes in to help him several times a week to help out. Leslie says short therapy sessions that are frequent are the best practice for Holden and kids like him. He has 15-minute sessions four times a week at school and 30-minute sessions two times a week outside of school. 
Leslie outlined the diagnostic process for speech apraxia. His speech therapist at the time, a therapist that has been practicing for 42 years, had her suspicions that Holden had speech apraxia before he was officially diagnosed. Once Leslie had this information, Holden underwent testing of both physical and psychological means. By the time he was three and half, he was diagnosed with both autism and severe speech apraxia. 
Finding Support and Raising Awareness
Once he was diagnosed, Leslie went on the hunt for information. She learned a lot from Holden's therapist, but she also learned a lot of what she knows from the websites and social media groups related to speech apraxia. "I joined some of the Facebook mom groups for children with speech apraxia, so that was kind of interesting because you could talk to people who have children with the same diagnosis." Leslie is still in those groups, and she finds it valuable to talk to other moms and to find out how often other kids with speech apraxia get therapy and how they are progressing.
I asked Leslie what she wants people to know about speech apraxia. She said she would want people to know just how rare it is, and that it is similar to autism in some ways. For people who think that their child might have speech apraxia, Leslie encourages them to go to a speech therapist, to keep hope and to trust their gut. "There are groups and help out there for these kids. There are therapists and people around that do know how to help your child. It would be nice if parents could explain to their kids that others may be different or talk differently just so they can be more aware."
"Holden is a happy kid. He loves school. He has good friends, and he loves cars." Thank you, Leslie, for sharing Holden's story. To get involved in local events for autism, Leslie recommends joining the parent group for Experiencing Autism Together. There will be an annual walk taking place on May 21st. More information on how to get involved can be found on their Facebook page.
Join our list
Subscribe to our mailing list and get interesting stuff and updates to your email inbox.
Reader Interactions