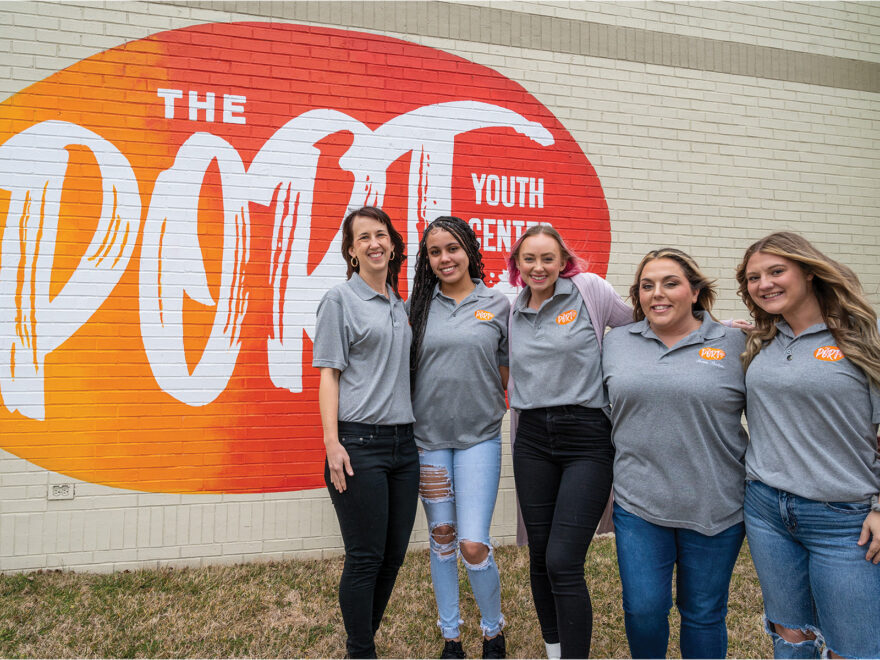 HELP AND HOPE FOR HENDERSON'S
TEENS AND YOUNG ADULTS
Photo by Darrin Phegley
The Port, whose doors opened in October of 2022, serves as a beacon of hope for many 16- to 25-year-olds in the Henderson area. This organization provides free services to teen and young adults within the age range, including peer support, therapy, job and career help, laundry access, transportation help, homework and school assistance, and much more. The Port is meant to be a place where young people can go to get help with anything they may need.
The Experience
Rachel Heath, Site Manager/Program Director and one of the founding members of The Port team, was able to talk with me about what The Port has to offer Henderson and what the experience has been like opening up a place such as this. Rachel described her thoughts on The Port: "I think overall that it's a safe place for young people 16 to 25 to be and to call their own. We've been blessed with a really great staff that makes young people feel welcome and all of our peer supports have lived experience. When they walk in, they'll get someone close to their age who has been through something similar to what they have been through, whether it's addiction or mental illness, they'll get connected to someone who understands."
Rachel estimates that over 100 young people have been through The Port's doors since its opening. During the Halloween season, The Port partnered with "Terror on the Trail" to reach out to the community and to get more exposure to the volunteers and participants involved in the event. In November, the organization offered a Thanksgiving dinner to people within the accepted age range. They are planning to host more events and to stay involved in the Henderson community to spread awareness of the help they can provide. In the community, The Port works closely with the Henderson County School system, Henderson Community College, Henderson Police Department, Henderson's judges and elected officials, and many local businesses. "The community is very excited about what we have. Now it's just about getting the word out."
A Safe Place 
The Port is funded through the TAYLRD grant, which stands for "Transition Age Youth Launching Realized Dreams". There are 13 other similar centers around the state, although most are in Eastern Kentucky. Rachel mentioned that Dr. Lionel Phelps at RiverValley Behavioral Health is one of the key figures who brought The Port to Henderson. "This has been his heart and soul for the past few years. They applied for this grant several times and then COVID hit, and then they finally got it. This is the result of their hard work." The Port is partnered with RiverValley Behavioral Health and also the Kentucky Department of Mental Health, specifically the TAYLRD agency. 
The Port means a lot to those that are receiving services, according to Rachel. "We've had one client that said that The Port feels more like home to him than his own home. That right there is what The Port is about. It's a safe space for those that come and we've gotten some connections with kids who are in the system and need some sort of positivity. Some of these kids can't go anywhere except their house and to school because of things that have happened, so for them to be connected with us gives them that space and that outlet that's so important. We give them something to look forward to."
Because The Port is funded through this grant, services are able to be offered completely free to young people in the community. Rachel encourages anyone interested that falls within this age range to come see what all they have to offer. 
The Port is located at 455 Klutey Park Plaza Drive and is open Monday through Friday from 3PM to 6PM. All young people aged 16 to 25 are welcome to stop by, hang out, and get help with whatever they need. More information about The Port can be found on their Facebook page, titled "The Port- Henderson". 
Because of The Port, our young people have a place to go to feel safe and get the help that they need. Rachel's parting words emphasized that The Port can help with variety of different problems. "I just want people to know that we're a helping center. I don't want people to think that its only a place to get help with mental health issues. We help with that, too, but it's a place where young people can go to overcome any barriers. We help with trying to release that stigma around mental health issues and substance abuse issues. We want to help empower young people, whether that is helping them start a group or join community service or anything like that. We just want them to be a part of something and for them to know that there is something that they can get plugged into instead of sitting at home all day."
Thank you to Rachel Heath and to The Port for providing Henderson's young people with a space to be themselves!  
Join our list
Subscribe to our mailing list and get interesting stuff and updates to your email inbox.
Reader Interactions