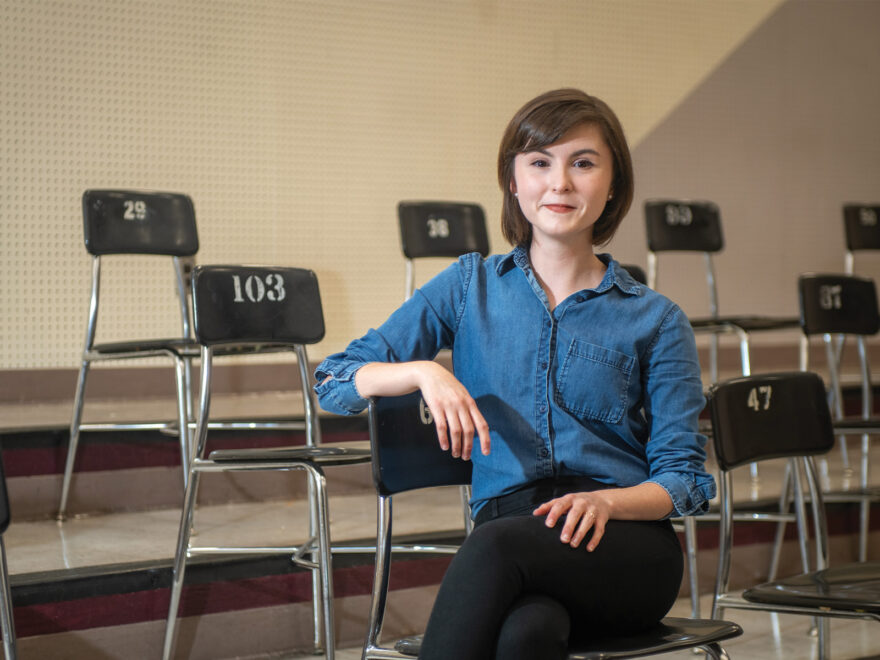 Photo by Darrin Phegley
Henderson, Kentucky is a city filled with potential that can be seen everywhere you go. Whether you are taking a peek at one of our beautiful murals or experiencing delicious home-cooking from one of our top-notch local restaurants, you can be sure to find something that everyone enjoys. This applies to Henderson County High School as well, where the School of Fine Arts lies and students and teachers alike showcase their incredible talents in music, art, and theatre. One of these talented teachers is Heather Eaves, who recently became the Fine Arts Coordinator for Henderson County High for the upcoming school year and serves as the HCHS Choir Director.
Music Is A Calling 
Heather received her Bachelor of Music Education through Kentucky Wesleyan, which was then followed by a Masters in Music Education at Westminster Choir College.  She has been at Henderson County High School since 2017 and offers many opportunities for her students, including School of Fine Arts masterclasses once a month with a distinguished choral artist, additional voice lessons with professionals, and honor choir once a week. The choral department held a small concert on April 29th, which functioned as a senior night for the choir students in their final year as well. 
An Opportunity of a Lifetime
Heather is not only an impressive teacher, but also a very accomplished vocalist who was invited to sing with the Yale Camerata sponsored by the Yale Institute of Sacred Music. The Yale Camerata is usually open only to Yale, with rehearsals and concerts typically held on campus. Because of COVID-19, everything was made virtual, and everyone was able to audition. Heather auditioned virtually for the Yale Camerata at the beginning of the spring semester of 2021, and found out she was one of the 175 people across the country to make it in. She was asked to send in a video of her singing an aria, along with everyone who auditioned. Heather was unaware of how many auditioned, but she believes it was a large number of people since it was open for all. Heather's inclusion into this group is a massive accomplishment and one Henderson can be proud of, as Heather is a great person to represent the fine arts for our city. 
The Yale Camerata sings about a variety of topics, but one common theme is social justice. Their songs explore topics ranging from mental health, racial disparities, women's rights, and much more. One unique aspect about the Yale Camerata is they are often joined in their rehearsals by the composers of the pieces they are practicing. They have been visited by composers such as Craig Hella Johnson, a Grammy winner for Best Choral Performance, and Joel Thompson, a winner of the American Prize for Choral Composition. Heather said it was an honor to work with individuals such as them. The group met weekly via Zoom for rehearsals and put on a virtual concert at the beginning of May. She recorded a new piece each week. They were conducted by Andre Thomas, who has won many awards for both conducting and composing. Heather was grateful for the experience and hopes she can be a part of something similar in the future.
Pushing Through the Challenges 
Heather made comparisons between the virtual aspects of the Yale Camerata and her students she was teaching online. "With the Yale Camerata, the participants have their own spaces to sing and they aren't really shy about it, but with my students, many of them don't have a dedicated place where they can go to sing loudly, so it was a bit of a challenge this school year." Heather did not let these challenges stop her, however, as she spent the many hours that it took to take each individual student recording of their part in a composition and combined them all together to make a video of the song for her students. Heather looks forward to being able to teach her students again in person for the upcoming school year. 
Kaycee Garner has lived in Henderson her entire life and plans to keep it that way. She loves animals and movies, and enjoys drawing with charcoal and working on local political campaigns in her spare time.
Join our list
Subscribe to our mailing list and get interesting stuff and updates to your email inbox.
Reader Interactions